Tips for choosing your legal career path after law school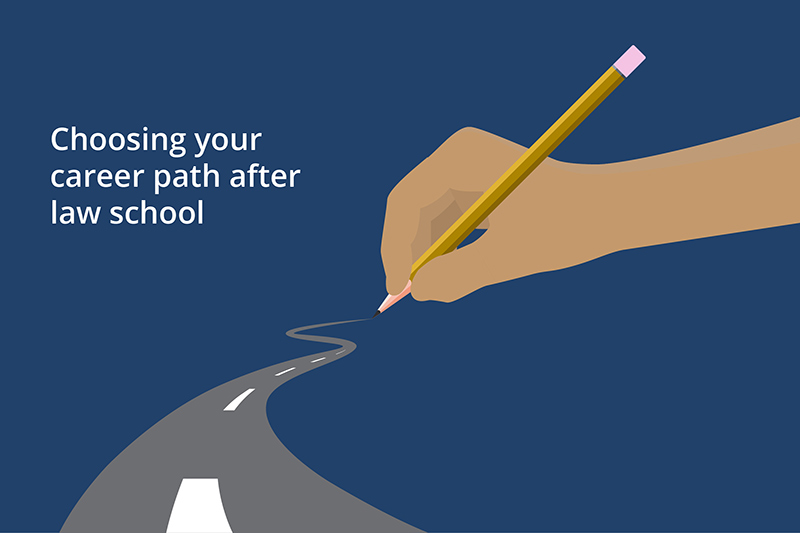 There are many factors one should consider when choosing a legal career path after law school. Here are our top tips for navigating the legal landscape as a junior lawyer:
Known commodity versus hands-on experience
Practicing at a large national, or international, law firm can open a lot of doors down the road. With a more prestigious platform generally comes more sophisticated and more complex files. However, working at a smaller firm may provide you with more hands-on experience and training earlier in your career.
Weigh the pros and cons of practising in various firm environments – for example, do you want to ensure your experience is a known commodity that comes with the brand recognition of a large firm? Or, would you rather have more autonomy and client face time earlier on in your career? Each firm environment offers its own set of benefits and challenges. Consider what those may be and weigh them against your career goals.
Consider your career goals
If building a law practice is your long-term goal, it's critical that you enjoy the practice area you build your career on. It's easy for associates to get pulled into more attractive practice areas based on several factors, including: economic conditions, litigation, international travel, and perception or "image". However, it's important to decide where your passions lie. If advocacy and human rights is something you love doing, then choose a firm that specializes in these areas. Certain practice areas lend themselves nicely to distinct personalities and corporate cultures.
You should also ask yourself where you see yourself practising in the next 5, 10, or 15 years. While this can seem daunting when you are just beginning your law career, you should know what your options could be.
If your long-term goal is to transition in-house, generally, you will have more options as a corporate lawyer, but there has been some change on this front in recent years given the shifting economy and specific in-house client needs. Litigators who look to transition away from private practice will often consider government work, pseudo legal roles or quasi-judicial, and regulatory roles.
Current market conditions
Market conditions, and future growth potential at the firm level, can determine how you maximize your options. In a down market, bankruptcy and insolvency are usually extremely busy. And, depending on your location, some practice areas will be in greater demand than others. For example, the Toronto and Vancouver markets have both seen capital markets, technology, and finance practices take on greater demand than litigation in recent years. In some markets, M&A and real estate have been hot for years. However, if you are looking for more stability, areas such as prosecution, litigation, and tax may be better suited to your professional goals.
Develop a relationship with an expert
Establishing an ongoing relationship with a legal recruiter can be hugely beneficial to understanding the legal job marketplace. Legal recruiters (good ones, anyways) have a keen awareness of current trends and happenings in the legal community and can be an excellent resource to help you build your own market knowledge. Getting in touch with a recruiter early in your law career can help you decide what path is best suited to your larger practice goals.
The Counsel Network is a top legal recruitment firm in Canada, specializing in associate, partner, and in-house lawyer placements.
403.444.1765/647.484.8312
abir@thecounselnetwork.com