What does it take to create a commanding executive presence?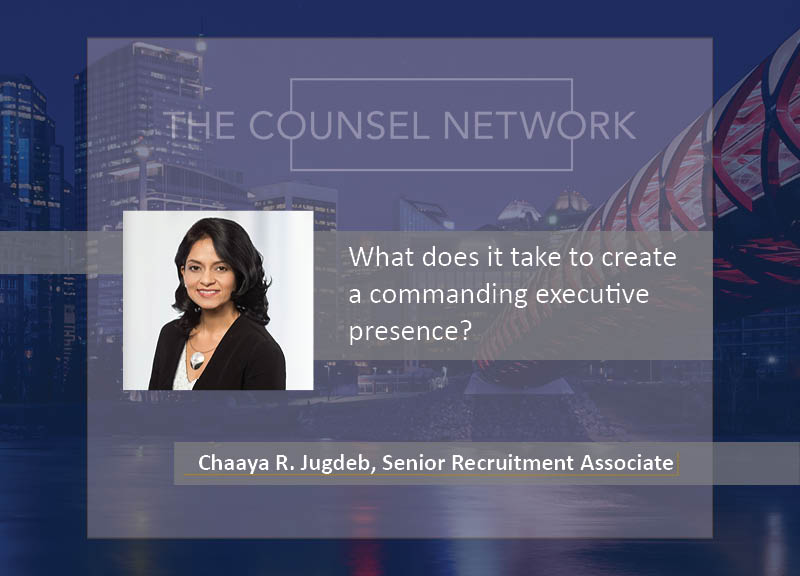 We have observed respected managing partners and general counsels who not only have strong legal minds, but can also effectively command a courtroom or boardroom.
For a leader to successfully stand out and drive an organization forward, they must own a room, project an authentic and confident style that excite people's imaginations and win their hearts and minds. Executive presence draws people to you, and it must be authentic, confident, clear, empathetic and consistent.
Developing Executive Presence
Developing executive presence is an ongoing journey. Below are a few practical tools to develop executive presence.
Develop self awareness, humility and authenticity when engaging with people.
Use clarity, calmness, composure and respect to meaningfully connect with others.
Mind your body language. Be polished, poised and prepared.
Be visible, positive and open to feedback.
Put people first and 'walk the talk'.
Listen with empathy and make others feel heard and special.
Develop a positive and outward thinking mindset.
Demonstrate your passionate about making a positive difference for others.
Each aspiring leader must find their own unique voice based on their individual strengths and weaknesses. Develop an outward mindset by considering how the things you say and do impact those around you. Practising authentic and consistent giving will allow you assist people grow both personally and professionally. Visionary leaders seen more as 'givers' than 'takers' are more successful at hiring, developing, engaging and retaining the best team to build an unshakeable and progressive organisation.
Remember, your team may not always remember what you said or did, but they will always remember how you made them feel and this will be your legacy one day. Good luck in your journey to building Executive Presence.
The Counsel Network is a national lawyer recruitment firm working with law firms and in-house legal departments to place lawyers of all levels. Reach out to a member of our legal recruitment team for a confidential discussion today.
Chaaya R. Jugdeb, Recruitment Associate
403.444.1767 / 647.484.8313