Show Your Translation Skills to Get That In-House Legal Job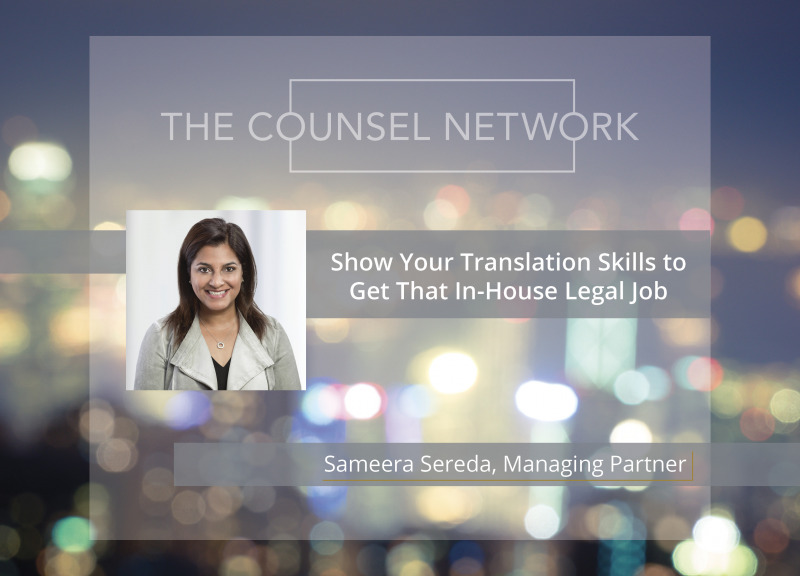 Due to the unique nature of the legal profession, as legal recruiters, we are often engaged by the corporate human resources professional to work alongside decision-makers in their search for an in-house lawyer to join their team.  As a result, The Counsel Network participates in countless candidate interviews each year.
Candidate requirements such as legal technical prowess and relative industry experience might get the candidate past the first round of elimination and on to the proverbial shortlist.  Generally, a broad corporate/commercial solicitor skill set is the most widely marketable for industry roles, unless the role is specialized.
However, corporate employers seek much more then technical competency when hiring legal talent to their teams.  For those candidates proceeding to in-person interviews with the hiring manager, there are a number of factors beyond a legal technical competency that will determine whether a candidate is successful to landing the job, or not.
One highly coveted factor is whether the candidate has demonstrated an ability to translate technical knowledge into commercially focused, useful advice.
To assess this ability, we've seen several clients ask candidates to complete a written assignment as part of the selection process.  Marking up a commercial contract followed by a review and discussion with the hiring manager provides the candidate with the opportunity to engage in a business-minded dialogue and explain their thinking behind the marked amendments.
The candidates who shine most in such an exercise tend to do two things:
They are proactive about asking questions regarding the assignment generally and the commercial context of the contract they have been asked to review;
They have the confidence to make relatively few changes, concentrating only on high-risk issues, as opposed to producing a "technically perfect" (but commercially unworkable) document.
As this ability to serve as an effective business translator is relatively common, especially if the hiring manager is not a lawyer, it is worth understanding how to incorporate and demonstrate this sophisticated ability in your skill set if you want to move to an in-house legal job.
Sameera Sereda is the Managing Partner and Chair, In-House Counsel Division at The Counsel Network, a Canadian legal recruitment firm specializing in legal talent management strategies covering all levels of lawyers and practices for both corporate legal departments and law firms. To discuss in-house legal departments or making a move to an in-house legal job, Sameera can be reached at ssereda@thecounselnetwork.com or 403.444.1763. 
Join our network to receive informational news for the legal sector and insight to  in-house legal jobs as they are posted .
Follow us @Counsel_Network