The Impact of Compensation on Associate Retention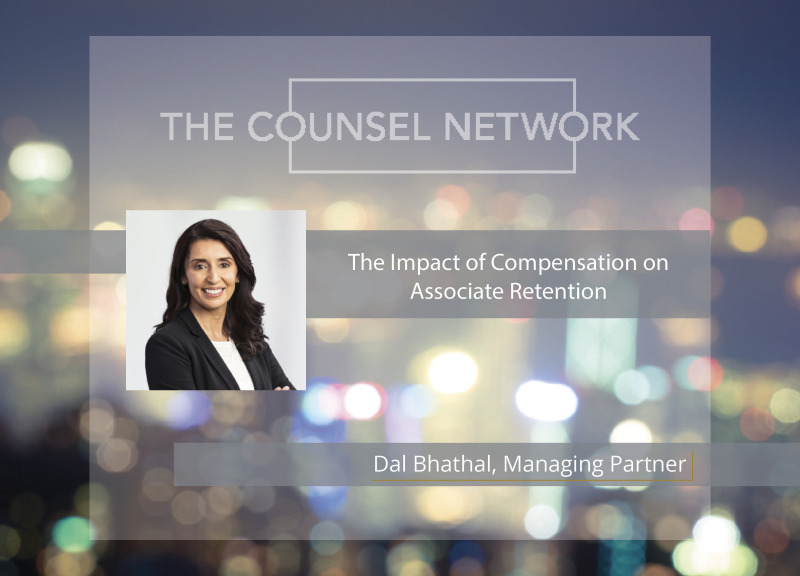 People choose to enter the legal profession for a variety of reasons. For aspiring individuals, the practice of law brings the opportunity for meaningful work, professional challenges and personal fulfilment.  The profession also affords the opportunity to serve the community and contribute to society in hopes of making a difference.
Nevertheless, it should be no surprise that a principal reason behind a person's decision to enter the profession is to be compensated with a lucrative package. Even those for whom money ranks farther down the list of reasons for working are not interested in being unfairly compensated.
Fair compensation is first and foremost a critical component to any successful recruitment and retention program. Only once this initial benchmark expectation is met can a firm and its Associates focus on other issues such as productivity and practice development.
That said, fair compensation does not always equate to top-of-market. If your firm expects its lawyers to docket more than 2,000 billable hours every year, then it can and should pay top dollar.  Should firms require assistance to benchmark their compensation strategies relative to the various levels of lawyers and the size or location of their firm,  they might wish to engage a consultant or refer to market surveys and research data.  The Counsel Network specializes in the legal sector and works with firms to develop talent management and compensation strategies. To benchmark Associate salaries across the country, leverage our easy access and complimentary Associate Salary Tool.
But many of today's Associates are focused on more than just compensation. They seek responsibility and recognition for their efforts along with the chance to learn from and work with skilled practitioners.  They crave professional growth and development to help further their technical abilities and how they serve clients.  Increasingly, Associates require some measure of control over their personal and professional lives.  They want an equal opportunity to have a hand in the firm's evolution.
Associate preferences can differ greatly from firm to firm.  This reflects the importance for firm leaders to remain 'tapped-in' to Associate wants and needs.  The old law firm maxim that "no news is good news" simply does not work anymore.  In fact, it's a fail-safe way to see Associates walk out the door unexpectedly.
On the question of bonuses, many firms offer their Associates plans that are intended to reinforce and reward the principles most valued by the firm. If your firm only cares about financial profitability, then bonuses on billable hours alone will suffice. Too many firms claim they want their Associates to contribute in ways beyond the billable hour but only reward those who are exceptionally profitable. Inconsistent recognition programs are another guaranteed path to high Associate turnover.
In the Seven Habits of Highly Effective People, ", Stephen Covey stated that if you put good people in bad systems, you get bad results." Win-win compensation agreements require a high degree of transparency.  Associates must have a clear perspective on how their efforts add value to the firm, and in return benefit them.
The big challenge of course is that it takes time, effort, trust and good communication to create good systems. Win-win compensation frameworks do not necessarily require paying lawyers more; they simply require a clear understanding of your firm's objectives and the type and style of lawyers you need to attract in order to accomplish them.  Championing a compensation structure that rewards desired outcomes in a meaningful way should serve as a foundation to retain and motivate the Associates you want.
 Dal Bhathal is a Managing Partner at The Counsel Network, a Canadian legal recruitment firm specializing in legal talent management strategies covering all levels of lawyers and practices for both corporate legal departments and law firms. To discuss compensation strategies contact Dal at dal@thecounselnetwork.com or 416.364.6654/604.643.1708. 
Join our network to receive helpful  news for the legal sector and insight to available legal jobs as they are posted.
Follow us @Counsel_Network