Three Questions to Gain Valuable Client Feedback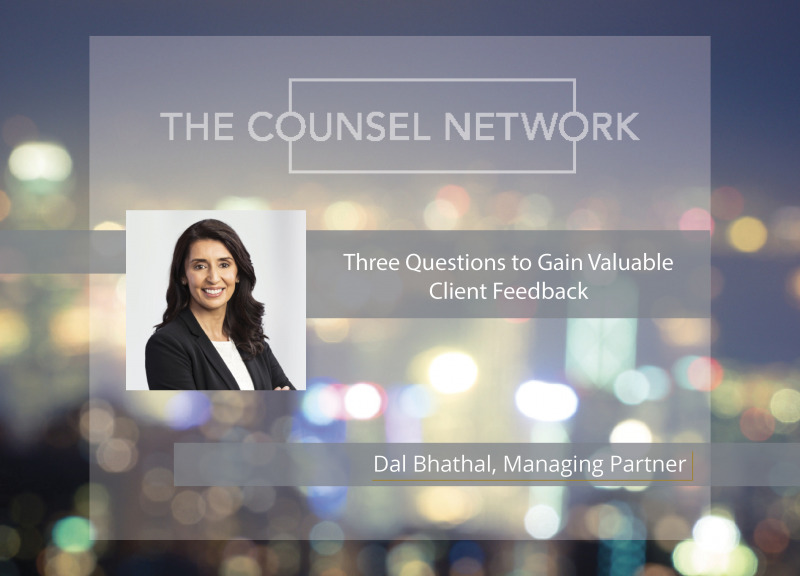 How many times have you received a survey monkey seeking your opinions and feedback on travel, shopping experiences or telecommunication services.  Comprised of multiple choice questions and open commentary opportunities, do you take the time to answer the survey's questions?  Or do you hit the delete?
In the legal sector, law firms have not made client feedback as high a priority. And obtaining such valuable feedback is either inconsistent, or is so extensive the client finds the exercise too time consuming to warrant their proper attention.
While there is a science behind extensive multifaceted surveys, sometimes there isn't need for such complexity to get a few nuggets of feedback that could prove valuable to building your client relationships and your practice. When taking the time to thank your client for their business weave in one or all of these questions.
Would you provide a testimonial?
More powerful than asking "how are we doing" and more useful for marketing than "what do you like about us," asking for a testimonial is an excellent acid test for the health of your client relationship. Not only will testimonials provide great ammunition for targeting similar clients in the market, they also offer an opportunity to gain key insights into your client relationship. Nervous about asking your client for a testimonial? Are you hesitant to what you might learn?  Think of it as a means to improve how your team is working with the client and an opportunity to tailor service specifically to their needs and preferences.
Should you learn the client is not prepared to provide a testimonial, take the opportunity to investigate what is holding them back. Altogether, this is perhaps the most powerful question you can ask to gauge the strength of your client relationships.
How else could we assist you?
Sometimes, the key to expanding a relationship with your client is to simply ask the question. However, it is rarely enough to simply ask "how else can we help".  Much like the expectations partners have on associates to anticipate needs when assisting on a file, the best approach with clients is to have a solid understanding of their business objectives and try to anticipate where future needs might be.
As a trusted advisor, your ability to identify where your clients' future legal needs may arise within the context of their growing business will help separate you from other more reactionary service providers. While you may not always know about a strategic acquisition they are quietly considering, if you can demonstrate a keen insight and interest into the goals and ambitions of the business owner(s), you give your team the best chance of expanding the relationship with your best clients.
Who else could benefit from our services?
Prompting your network for referral leads is a vital part to growing any practice. While nearly all lawyers appreciate the importance of asking this question, few actually do. While clients are unlikely to introduce you to key competitors, they always have relationships with suppliers, business partners, friends, and other advisors outside their immediate market segment. This question is even more powerful if it follows your client's provision of a testimonial: the introductory message to the future client is essentially written the moment your client provides a testimonial.
Working these three simple questions into your on-going client relationship maintenance will provide powerful insights into your clients, their views of your services, and opportunities to grow, not only with existing clients, but potentially with new ones as well.
Dal Bhathal is a Managing Partner at The Counsel Network, a Canadian legal recruitment firm specializing in legal talent management strategies covering all levels of lawyers and practices for both corporate legal departments and law firms. Dal can be reached at dal@thecounselnetwork.com or 416.364.6654/604.643.1708. 
Join our network to receive news and insight for the legal sector.
Follow us @Counsel_Network