3 Tips to Increase Success Integrating Lateral Associates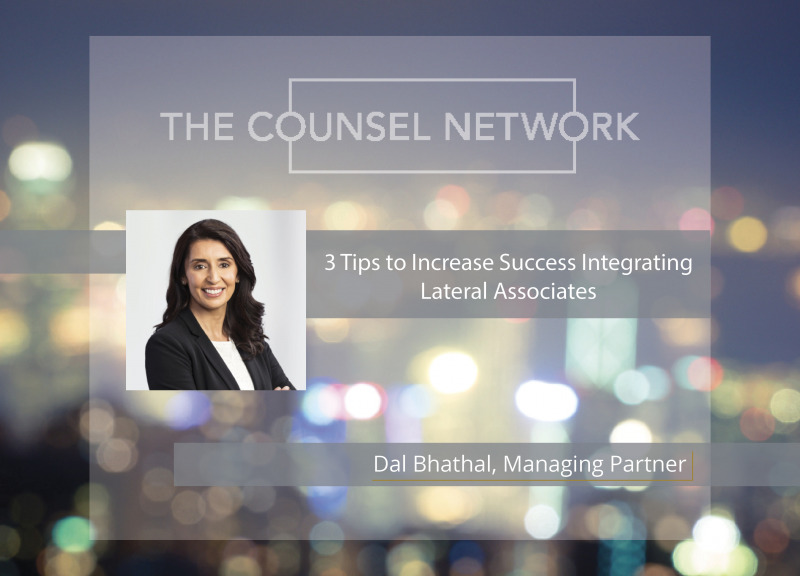 Increasingly, law firms have identified lateral hiring as a central component to their growth strategy.  Ensuring a successful lateral move for any lawyer requires more than a captivating pitch and good intentions.  Here are three ideas law firms might wish to consider in order to increase their chances for a successful transition for the new Associate joining their firm.
Mentoring
Lateral Associates face real challenges when they join a new firm. Both the firm and the lateral come to the table with preconceived ideas of how a law firm should work influenced by previous experiences. Transition can be made considerably easier if the firm leverages its personal and professional knowledge of the lateral and match him or her with the best possible mentor.
Mentors should understand their roles and the firm's expectations for the relationship.  Solicit regular feedback from each participant. Although each mentor/mentee dynamic will be different, provide the lateral Associate with some general guidelines and expectations for the relationship. The lateral's last firm may have approached mentoring differently or may not have had a mentoring program at all.
Marketing
A lateral hire gives both the firm and lateral the opportunity to communicate with clients and contacts. Communication plans should be developed and coordinated between the firm and the new lawyer well before his or her first day at work. Business cards should also be ready for arrival and announcements should be published in a timely fashion.
In addition to the obvious marketing benefit, such profile building activities also gives the lateral Associate a sense of belonging right from the start. Make sure the new lawyer is introduced to the marketing department.  They can develop a plan demonstrating how the firm will raise the lawyer's profile inside and outside the firm and invest in their success.
Monitoring
At regular intervals, solicit feedback from the new Associate on all aspects of his or her integration into the firm. Ask what was done well and what needs improvement.
Does he or she perceive any problems? Does the Associate have the resources necessary to succeed? Solicit feedback from lawyers, administrative staff and clerks about how the lateral seems to be fitting in.
An easy and often underused way for a firm to forecast the sorts of issues that may confront a new lateral Associate is to review exit interview notes of previous Associates who have left the relevant practice group and also, more generally, lateral Associates that have come and gone from the firm. These notes can serve as an invaluable tool to help a firm identify systemic issues affecting lateral success and retention and empower the firm to take appropriate corrective measures.
Conduct informal reviews after 30 days and after 90 days. Formal reviews should be completed at the six month and one year mark. Find out as soon as possible if there are problems that need to be addressed.
While most firms have a well-defined program to integrate law school students, it's not the same case when welcoming individual lateral Associates to the firm.  Poor preparation seems to be the root cause of failed lateral hire situations. And as lateral movement becomes a growing reality for Associates and firms alike, it is more important than ever to understand and implement best practices in lateral hiring.
Dal Bhathal is a Managing Partner at The Counsel Network, a Canadian legal recruitment firm specializing in legal talent management strategies covering all levels of lawyers and practices for both corporate legal departments and law firms. To discuss growth strategies through lateral hiring contact, contact Dal, at dal@thecounselnetwork.com or 416.364.6654/604.643.1708. 
Join our network to receive helpful  news for the legal sector and insight to available legal jobs as they are posted.