3 Tips to Increase Successful Integration of Lateral Partners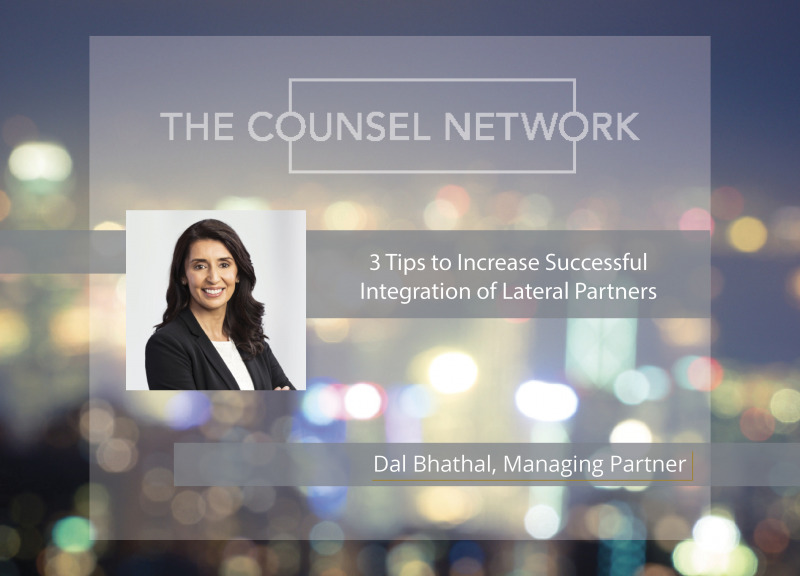 Increasingly, law firms have identified lateral hiring as a central component to their growth strategy.  Ensuring a successful lateral move for any lawyer requires more than a captivating pitch and good intentions.  When it comes to courting a Partner to make a lateral move, a great deal of time, strategic discussion and money has transpired between parties increasing the pressure to ensure this mutual decision meets with its expected success.  Here are three ideas law firms might wish to consider in order to increase their chances to experience a successful transition when a Partner joins their firm.
Initial Guidance & Direction
While a Partner will not require a formal mentor the lateral will arrive with preconceived ideas of how a law firm should work influenced by previous experiences. Transition can be made considerably easier if the firm leverages its personal and professional knowledge of the new Partner and match him or her with the best possible guide to steer introduction to the firm.
For some firms this might mean the Managing Partner or Practice Chair relative to the new Partner who can play an instrumental role to successful integration.  This firm leader can publicly welcome the Partner at an internal lawyer meeting which provides a forum for the new Partner to say a few words about her career history, areas of expertise and clients.  From this short biographical overview, lawyers attending should understand clearly what opportunities they might have to engage their new Partner or likewise, how they can assist his or her clients.
Additionally, Managing Partners might facilitate specific introductions to individual Partners of similar practice, industry or client base and arrange for small dinner meetings where the lawyers can socialize, share stories and get to know each other better while devising strategies to target specific clients together.
Marketing
A lateral hire gives both the firm and lateral the opportunity to communicate with clients and contacts. Do your marketing team a favour and entrust in them early the confidential news regarding the lateral hire so they have ample time to strategize and prepare to make the most of the announcement.  In addition to the obvious marketing benefit, such profile building activities also gives the Partner a sense of belonging right from the start.
Communication plans should be developed and coordinated between the firm and the new lawyer well before his or her first day at work. Typical delays to implementing an integrated marketing plan might come from scheduling a new professional photograph of the Partner or compiling client communication distribution lists – especially if contact information is dated or not in an easily downloadable format.
Monitoring
At regular intervals, the Managing Partner or Practice Chair should check in with the newly arrived Partner to solicit feedback on all aspects of his or her integration into the firm. Ask to determine what was done well and what needs improvement.
Does he or she perceive any problems? Does the Partner have the resources necessary to succeed? Solicit feedback from lawyers, administrative staff and clerks about how the lateral seems to be fitting in.
Conduct informal reviews after 60 days and 90 days to ensure the Partner is on track to meeting professional and firm expectations. Formal reviews should be completed at the six month and one year mark. Find out as soon as possible if there are problems that need to be addressed.
While most firms have a well-defined program to integrate law school students, it's not the same case when welcoming individual Partners to the firm.  Poor preparation and lack of ongoing support seems to be root causes to failed lateral hire situations. And as lateral movement becomes a growing reality for lawyers and firms alike, it is more important than ever to understand and implement best practices in lateral hiring.
Dal Bhathal is a Managing Partner at The Counsel Network, a Canadian legal recruitment firm specializing in legal talent management strategies covering all levels of lawyers and practices for both corporate legal departments and law firms. To discuss growth strategies through lateral hiring contact, contact Dal, at dal@thecounselnetwork.com or 416.364.6654/604.643.1708. 
Join our network to receive helpful  news for the legal sector and insight to available legal jobs as they are posted.