Behind the data: In-house compensation trends in BC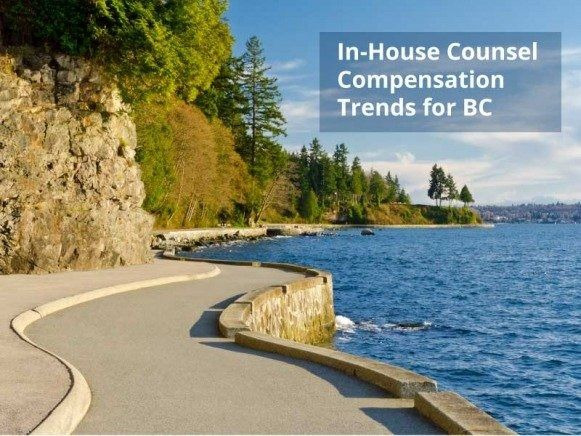 The Counsel Network and the Canadian Corporate Counsel Association recently released the results of our 2018 In-House Counsel Compensation & Career Survey. The data specific to British Columbia revealed robust market conditions as compensation in BC trended upwards and finally caught up to the national average salary of $163,000.
Compared to 2012, the data suggests we are now enjoying much healthier market conditions. For instance, very few in-house lawyers reported salaries below $100,000 (5% versus 17% in 2012); and, actual bonuses tripled for Legal Counsel from 5% to 15%, doubled for Senior Counsel (9% to 18%) and tripled for General Counsel (12% to 32%).
Our observations as legal recruiters align with the data–recruitment demand for in-house lawyers noticeably increased over the past few years. While demand has been rising, we are still experiencing a supply shortage of top tier six to eight year call lawyers due to tightened hire-backs following the economic downturn in 2008 and subsequent steady hiring from 2015 onward.
If demand is rising and supply is fixed, the inference is that we will likely continue to see compensation rise and lawyers entering the in-house market at even more junior stages of their career.
Our national data supports this theory. We note that the mean number of years spent working in private practice before going in-house dropped from 4.9 years in 2012 to 3.2 years in 2018. We don't have specific BC data available in this survey report, but we have noticed a marked rise in demand for junior in-house lawyers between two and four years of call.
If our experience is indicative of broader trends, in addition to increased government hiring (post-hiring freeze), part of the reason why we are seeing more demand for junior talent trickles down from more mid-senior associate level lawyers stepping into leadership roles at earlier career stages. Accordingly, we are seeing a growing number of teams lead by six to ten year calls, who seek two to three year call junior counsel to support them.
As star associates are now regularly offered meaningful advancement opportunities in-house, we are experiencing a shortage of talent in private practice, especially in corporate/M&A, real estate, and technology.
In part due to this shortage, certain law firms are implementing or exploring another salary increase this year to encourage their talent to stay in private practice. While the correlation isn't perfect, private practice compensation generally tends to impact in-house counsel compensation, so we expect the rising compensation trend to continue, provided the economy remains healthy.
From a General Counsel's perspective, higher compensation expectations from candidates will likely require more internal advocacy for increased hiring budgets and/or other creative solutions to solve capacity constraints.
Read more about in-house counsel compensation, download your free copy of the 2018 survey report.
– David Namkung, Partner