Chief Compliance and Legal Officer Lawyer Job in Vancouver, Canada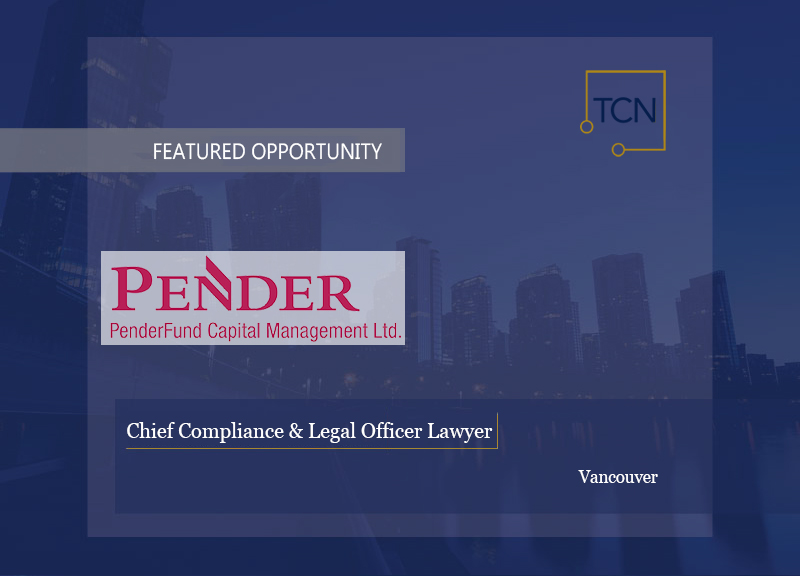 **This opportunity is now closed. Please visit our job board to view our current opportunities.**
PenderFund Capital Management Ltd. is an independent, employee-owned investment firm offering investment funds in public equities, private equity, and credit to investors across Canada. Founded in 2003, Pender comprises a talented investment team of expert analysts, security selectors, and independent thinkers who actively manage its niche investment funds, exploiting inefficient parts of the investing universe to achieve its goals. Pender is one of the fastest growing investment firms in Canada, and its goal is to be the first choice for investors looking to protect and grow their capital.
Job Description – Chief Compliance and Legal Officer Lawyer
Pender has an immediate opening for a Chief Compliance and Legal Officer to join its head office in Vancouver. The role will have responsibility for the oversight and maintenance of an effective compliance program, and advise senior leadership on legal matters, risk, and compliance initiatives. 
Offering a competitive compensation package, this is an exceptional opportunity for a talented lawyer seeking a dynamic legal and regulatory role with a progressive organization poised for growth. 
Key Accountabilities and Responsibilities
Ensure Pender complies with all applicable regulatory and legal requirements applicable to its business. 

Advise on contract status, legal risks, and the legal liabilities associated with different deals. 

Draft, edit, and review all legal documents required in the normal course of Pender's business. 

Research and anticipate unique legal issues that could impact the company.

Review advertising and marketing materials to ensure compliance with legal/regulatory requirements.

Provide training to the company on legal and compliance topics.

Implement practices that will ensure company meets all current industry regulation standards for each of its lines of business.

Lead all regulatory audits.

Maintain the firm's written supervisory procedures and policies and procedures manual.

Apply and monitor the firm's policies and procedures.

Maintain daily, monthly, quarterly and annual, biennial and ad-hoc compliance log/records.

Identify new or emerging compliance issues and designing applicable compliant procedures. 

Advise management on existing and new regulations as they occur and how they affect the firm and its clients.

Perform other duties and responsibilities as assigned.

Supervise compliance staff.
Education and Professional Skills/Knowledge
LL.B. or J.D. degree (or equivalent).

Good standing with a Canadian Law Society.

5-10 years of securities law experience. 

Proven track record of identifying, solving, and preventing compliance issues.

Demonstrated ability to understand complex regulatory requirements and create effective compliance programs. 

Completion of the PDO Exam or the Chief Compliance Officers Qualifying Exam and The Exempt Market Products Exam or the Canadian Securities Course, or the equivalent sufficient for registration with the BCSC as Pender's Chief Compliance Officer.

Meet the experience requirements of National Instrument 31-103 3.13, and any other qualifications required of the CCO by virtue of Pender's registration with its regulators.

In-depth knowledge and understanding of the business of asset management and the regulations with which a BCSC portfolio manager, investment fund manager and exempt market dealer must comply or experience as an acting Chief Compliance Officer (or relevant experience working closely with Chief Compliance Officer) in the financial services industry.

Experience working with the BCSC or another securities regulatory body.

Strong analytical, interpersonal, and problem-solving skills. 
This is an exclusive search.
For more information or to apply for this position, contact:
Chaaya R. Jugdeb, Recruitment Associate
403.444.1767
Visit our job board to view all of our current opportunities.