Considerations for Going In-House as a Junior Lawyer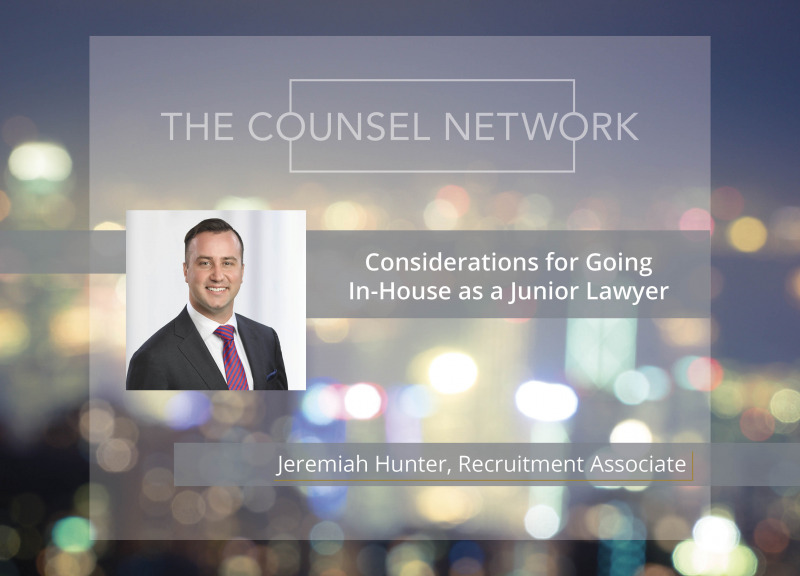 Moving in-house is always a hot topic. In the past, legal departments sought to hire lawyers who had at least four to five years of legal experience, and preferably from a law firm; however, over the past few years, we've seen organizations hire more junior lawyers to complement their teams.  
While in-house roles may be coveted by lawyers, they are not for everyone. There are a myriad of matters, concerns, and opportunities to consider before committing to moving in-house. As demand for in-house counsel at all levels continues to rise, junior lawyers must take the time to identify and list their skills and long-term objectives, and figure out where they want to go. Below are some considerations for junior lawyers thinking about moving in-house: 
What are you looking for? 
Preparation is the key to success. Junior lawyers (and lawyers at all stages of their career) must reflect and assess their professional goals and plans for the near, medium, and long-term future. If you're a junior lawyer exploring in-house opportunities, ask yourself what you hope to achieve by moving in-house.  
Some key questions include: 
Am I interested in the work the role entails? 

 

What technical and business skills am I looking to grow? 

 

Is upward mobility available within the organization?

 

Am I looking for more work-life balance?

 
Generally, the notion that moving in-house will offer greater work-life balance or extreme flexibility is a bit of a myth. If you're seeking work-life balance, specifically look at organizations that can provide a '9-to-5' workday. 
We always suggest you align your career goals with your personal interests, values, purpose, amongst many other factors. Tools, such as SWOT Analysis, can help you identify your skills and goals to develop a career plan. 
How early is too early?
The best time to move in-house depends on the individual and their circumstances. We generally recommend lawyers build a strong base of legal skills before moving in-house, which is around four to seven years post-call.  
According to our 2020 In-House Counsel Compensation and Career Survey, eighty-four percent of in-house counsel worked in private practice before going in-house. The average tenure in private practice was 5.0 years with GC level lawyers spending longer times (around 6.0 years). This suggests the more time invested in private practice, the better your chances to advance further in an in-house role. 
Demographics are changing and as in-house departments hire more junior lawyers, more lawyers will be spending the bulk of their practice in-house, which we expect to show in future compensation surveys. Junior lawyers must be mindful about what career progression is offered in-house, as it lacks the straightforward partnership track and is less clear compared to private practice. 
Compared to private practice, in-house departments often lack the same level of resources (or senior lawyers) to train on technical matters. We advise you to find an in-house position that will allow you to continue improving your knowledge and technical skills, as well as obtain strong support, guidance, and mentorship from senior lawyers.  
Junior lawyers should also seek a wide breadth of work to avoid narrowing their experience, which may be career limiting. For example, find a role that involves corporate work and broad commercial work (i.e., not just contracts review and drafting).    
Depending on how much time you spend in-house, it can be difficult (though not impossible) to return to private practice. If you're currently in private practice and are unsure of your career aspirations, I suggest staying at your firm to avoid rash decisions that might inhibit other opportunities down the line. 
How do I prepare to move in-house?
The best training for going in-house is broadening your exposure to gain a wide variety of experience. Most positions seek corporate commercial experience; however, as the in-house bar expands, legal departments are offering more positions in the areas of securities, litigation, employment, IP, regulatory.  
We say it takes about a year for private practice lawyers to fully transition in-house (even for more senior lawyers). Combined with the strong in-house talent available, companies are increasingly seeking lawyers with the right in-house experience; as a result, a secondment to a company (if available) would also be a great training ground.  
Junior in-house counsel are typically generalists who work with various business units and provide legal advice in a business context. When hiring, legal departments seek lawyers who are pragmatic in their approach to the practice of law. In-house counsel must balance risk spotting with the business objectives, whereas lawyers in private practice are required to act as risk assessors who point out every potential problem in a course of action.  
Prepare for moving in-house by turning your mind to these ideas in your practice now. Our article, How Associates Can Develop Their Star Quality, offers tips on what junior associates in private practice can do to stand out amongst their peers. 
 A move at any stage of your career is an important event, even more so early in your career, so ensure you choose an opportunity that brings you closer to your career goals. Most lawyers can readily articulate what they are moving away from when leaving a firm, but lawyers making successful moves can also readily articulate what they are moving towards.  
At The Counsel Network, we offer a Guide to Going In-House, which answers commonly asked questions, provides in-depth information, and dispels myths about in-house practice. 
If you're considering a move in-house, please reach out for a confidential discussion. 
Jeremiah Hunter, Recruitment Associate  
403.444.1765