Truths, Trends and Tips on Compensation for In-House Lawyers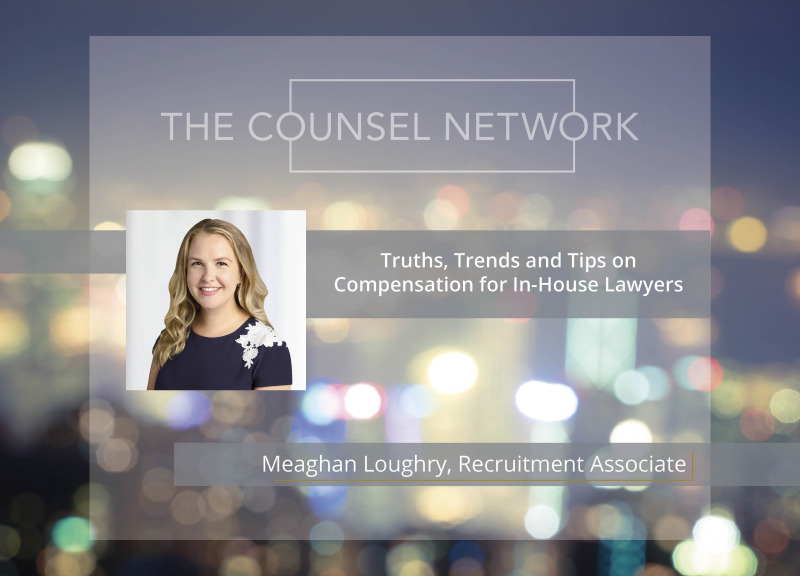 I had the pleasure of joining fellow panelists Leanne Hull, Associate General Counsel and Director of Employment, Pension and Compensation Law, Legal & Regulatory Compliance at BMO Financial Group and Leola Pon, General Counsel – Executive Officer, Legal Services at the Toronto District School Board on September 29, 2021 and hosting a webinar in partnership with the Canadian Corporate Counsel Association (CCCA). The topic was Truths, Trends and Tips on Compensation for In-House Lawyers.
We touched on many aspects of in-house counsel compensation, drawing on panelists' expert knowledge and our 2020 In-House Counsel Compensation Report (launched pre-pandemic). Below are the key highlights of the webinar, including a basic outline of in-house compensation components and how lawyers can evaluate in-house compensation. A recording of the webinar can be accessed here.  
Base Salary 
In-house compensation can vary widely depending on the size of the company and/or legal department, and the importance the legal department receives within the company. Lawyers may find it difficult to evaluate in-house compensation packages and as such, it's important to understand the various components of in-house compensation. 
According to our 2020 In-House Compensation Survey, 84% of respondents said salary is of primary importance when evaluating a compensation package, followed by benefits and options/shares. As legal recruiters, we most commonly see a banded compensation structure for large in-house legal departments, whereas law firms often follow a rigorous lockstep model that is broadly applied to associates based on year of call.  
Bands, often used at larger companies, will have a bottom and top range, and where a lawyer sits depends on their seniority and sometimes their job title (e.g., legal counsel, senior legal counsel, etc.). New employees will often be brought in at the lower end of a band's range, followed by increases (within the band) in accordance with company policies. At top of their bands, in-house lawyers graduate to the next salary band, which may come with a change in title but not always. 
Our compensation surveys show base salary has ebbed and flowed over the years. In particular, it will be interesting to see the results of the 2022 compensation survey and how COVID-19 has impacted the in-house market. The ongoing changes in base salary that we have seen highlight the importance of senior management and HR professionals in being diligent and aware of current lawyer salaries and their expectations to ensure their compensation is fair and competitive.  
Beyond Base Salary
Beyond base salary there are many other components constituting an in-house lawyer's compensation package. Generally, base salaries are lower in-house but are often offset by bonuses, long-term incentive programs, stock-option plans, RRSP contributions, flex days, and great benefit plans. 
Outside of base salary, the most common form of compensation is short-term incentive plans (STIP). Respondents of our in-house compensation survey said that STIPs (i.e., annual bonuses) are most frequently available to in-house counsel at publicly-quoted companies (93%) and privately-owned companies. Generally, senior lawyers were offered larger bonuses compared to more junior lawyers.  
Long-term incentive plans (LTIP) were the most popular for in-house counsel at public companies (46%), followed by private companies (18%). Less common are stock option plans, the availability of which depends on the type of company in question. Stock options are most commonly available at start-up companies, or for more senior members of the executive team at more established organizations. According to our survey, stock options availability was highest with public companies (52%) followed by private companies (28%). 
Finally, pension and retirement plans are offered to most in-house counsel (78%). The public sector was highest with in-house counsel at Government and Crown Corporations (both 97%), compared to privately-owned companies (65%). 
Evaluating In-House Counsel Compensation 
When contemplating an in-house counsel compensation package, what are the most important things to keep in mind?  
While base salary is important, a more holistic and in-depth evaluation of in-house compensation is required. We suggest lawyers look beyond base salary and evaluate what types of STIPs, LTIPS, stock options, and pension plans are available.  
Additional components, such as comprehensive health benefits, vacation or flex days, and short-term or long-term disability plans are also important, as these can play a major role in quality of life for an in-house lawyer.  
Our panelists reiterated the importance of taking a long-term view when evaluating compensation of in-house positions. It's also essential for lawyers to determine their own personal priorities and goals. For example, do you have more immediate financial needs that warrant prioritizing a higher base salary, or is a great pension plan and LTIP a higher priority in the next stage of your career? Having a solid idea of what your individual needs and values are when it comes to compensation will lead you to being better prepared to evaluate an in-house lawyer compensation package.  
If you have questions on in-house compensation, are considering a move in-house, or are already an in-house lawyer who has questions about the market or future opportunities, please reach out for a confidential discussion.  
Meaghan Loughry, Recruitment Associate 
mloughry@thecounselnetwork.com
647.417.4720