Deciding Where Best to Practice Law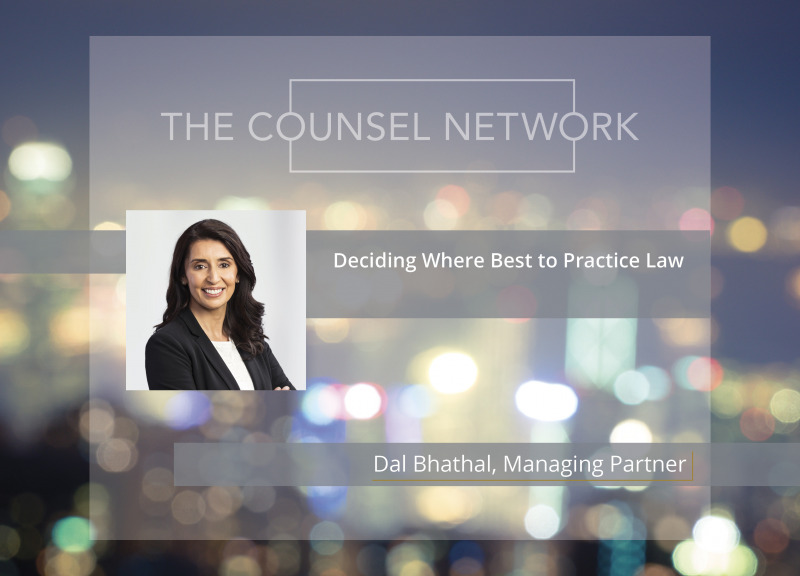 There are few decisions more important to lawyers (and their clients) than deciding where to practice law. Not all firms are created equal.  The size of the firm, the culture within it and the resources available impact whether a firm could become a good fit for you and your practice, or not.
Is Bigger Better?
While there may be truth behind the assumption that large firms have bigger files, greater resources such as librarians, project managers and other support staff, it does not affirm that a bigger firm is the right career decision for you.  Larger firms have the scale to potentially compensate better than smaller firms at the Associate level however, compensation is generally driven by the lawyer's book of business and other financial metrics.
As recruiters who specialize in the legal sector, our experience has shown that the best fit is determined by the lawyer's needs or objectives and not necessarily the size of the firm.
Small Firms
Smaller firms typically provide lawyers with an increased level of control over their own practice and client files at an earlier stage in their career. While the client files might be smaller in scope, you will have increased contact with the client contact.
Many small firms have lower expectations on billings and can offer a higher percentage of billings back to the lawyer in comparison with larger firms where overhead is greater. Trade-offs to consider might mean less administrative support available and that lawyers might be required to participate in firm management.
For some lawyers, their client needs may require depth and expertise in a specialized area of the law that may impact whether the smaller firm can be a good fit.
Mid-Sized Firms
Mid-sized firms usually house expertise and skills over a broad area and have lawyers capable to service most client needs well.  With more lawyers on the team, there is a lower requirement for lawyers to take on management or administrative duties. Gen­erally speaking, mid-sized firms tend to attract small to mid-sized businesses and individuals as clients. This ensures there is a good mix of work at mid-sized shops for those who welcome variety and like the opportunity to serve their clients by referring them to another lawyer in the firm who may have greater expertise in a particular area.
Trade-offs for consideration at a mid-sized firm include billable target expectations (between 1200-1600 hours) and that compensation might not be as high as what could be experienced at large firms.
Large Firms
Large firms might offer the highest scale for compensa­tion at top market rates, but it comes with higher expectations for engagement in firm activities.   Benefits to working at a large law firm include the opportunity to work on the most complex legal files exhibiting at times, leading edge developments in the law.  There is great support available, from junior lawyers to overnight or weekend document and business services.  Most large firms envisage bill­able targets around 1750 hours which is coupled with added expectations of non-billable contributions as well.
To determine the optimal working environment for your practice, ask yourself questions and talk to an experienced legal recruiter. Recruiters experienced in the legal sector serve as exceptional sounding boards and can make recommendations to help any lawyer decide on the best fit for the future success of their practice.
Do I prefer to work on bigger files with a team? Or do I seek greater control and conduct of the file?
How important is work-life balance? How many hours do I currently bill annually? Are the billable hours easily manageable or do I want more?
Do I have my own clients? What is the make-up of your client portfolio? Are their legal needs being adequately serviced where I am?
Do I like a large variety of work? Or do I like to be specialized in a certain area?
Do I like to manage and run the adminis­trative side of my practice? Or do I prefer to not worry about any administrative or management responsibilities?
Selecting the right platform for you and your practice is an important decision that should be re-examined as you and your practice grow. Strategizing with an experienced legal recruiter can help to determine when it might be the best time to make a move or when it might be best to stay put.
Dal Bhathal is a Managing Partner at The Counsel Network, a Canadian legal recruitment firm specializing in legal talent management strategies covering all levels of lawyers and practices for both corporate legal departments and law firms. To discuss your legal career, contact Dal at dal@thecounselnetwork.com or 416.364.6654/604.643.1708. 
Join our network to receive helpful news for the legal sector and insight to available legal jobs as they are posted.
Follow us @Counsel_Network