How External Counsel Can Bring Extra Value to In-House Counsel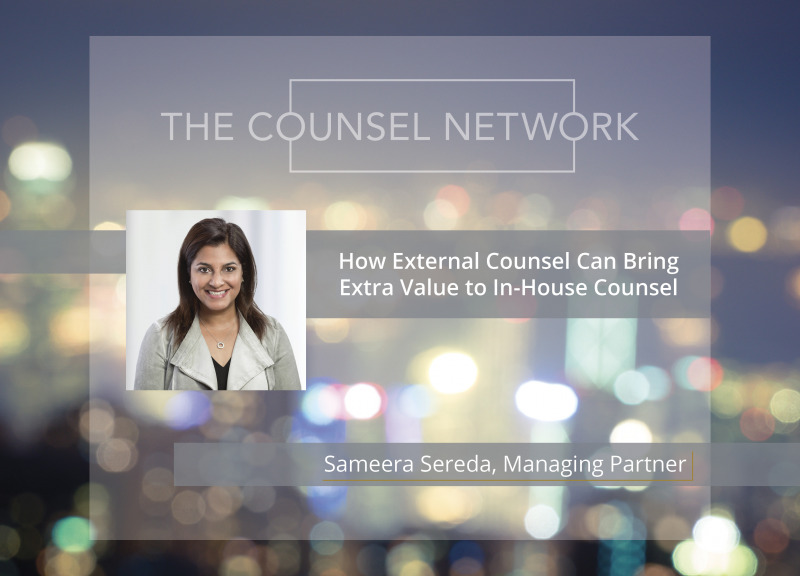 Working in-house is an increasingly popular consideration for lawyers.  Their typical day-to-day varies greatly from lawyers in private practice.  As a result they bring differing views on what constitutes value from services delivered by external counsel.   Sometimes, it is simple things that help make their job easier or a special consideration to the way they work.
Legal Education vs. Spam
In-house counsel have limited time and financial resources to keep current on legal developments, particularly when their role can cover almost any area of law relevant to their organization. As a result, complimentary educational efforts by their external counsel covering relevant areas of law are always welcome, whether through bulletins, round table discussions or training seminars.
However, the positive effect can wear thin when the information is unfocussed, impersonal or simply too long-winded to digest quickly. Like any frustrated spam recipient, in-house counsel will delete unsolicited legal updates without reading them. To break through this common anti-spam reaction, a simple personal note written by external counsel stating why the update is relevant to the issues faced by the in-house counsel's organization not only prompts them to read it, it also reinforces that the external lawyer "gets" what is important to their business.
Today's Junior Counsel Is Tomorrow's General Counsel
Building long term relationships between law firms and their in-house counsel clients should be direct and deep.  Rather than a single point of contact between the Partner and General Counsel, encourage other lawyers on the team to build strong working relationships with their in-house peers.  When established at an early stage, these relationships gains strength as the lawyers and their in-house counterparts move up their respective parallel career paths.
This also goes for marketing, business development and continued learning.  Rather than focus efforts solely at the General Counsel level – design opportunities for junior in-house counsel that support their professional development.  This strategy is also advantageous given how often an in-house counsel is likely to move laterally in today's job market.  It increases the likelihood they will take their exceptional external lawyer relationships with them.
The "Quick Call" Lawyer
Most in-house counsel have a few key "quick call" lawyers. These are the lawyers that in-house counsel can call when they need to confirm their understanding on a sticky area of law, or double check a procedural point. The advantage is that the lawyer who gave some initial advice will often be instructed if a matter is taken further.
There are two key factors that determine whether or not a lawyer is on (and remains on) the quick call list.  They must be willing and able to give sensible, practical advice without the need for the safety net of a long and detailed written memo.  And, they (or one of their team) must answer or return calls promptly. This is where having a multi-lawyer relationship with in-house counsel becomes very useful, as counsel can access another member of the team if their primary contact is unavailable, rather than go to another firm.
Know Your Audience
For scenarios where advice has moved from the "quick call" to more detailed advice or a transaction involving an external lawyer, in-house counsel have spoken highly on those lawyers who tailor the delivery of their advice to the audience.
For example, a memo drafted primarily for in-house counsel may look dramatically different to one that is intended to be reviewed by and discussed with senior executives, procurement managers or members of a sales team who may not be familiar with legal concepts or jargon. The less tinkering an in-house lawyer has to do with external legal advice to make it understandable and relevant to their non-lawyer colleagues, the better.
Omnipotence Not Required
A common pressure within the profession is for the lawyer to be right all the time.  This might sometimes translate into a reluctance to ask questions about a client's business, for fear of seeming ill informed.  In-house counsel recognize that external lawyers are able to provide far better service when they are well informed and knowledgeable about the client, its business and the market within which it operates.  Lawyers should take the necessary steps to learn or understand.  Ask relevant questions – better yet, schedule regular team briefings on the company and its industry sector so the team is able to adjust their advice accordingly and help the General Counsel and management team make decisions within the context of  the external market implications and the company's business goals and objectives.  Most importantly, set an alert to capture breaking news about the client and its business ensuring the legal team remains abreast recent developments and avoids any surprises.
In-house counsel hold similar benchmarks as to which external lawyers they will work with.  Common characteristics they seek include a technically competent lawyer whom they can trust.  One that is accessible and knows the client's business.   But it doesn't stop there.  To identify the extra details of technical support or preferred service characteristics that in-house counsel deem as most valuable take a client centric approach.  Talk with them to identify preferences and invest the time to gain feedback regularly.  The more you know, the better armed you are to personalize the service and build a thriving relationship that separates you from the competition.
Sameera Sereda is the Managing Partner and Chair, In-House Counsel Division at The Counsel Network, a Canadian legal recruitment firm specializing in legal talent management strategies covering all levels of lawyers and practices for both corporate legal departments and law firms. Sameera can be reached at ssereda@thecounselnetwork.com or 403.444.1763. 
Join our network to receive helpful news for the legal sector and insight to available legal jobs as they are posted.
Follow us @Counsel_Network