Early Intervention Counsel in Calgary, Canada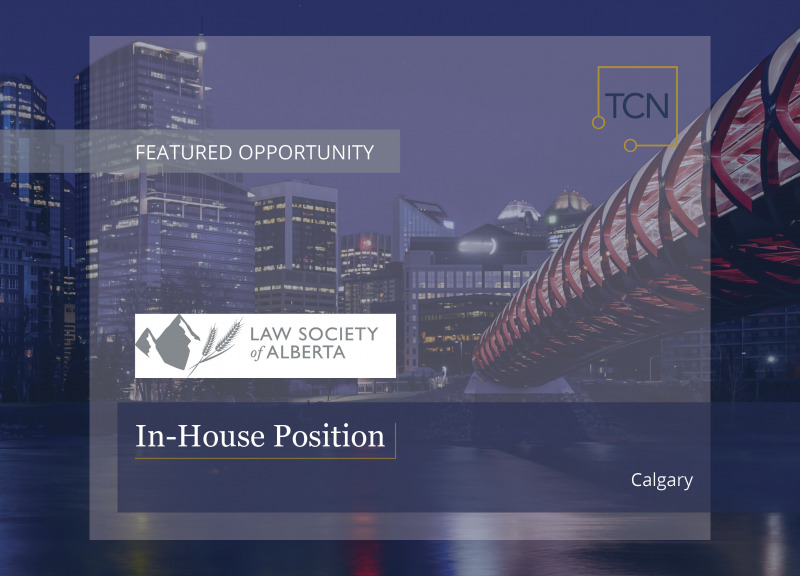 **This opportunity has been filled and is now closed. Please visit our job board to view our current opportunities.**
The Law Society of Alberta is the self-governing body for Alberta's lawyers with a mandate to regulate the profession in the public interest. As a regulator, the Law Society sets standards and enforces those standards for Alberta lawyers.
If you are guided by a passion to protect the public interest and preserve the fundamental principles of justice, this position at the Law Society of Alberta will appeal to you.
Job Description – Early Intervention Counsel
Law Society of Alberta is seeking an Early Intervention Counsel to join its Early Intervention department. The department provides a mechanism for people to convey concerns about a lawyer; assesses information for regulatory risk; and streams matters to the discipline process or provides feedback and learning opportunities. This is part of the Law Society's strategic goal of being a model regulator by proactively addressing lawyer skills while addressing disciplinary matters through a fair process.
The Early Intervention department includes intake, assessment, and resolution activities. Contacts with the department are categorized as general inquiries or information concerning a lawyer and may come from the public, lawyers, financial institutions or on behalf of businesses.
As a key member of the Early Intervention team, the Early Intervention Counsel will, with direction of the Senior Manager, Professionalism, be responsible for reviewing information received at intake and requesting investigation tasks.  They are also responsible for communicating decisions and reasons to complainants. Early Intervention Counsel will provide coaching and educational resources for lawyers as appropriate and required, and may also work to resolve issues between lawyers and others.
Success in this position requires excellent communication, time management, judgment, and analytical skills.
Key Accountabilities and Responsibilities
Review information provided through intake, and then conduct a review under s.53 of the Legal Profession Act and the Law Society Rules according to established processes and timelines.
Research and gather additional information required to arrive at a decision.
Review complaints and either resolve them, refer them into the Conduct stream, or dismiss them as a delegate of the Executive Director.
Communicate decisions and reasons to individuals who have provided the information.
Identify risk and trends and provide recommendations to management.
Prepare dismissals and other correspondence and complete risk assessments as required.
Education and Professional Skills/Knowledge
B. or J.D. degree (or equivalent).
Good standing with a Canadian Law Society.
Minimum of 5 years of experience in private practice with significant client exposure in broad areas of law.
Excellent written and verbal communication skills.
Proven problem-solving skills, along with the ability to communicate with people diplomatically, tactfully, fairly, and effectively.
Ability to prioritize workloads, work under pressure, and adhere to strict deadlines.
Interest-based mediation training would be considered an asset.
This is an exclusive search.
The Counsel Network is committed to building a diverse legal community through our inclusive business and recruitment practices. We value diversity of experience, expertise, and background, and strive to eliminate barriers historically encountered by marginalized groups. We recognize that an equitable, diverse, and inclusive workforce benefits and enriches both the legal profession and the greater community.
For more information or to apply for this position, contact:
Sameera Sereda, Managing Partner
Visit our job board to view all of our current opportunities.