Indigenous Initiatives Counsel Job in Calgary, Canada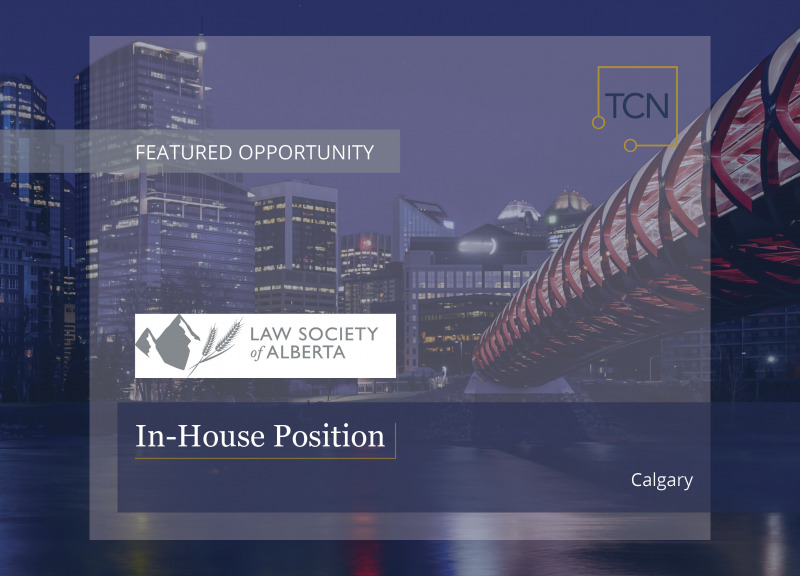 **This opportunity has been filled and is now closed. Please visit our job board to view our current opportunities.**
The Law Society of Alberta is the self-governing body for Alberta's lawyers with a mandate to regulate the profession in the public interest. As a regulator, the Law Society sets standards and enforces those standards for Alberta lawyers.
Whether Alberta experiences unprecedented economic growth or recession, the legal profession faces many challenges in meeting the legal needs of Alberta's diverse population. The Law Society of Alberta has an important role to play in helping lawyers serve diverse populations by building their cultural awareness. The Law Society is committed to responding to the Truth and Reconciliation Commission's Calls to Action and the National Inquiry into Missing and Murdered Indigenous Women and Girls' Calls for Justice in a thoughtful and collaborative way that builds and strengthens relationships with Alberta's Indigenous peoples and communities.
If you are guided by a passion to protect the public interest and preserve the fundamental principles of justice, the Indigenous Initiatives Counsel position at the Law Society of Alberta will appeal to you. This is an excellent opportunity for a compassionate and innovative lawyer to take on meaningful work and advance the process of reconciliation within the justice system.
Job Description – Indigenous Initiatives Counsel
The Law Society of Alberta is seeking an Indigenous Initiatives Counsel to join its Education Department. The Indigenous Initiatives Counsel will collaborate with key stakeholders to develop program initiatives to 1) advance the process of reconciliation within the justice system and the legal profession, 2) provide supports for Indigenous members of the Alberta legal community and 3) advance cultural competency development for lawyers and within the Law Society organization. To accomplish these objectives, the Indigenous Initiatives Counsel will act as an educator and a bridge builder between the Indigenous community, the wider legal community, and the Law Society.
The Indigenous Initiatives Counsel will work closely with all members of the Department's team, particularly the Indigenous Initiatives Coordinator and the Equity, Diversity, and Inclusion (EDI) Counsel, who serves in a similar role with respect to equity, diversity and inclusion initiatives for the legal profession and the organization.
Key Accountabilities and Responsibilities
Through the development of relationships with Indigenous people and communities, engage Elders and Traditional Knowledge Keepers to build a foundation of knowledge of Indigenous history and cultures in Alberta to inform the Law Society's Indigenous Initiatives program.
Work collaboratively to enhance understanding of justice issues affecting Indigenous peoples in Alberta, within the Law Society and the profession.
Lead the development and delivery of the Law Society's Indigenous Initiatives program in collaboration with other members of the Law Society's Education team.
Coordinate the activities of the Law Society's Indigenous Initiatives program.
Coordinate meetings, activities, projects, and strategies of the Law Society's Indigenous Advisory Committee.
Provide educational resources to the profession and to Law Society committee, staff, and Board on Indigenous legal issues.
Support the Law Society in national and inter-provincial initiatives with respect to reconciliation, equity, diversity, and inclusion issues.
Develop, deliver, and maintain educational and training material on the topics of intercultural competency, conflict resolution, human rights, anti-racism, and equity, diversity, and inclusion in the legal profession, working closely with the EDI Counsel.
Plan, research, write and edit articles for various publications.
Education and Professional Skills/Knowledge
We are searching for an Indigenous person who has the following qualifications, skills, and experience:
B. or J.D. degree (or equivalent).
Good standing with a Canadian Law Society.
5+ years of practice experience or similar experience within the legal community
Strong understanding of Indigenous history, laws, and cultures in Alberta.
Strong knowledge and respect for Indigenous cultural traditions, languages, ceremonies, and protocols involving Elders, Traditional Knowledge Keepers, and Indigenous communities.
Strong connection to the Indigenous legal community and wider Indigenous community across Alberta.
Capacity to work with diverse groups with patience and compassion.
Ability to form collaborative relationships with diverse groups.
Ability to adapt educational approaches to meet the needs of diverse audiences and knowledge levels.
Capacity to effectively coordinate project management.
Team leadership skills; experience coordinating volunteers an asset.
Understanding of access to justice, restorative justice and/or social justice issues in the context of Indigenous communities.
Experience in designing and delivering educational material and programs.
Strong interpersonal skills.
Excellent oral and written communication skills.
This is an exclusive search.
The Counsel Network is committed to building a diverse legal community through our inclusive business and recruitment practices. We value diversity of experience, expertise, and background, and strive to eliminate barriers historically encountered by marginalized groups. We recognize that an equitable, diverse, and inclusive workforce benefits and enriches both the legal profession and the greater community.
For more information or to apply for this position, contact:
Sameera Sereda, Managing Partner
Visit our job board to view all of our current opportunities.