Legal Counsel, Legal Services Lawyer Job in Vancouver, Canada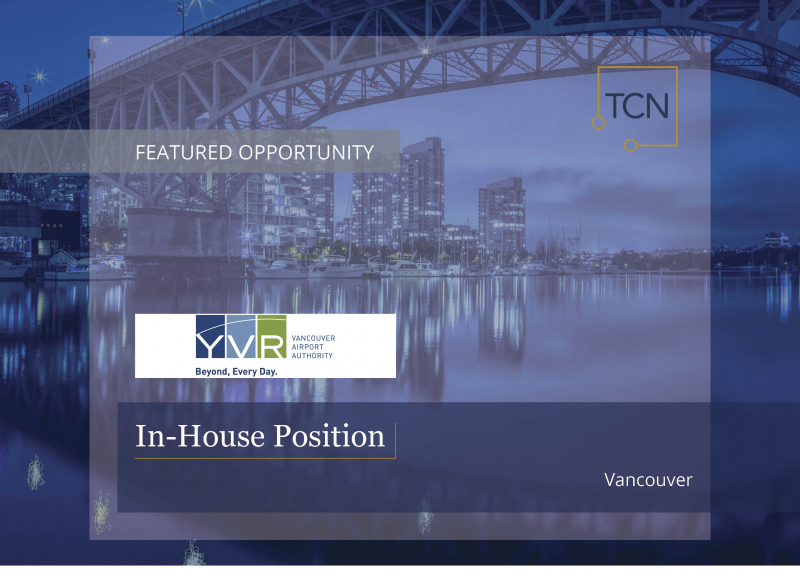 **This opportunity has been filled and is now closed. Please visit our job board to view our current opportunities.**
Vancouver Airport Authority is a community-based, non-share capitalized private company that manages Vancouver International Airport (YVR). The organization is committed to creating an airport that British Columbia can be proud of: a premier global gateway, local economic generator and community contributor.
Vancouver Airport Authority takes great pride in its work. YVR was voted Best Airport in North America for a record 12th consecutive year by the Skytrax World Airport Awards, as well as received the Skytrax COVID-19 Airport Excellence award, the only airport in Canada to do so. The organization as been recognized as a BC Top Employer for 14 years standing, with high engagement scores, an abundance of learning and development opportunities, and a holistic approach to wellness.
Offering a competitive compensation package and a collegial working environment, this is an excellent opportunity for a talented lawyer seeking a dynamic legal and business role at an innovative, leading organization committed to their employees and the community they serve.
Job Description – Legal Counsel, Legal Services Lawyer
Due to ongoing growth, Vancouver Airport Authority is seeking to add a Legal Counsel, Legal Services focusing on commercial real estate to its Legal Services Department. Reporting to the Manager, Legal Services and Legal Counsel, the successful candidate will work closely with the Airport Authority's leasing and land development teams to provide legal advice on their projects at YVR.
The Legal Counsel will be one of a team of 8-10 lawyers and support staff in the Legal Services Department. While there will be opportunities for this role to provide legal support on areas outside of real estate to various other internal departments, the main focus for this role is to provide legal advice and support to the commercial leasing and land development team which manages the lands outside of the main airport terminal. In addition to providing legal advice and support to the internal departments, the Legal Counsel will also be responsible for engaging and instructing external legal counsel which may be necessary, from time to time.
Key Accountabilities and Responsibilities
Draft, review, and negotiate commercial real estate-related contracts, with a focus on lease and licence agreements.
Review and advise on land use and land development initiatives.
Provide advice on compliance with legislation, internal policies and procedures, and risk management matters.
Identify and mitigate legal risk for YVR.
Work with and oversee the work of the Commercial Real Estate Contracts Clerk.
Work with YVR's legal team (other legal counsel, paralegal and administrative assistant) on team initiatives.
Education and Professional Skills/Knowledge
B. or J.D. degree (or equivalent).
Good standing with a Canadian Law Society.
3+ years of relevant experience at a corporate/commercial law firm or in-house legal department.
Experience in commercial leasing and general corporate law.
Experience in land development is an asset.
Excellent organizational skills with the ability to meet deadlines and manage a variety of projects simultaneously and balance conflicting priorities in a fast-paced environment.
Excellent written and verbal communication skills with the ability to communicate legal advice in a clear and practical manner.
Ability to work independently with a high degree of initiative and desire for continuous learning opportunities.
Strong interpersonal skills and customer service focused with the ability to develop strong relationships with a variety of internal stakeholders.
Demonstrate sound, pragmatic judgment with the ability to problem-solve and critically analyse situations.
Positive attitude and the desire to join a close-knit and supportive team.
This is an exclusive search.
As one of Canada's Best Diversity Employers for the 3rd consecutive year, Vancouver Airport Authority strives for a workplace that reflects the diversity of the communities they serve. The organization supports the Employment Equity Act and take measures to ensure fair employment practices and treatment of employees across the organization.
The Counsel Network is committed to building a diverse legal community through our inclusive business and recruitment practices. We value diversity of experience, expertise, and background, and strive to eliminate barriers historically encountered by marginalized groups. We recognize that an equitable, diverse, and inclusive workforce benefits and enriches both the legal profession and the greater community.
For more information or to apply for this position, contact:
Sameera Sereda, Managing Partner
Visit our job board to view all of our current opportunities.