Keep Your Star Associates With Predictable Bonuses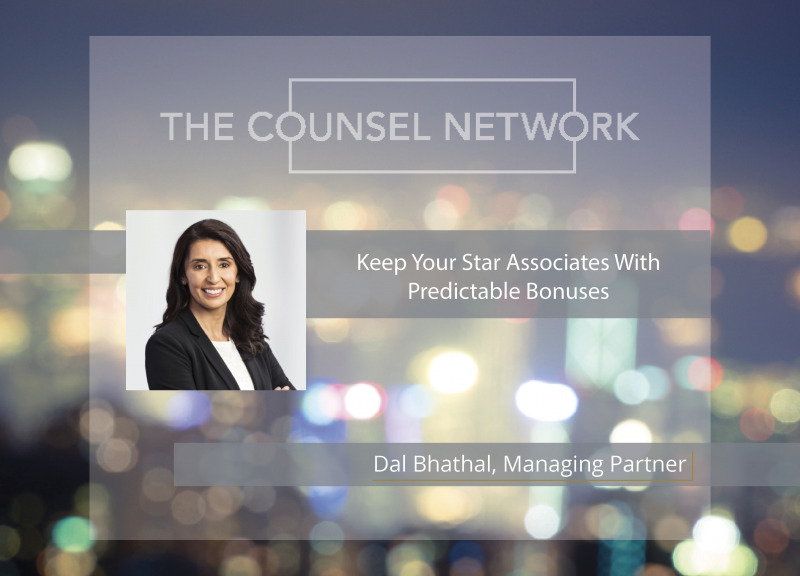 In order to retain top performing Associates, law firms are reviewing and testing their compensation strategies and bonus structures.  Awarded to recognize hard work and demonstrate appreciation to Associates in good standing, annual bonuses augment Associate base salaries not only to sustain firm profitability but also to drive the firm's most desired performance traits aligned to their core values, client service ethos and overall firm culture.
At the same time, Associates are tapped into their network and social media to compare and contrast their compensation and bonus structures amongst competing firms.  While not the sole reason to make a move, for those unsatisfied Associates what they learn through the grapevine could lead to their unexpected decision to leave.
In response, some firms have moved towards guaranteed bonus thresholds, based on billable hours. While not perfect, these models have proven popular amongst Associates, giving greater certainty and consistency in determining Associate compensation.
As legal recruiters specializing in talent management and compensation strategies, we often hear from Associates who are struggling to understand how their bonus value is calculated.
The tricky part in creating a bonus formula for Associates is deciding where to establish the benchmark in terms of minimum revenue the Associate needs to generate.  We recommend reviewing historical financial performance to determine the average monthly revenue and production of each Associate.  This information can help firm leaders set minimum benchmarks and with a little room added for that stretch, establish the performance metrics that will support the bonus platform.
When predictable and properly administered, a good bonus program can lead to better lawyer morale and higher retention.  It's necessary for the firm to be transparent about their bonus process and structure to mitigate any unfortunate surprises in the bonus season.
While there is no one-size fits all magic formula to create a perfect bonus plan, during our decades of experience, The Counsel Network has noticed the greatest success is obtained by those firms that have a clearly articulated plan that is transparent, predictable and well communicated.
Worried that your firm's bonus formula might not drive the optimal Associate performance and retain the top performers?  Give us a call.  The Counsel Network is always happy to help and share from our experience.  Bonus programs can fluctuate and there is always an opportunity to improve the firm's approach to ensure both Associates and Partners are happy.
Dal Bhathal is a Managing Partner at The Counsel Network, a Canadian legal recruitment firm specializing in legal talent management strategies covering all levels of lawyers and practices for both corporate legal departments and law firms. To discuss Associate retention strategies, contact Dal at dal@thecounselnetwork.com or 416.364.6654/604.643.1708. 
Join our network to receive helpful news and information from the legal profession.
Follow us @Counsel_Network