Laid off during Covid-19 Pandemic – What do I do? Know you are not alone!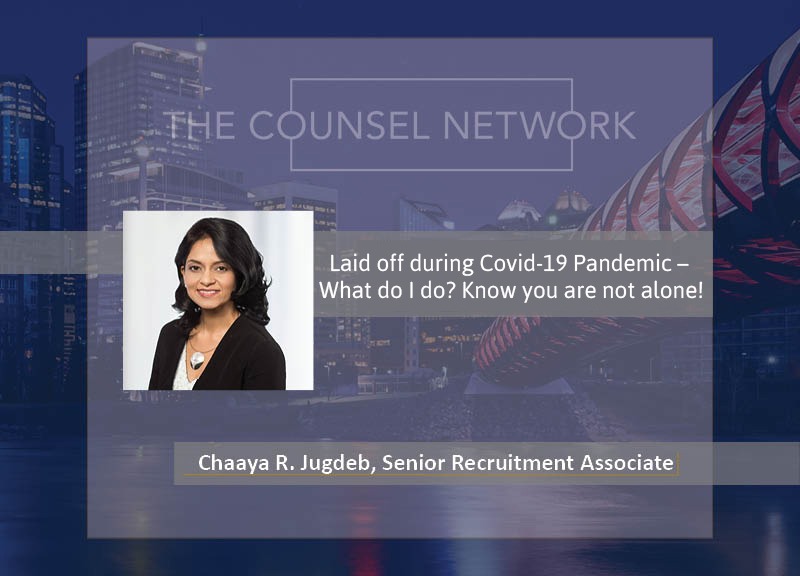 As we've heard over and over, these are unprecedented times. The Covid-19 pandemic has led to uncertain heath and economic crises and we are all hurting in one way or another. Despite their best efforts, some may find their firms or law departments laying off lawyers to save cost.
If you've been laid off, you'll likely feel a myriad of emotions, ranging from denial, bargaining, depression and anger, to acceptance, peace, hope and relief. We deal with layoffs in different ways. For most people, a layoff can be overwhelming and stressful loss. Others may find a layoff frees them from a toxic job and allow them to move forward.
Just because you lose your job doesn't mean you'll lose everything else. Keep in mind you can't control everything around you, but you can control your reaction and make out of this situation.
Below are few practical tips you may find useful when coping with a job loss.
Press PAUSE: 
Take a deep breath and focus on "ME" time. Losing a job is a bitter pill to swallow. So, give yourself some time to digest the news.
Understand the difference between being laid off and being fired. Being laid off is a business decision based on the current climate and not your fault.
Allow yourself to feel your emotions. Don't let shame keep you in a dark place. Once again, this is not your fault!
Nurture yourself and take care of your mental and physical health (e.g. practice meditation/mindfulness, play with your kids, help others in need, sing, dance, pray). Try to do one thing everyday that give you a sense of meaning, joy, peace and solace.
Check your benefits.
Try to OPEN UP: 
When you're ready, connect with friends and family. Vent and release your emotions, but also feel free to set boundaries if you're not willing to share everything. You're going through a difficult time and are drawing on support and encouragement from your loved ones can be liberating.
Find ways to tighten up your budget by creating some new routines and stick with them. Structuring your days, even without a job, is important in reducing mental fatigue and bringing a sense of normality to your day.
After spending time on self-reflection, start figuring out your next career move. The duration of this pandemic is unknown for now, but we will turn a corner. Adopt a long-term mindset and consider where you'd like to position yourself career wise post-Covid-19. Ask yourself the following questions:
Do I have the time, energy, and money to learn new skills? (Check for free courses online)
What industries or practice areas are in high demand?
What transferable skills sets do I possess?
Am I open for contract/part time/freelance type of work?
Is my resume and linked in profile up to date?
Do I need to polish my interviewing skills via video conference? (See our blog on Five Tips for Mastering Your Next Online Interview)
How does my career network look like? Have I connected with an authentic and trustworthy legal recruiter? 
The last question is especially important as you position yourself for a new role. While they may not always find you a job right away, a legal recruiter can be a great resource to help you navigate the job market and ease some of your career worries. Rather than avoid or worry—take problem-solving action. Focus on those aspects of your situation that are under your control; accept and face the challenge the world has placed before you. Instead of reacting from conditioned habit, respond from conscious choice.
Know that you are worth it and have a lot of value to bring to the table. This pandemic won't last forever, so stay hopeful. Make the most of this time to really drill down on your goals and create a game plan that will lead to a more fulfilling career. If you're worried about how this will impact your career in the long term, keep in mind that people will remember this time and you'll only have to say 2020 was the year of Covid-19.
Remember, we're all riding this wave together and will come out stronger. When one door closes, a new one will open at the right time and place. Believe in yourself as you embark on exploring the next stage in your career. You are more resilient than you think!
At The Counsel Network, we build long-lasting relationships with our candidates and clients in the thick and thin. Feel free to reach out to any of our team members, whether you're seeking new opportunities or are simply looking for advice on managing your career right now.
Take good care and stay safe!

Chaaya R. Jugdeb, Senior Recruitment Associate
403.444.1767 / 647.484.8313