Five Tips for Mastering Your Next Online Interview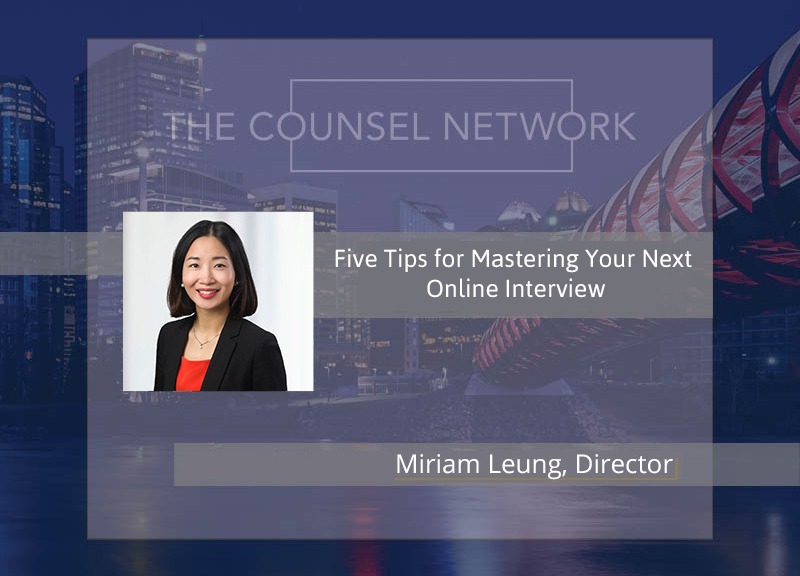 Over the past few weeks, we've had many candidates ask us about preparing for online interviews for both private practice and in-house roles. This is nothing new – virtual interviews have been around for decades. Given the current circumstances, most of us are working from home and online interviews will become a much more common occurrence. Having successfully prepped and placed lawyers for nearly a decade, below are five tips for mastering your online interview.
Prepare
Prepare for the interview just as you would for an in-person meeting. You'll be asked the same types of questions, so know your resume inside-out, review the job description, read up on the company, and prepare questions for the interviewer. It also helps to make a great first impression by preparing a nice, punchy introduction for yourself. For further information, please see our blog on Getting the Most Out of Your Interview.
Set the Stage
Download the right software ahead of time and familiarize yourself with the video platform. Run a few tests and check your sound, microphone and camera settings. Ensure you have a stable internet connection and sit in a quiet spot with plenty of light and a plain background. Put your phone on silent and turn off all apps that may interrupt the interview.
Sometimes, despite our best efforts, technology just fails – so have your phone ready as a backup.
Dress the Part
Some candidates may be tempted to only wear the right attire for their upper half, but my personal advice is to fully dress appropriately (even if you are sitting down). This will help you step into your interview mindset. Plus, you never know when you'll have to stand up.
I also recommend having a notepad, a pen, and your resume in front of you. Ideally, in physical form so you are not switching between programs and possibly losing the meeting page.
Check your Body Language
Engage your interviewer the same way you would at an in-person meeting. Body language is key – look directly into your monitor while speaking and listening and ensure the monitor is at eye level, have good posture, and speak slowly and clearly. You may also experience delays. I suggest nodding and taking a second before responding to an interviewer to prevent talking over each other. If a question was interrupted by poor connection, pause and let them know. Don't guess the question because you may have missed key information.
At the end of the interview, make sure you leave the meeting before you scream in excitement (if it went well) or slam the table (if it…didn't).
Consider Post-interview Etiquette
Take note of any questions, feedback, and concerns from your interviewer. Speak to your legal recruitment consultant and debrief right after, as well as send a thank you note to the interviewers within 24 hours of the interview.
At The Counsel Network, we are well-placed to assist you with preparing for interviews, be it in-person or online. Our team is led by the most experienced legal recruiters in Canada, who, over the last 30 years, have advised the profession through economic cycles and unprecedented changes in the industry.
If you are interested in exploring your career options, our specialist legal recruitment team would be happy to have a confidential discussion with you. Contact one of our legal recruitment consultants for a chat.