Legal Counsel in Calgary, Canada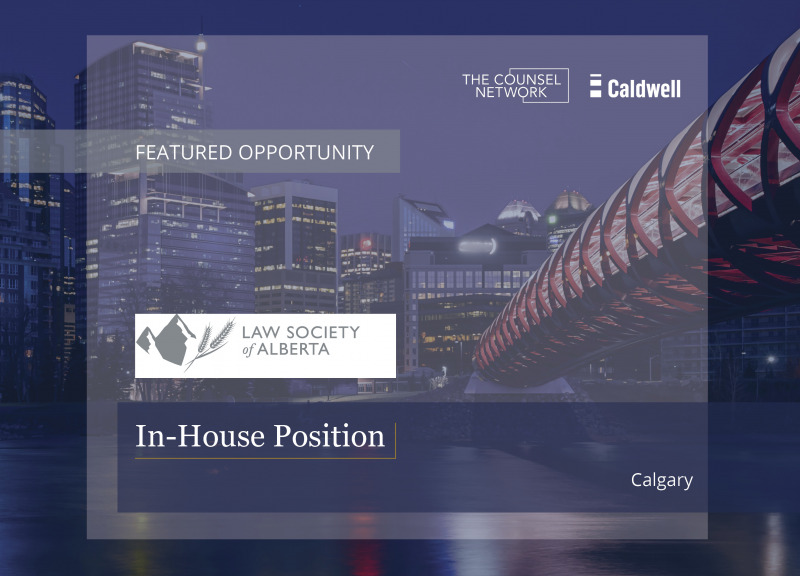 **This opportunity has been filled and is now closed. Please visit our job board to view our current opportunities.**
The Law Society of Alberta is the self-governing body for Alberta's lawyers with a mandate to regulate the profession in the public interest. As a regulator, the Law Society sets standards and enforces those standards for Alberta lawyers.
If you are guided by a passion to protect the public interest and preserve the fundamental principles of justice, the Legal Counsel position at the Law Society of Alberta will appeal to you.
Job Description – Legal Counsel
Due to ongoing growth, the Law Society of Alberta seeks a Legal Counsel to join its team. As a key member of the Counsel department and on behalf of the Law Society, the Legal Counsel will represent the Law Society in all types of internal hearings and appeals, including disciplinary hearings. Legal Counsel also represents the Law Society at all levels of court, as required.
The Counsel department actively supports the Law Society's mission to be a model regulator, including protecting the public interest and preserving the fundamental principles of justice. In addition, the Counsel department provides support and legal advice to external stakeholders, such as Benchers, and all internal stakeholders, including the Executive Leadership team. To that end, Legal Counsel will be involved in effectively managing organizational risk.
Success in this position requires excellent communication, analytical, organizational, judgment, leadership, and time management skills.
Key Accountabilities and Responsibilities
Act on behalf of the Law Society in hearings and appeals.
Appear at all levels of court and work with professionals to provide legal and strategic expertise to all Law Society departments and other committees.
Provide advice on operational and public policy matters including assisting in the analysis, drafting, and implementation of initiatives.
Provide expert and strategic legal advice to managers and stakeholders.
Anticipate issues and assess risk strategically.
Proactively identify solutions to eliminate or mitigate risks and base decision making processes on ethics and integrity.
Maintain professional working relationships with external parties including regulators, external counsel, and clients.
Manage various projects and deadlines and ensure legal objectives are met.
Research unique legal issues and identify applicable statutes, judicial decisions, and codes.
Participate in settlement negotiations as required.
Negotiate, write, and execute agreements that minimize risk and protect legal rights.
Remain abreast of legislative changes.
Education and Professional Skills/Knowledge
LL.B. or J.D. degree (or equivalent).
Good standing with a Canadian Law Society.
7+ years of practice experience, ideally with an emphasis on administrative law, litigation, prosecution and/or risk management.
Broad legal knowledge including an understanding of administrative law principles, litigation and the Rules of Court, and basic understanding of core general practice areas including family, real estate, wills, etc.
Demonstrated advanced written and oral communication skills with the ability to work effectively as part of a dynamic team.
Ability to develop legal strategy and objectives.
High degree of professional ethics and integrity.
Highly organized, able to prioritize and change focus effortlessly as need arises.
Excellent judgment and analytical skills.
Interested in and capable of growing to meet additional changes and challenges that may be added to this position over time.
Ability to anticipate and interpret legal issues or risks.
Ability to be flexible in response to rule and policy amendments that affect day-to-day work.
Committed to continuing education and maintaining professional development.
Occasional business travel within Alberta may be required.
This is an exclusive search.
The Counsel Network is committed to building a diverse legal community through our inclusive business and recruitment practices. We value diversity of experience, expertise, and background, and strive to eliminate barriers historically encountered by marginalized groups. We recognize that an equitable, diverse, and inclusive workforce benefits and enriches both the legal profession and the greater community.
For more information or to apply for this position, contact:
Sameera Sereda, Managing Partner
OR
Meaghan Loughry, Recruitment Associate 
647.417.4720
Visit our job board to view all of our current opportunities.