Legal Counsel in Calgary, Canada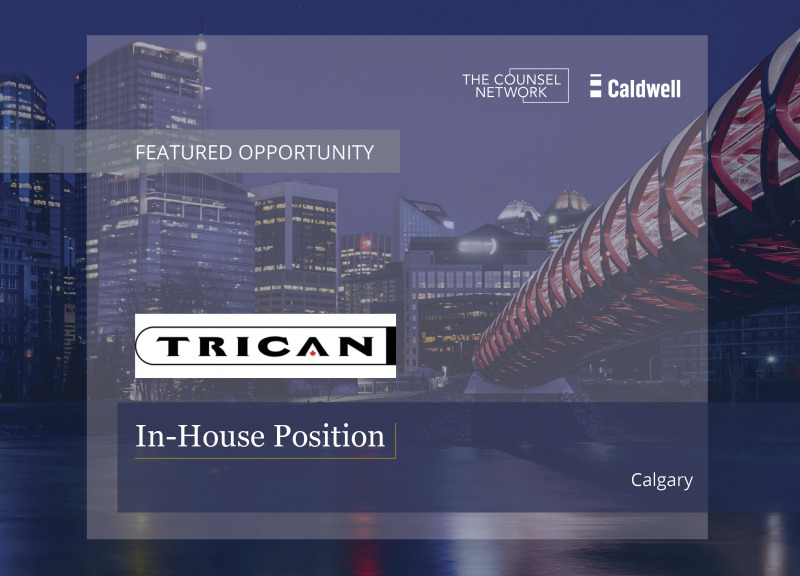 **This opportunity has been filled and is now closed. Please visit our job board to view our current opportunities.**
Trican Well Services Ltd. (TSX: TCW) is Canada's largest well service company built upon a foundation of solid corporate values and a culture of innovation. Trican believes that success begins with its people, as its name and reputation are reflected in the excellence demonstrated by its employees. Trican is committed to its people, exceptional service, and to the environment.
Offering excellent benefits and work-life balance, this is an incredible opportunity for a motivated, service-oriented team player to join a leading energy service company.
Job Description – Legal Counsel
Trican is seeking a Legal Counsel to join its headquarters in Calgary. Reporting to the Vice President, Legal, General Counsel & Corporate Secretary, the Legal Counsel will be an instrumental part of the Legal Team and will assist Trican in affairs pertaining to legal matters and compliance with legal obligations.
Key Accountabilities and Responsibilities
Ensure that Trican's core value, "We won't put anyone in harm's way" is the priority in all activities.
Provide Trican's departments and client groups advice and assistance pertaining to legal matters and compliance with legal obligations.
Collaborate with outside counsel with respect to litigation and claims.
Keep abreast in regard to regulatory and legislative changes that may impact legal advice.
Offer proactive legal advice pertaining to possible legal issues as they arise.
Assist with the development, review and implementation of corporate policies.
Support the Vice President, Legal, General Counsel & Corporate Secretary, and other members of the legal team as needed.
Education and Professional Skills/Knowledge
LL.B. or J.D. degree (or equivalent).
Good standing with a Canadian Law Society.
2 to 4 years of experience practicing law (prior in-house experience in the oil and gas industry is an asset).
Ability to multi-task, and work on various projects and matters, including contracts and general commercial work, as well as employment, compliance, litigation support, leases/real estate, intellectual property portfolio management and advising on policy matters.
Extensive technical and practical knowledge in the practice of law and conducting legal research.
Skilled in drafting, negotiating, and advising on a variety of documentation relating to pressure pumping services and products, business transactions and new projects.
Admirable interpersonal skills conveyed in a pleasant and professional manner when interacting with employees, management, and customers.
Creative, business savvy, good judgement, initiative and skilled in applying problem-solving techniques to complications that may arise.
Ability to grasp and apply new concepts and new subject matters quickly.
Ability to prioritize multiple activities with tight deadlines and adapt to changing working conditions.
Performs work accurately and thoroughly with a high attention to detail.
Works at a fast pace and produces quality work.
Demonstrates commendable organizational skills and follows a systematic method of performing a task.
This is an exclusive search.
The Counsel Network is committed to building a diverse legal community through our inclusive business and recruitment practices. We value diversity of experience, expertise, and background, and strive to eliminate barriers historically encountered by marginalized groups. We recognize that an equitable, diverse, and inclusive workforce benefits and enriches both the legal profession and the greater community.
For more information or to apply for this position, contact:
Sameera Sereda, Managing Partner
OR
Meaghan Loughry, Recruitment Associate 
647.417.4720
Visit our job board to view all of our current opportunities.