Legal Director Lawyer Job in Saskatoon, Canada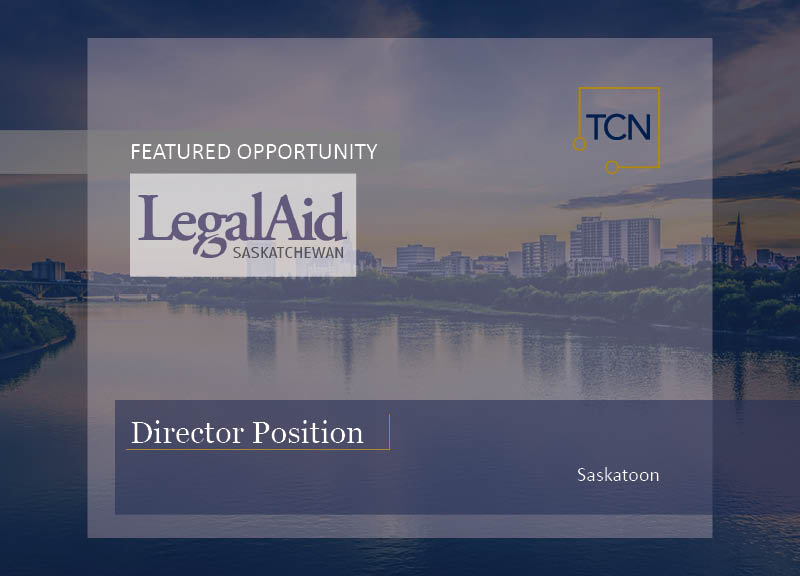 **This opportunity is now closed. Please visit our job board to view our current opportunities.**
Legal Aid Saskatchewan is governed by the provincial Legal Aid Act. It was created to provide legal services to eligible persons for criminal and civil (family) matters where those persons are financially unable to secure these services from their own resources. The Legal Aid Commission has been in existence since 1974. The mission of Legal Aid Saskatchewan is to 'provide accessible and professional legal services in criminal and family law to eligible people.'
Job Description – Legal Director Lawyer
Legal Aid Saskatchewan has an immediate opening for a Legal Director to lead its Saskatoon Office. Reporting to the Chief Executive Officer, the Legal Director will manage the office, supervise all personnel, and provide legal services to eligible clients. As the preferred candidate, you must be an active, aware and accountable leader who enjoys being part of a team that promotes a collegial, respectful and collaborative working environment.
This is a great opportunity for someone with a strong commitment to social justice who wants to serve the community.
Key Accountabilities and Responsibilities
Manage Area Office, including the offices' resources and staff, by ensuring compliance with program, operational and personnel policies and procedures, and controlling fiscal operations.
Oversee the conduct, supervision and coordination of all personnel within an Area Office, by orienting and training employees, communicating expectations, assessing professional growth, monitoring, coaching, counselling and disciplining employees.
Subject to The Legal Aid Act and The Legal Aid Regulations, and the Code of Professional Conduct of the LawSociety of Saskatchewan (all as amended from time to time), provide and is fully responsible for legal services to eligible clients where the matter is considered by the lawyer to have professional merit.
Research legal issues.
Maintain a state of competence on a continuing basis in all areas which the Legal Director practices, including maintenance and improvement of knowledge and skills.
Maintain familiarity with the Commission's policies and procedures and ensure staff are also aware.
Participate in policy setting direction and participation in the planning of middle to long-term objectives for the Legal Aid Commission and its operational units.
Education and Professional Skills/Knowledge
LL.B. or J.D. degree (or equivalent).
Good standing with a Canadian Law Society.
5+ years of litigation experience, with a strong background in criminal and family law.
Experience at the Provincial and Queen's Bench Courts.
Experience in a supervisory capacity.
This is an exclusive search.
For more information or to apply for this position, contact:
Jordan Priest, Recruitment Associate
647.484.8314
Visit our job board to view all of our current opportunities.