Membership and Compliance Counsel in Calgary, Canada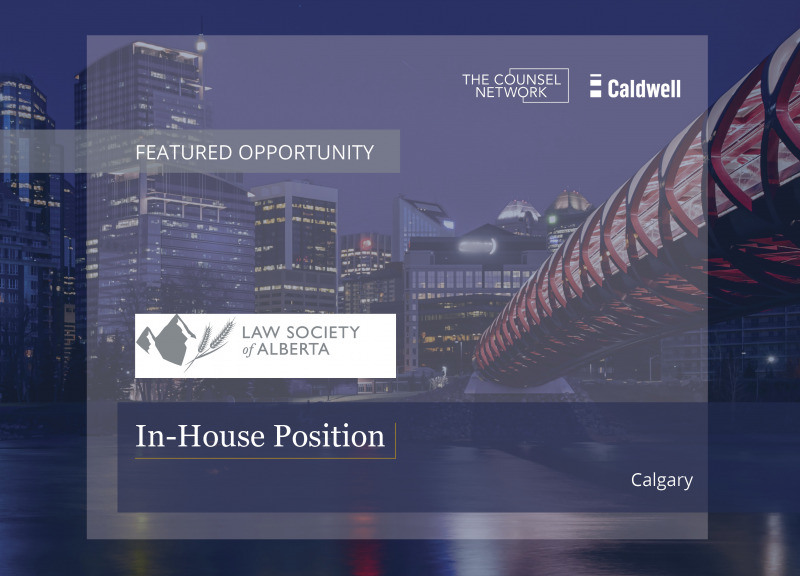 The Law Society of Alberta is the self-governing body for Alberta's lawyers with a mandate to regulate the profession in the public interest. As a regulator, the Law Society sets standards and enforces those standards for Alberta lawyers.
In alignment with the Law Society's vision, mission, and strategic plan, the Membership department provides customer service and transactional support while handling inquiries related to membership status, indemnity status, indemnity changes, and membership renewals. Specifically, the department is responsible for the administration of applications for membership, status changes, labour mobility, Professional Corporations and Limited Liability Partnerships, as well as managing the admission process for students-at-law and the delivery of customer service to internal and external customers.
If you are guided by a passion to protect the public interest and preserve the fundamental principles of justice, the Membership and Compliance Counsel position at the Law Society of Alberta will appeal to you.
Job Description – Membership and Compliance Counsel
Due to ongoing growth, the Law Society of Alberta seeks a Membership and Compliance Counsel to join its team. As a key member of the Membership team, Membership and Compliance Counsel will support the Membership department by reviewing and analyzing applications and drafting written reasons, as required, as well as providing day-to-day legal analysis and problem-solving support to all department staff. Membership and Compliance Counsel must not only understand the requirements of any compliance legislation but apply those requirements and principles to business processes both internally and with partner organizations.
Membership and Compliance Counsel must have the ability to work in a committee environment and have demonstrated knowledge of the regulatory requirements to become a member of the Law Society. Membership and Compliance Counsel is a key staff representative to the Credentials & Education Committee and participates as a staff representative to hearing panels of the Committee.
Essential attributes of the position include excellent communication, time management, sound ethical judgement, and analytical skills, as well as the ability to work collaboratively with other departments and partner organizations. A strong customer service focus is also essential.
Key Accountabilities and Responsibilities
As a delegate of the Executive Director, make decisions regarding student-at-law applications, principal suitability and eligibility, enrolment, labour mobility, status changes, reinstatements, foreign legal consultants, Approved Legal Services Providers, professional corporation permits and licensing of limited liability partnerships.
Apply legal analysis and judgment to evaluate applications as they relate to the Legal Profession Act, the Rules of the Law Society or the Code of Conduct.
Demonstrate a strong understanding of compliance legislation along with an ability to apply principles to new and existing registration practices including the ongoing evaluation of internal processes and requirements, conducting staff and adjudicator training, and to assess new policies and initiatives.
Complete any compliance reporting under FRPA, the LMA, and other reporting requirements as they arise.
Work with partner agencies and internal departments, committees and project groups to further understanding of compliance-related legislation.
Participate in system design to record, track and report on all deadlines and outcomes.
Make registration decisions in accordance with timelines and provide reasons as appropriate. Communicate with applicants throughout the application process.
Make appropriate referrals to any of the Credentials and Education, Conduct or Practice Review Committees.
Engage in risk management analysis throughout oversight of applications and when increased risk is detected, notify the appropriate level of senior management to ensure a coordinated Law Society response.
Direct investigations and consult with Counsel as appropriate.
Support the adjudicative work of the Credentials and Education Committee.
As required, conduct analysis and prepare urgent and time-sensitive reports for management.
Work collaboratively with all department staff, managers, lawyers, key internal and external stakeholders, and partner organizations.
Become a subject matter expert on matters related to membership, licensing and credentialing.
Participate at external meetings as a representative of the Law Society.
Liaise with other departments respecting programs, policies and rule amendments.
Liaise with other Canadian law societies and the Federation of Law Societies, as required. Participate in project work.
Support data stewardship and information management practices.
Support the PREP program and participate in multijurisdictional user group meetings.
Operate proactively in a changing regulatory environment with a view to continuous improvement.
Provide user-friendly and high-quality customer service.
Education and Professional Skills/Knowledge
LL.B. or J.D. degree (or equivalent).
Good standing with a Canadian Law Society.
5+ years of experience in private law practice with significant client exposure in broad areas of law.
Proven problem-solving skills, with the ability to communicate with people diplomatically, tactfully, fairly, and effectively.
Exceptional communication skills with the ability to independently draft correspondence, reports, memos, decisions and other documents.
Demonstrated ability to diffuse demanding situations and work effectively with lawyers, students and the public in their interactions with the Law Society.
Familiarity with administrative law principles and adjudicative process before hearing panels.
Familiarity with compliance legislation.
Ability to work effectively as part of a dynamic team.
Strong attention to detail while maintaining a big picture perspective.
Ability to prioritize workloads, work under pressure, and adhere to deadlines.
Self-starter, able to work independently with minimal supervision; consult when appropriate.
Effective computer literacy, including using databases and applying data stewardship practices.
Strong analytical skills to support compliance reporting.
Interested in and capable of growing to meet additional challenges that may be added to this position over time.
This is an exclusive search.
The Counsel Network is committed to building a diverse legal community through our inclusive business and recruitment practices. We value diversity of experience, expertise, and background, and strive to eliminate barriers historically encountered by marginalized groups. We recognize that an equitable, diverse, and inclusive workforce benefits and enriches both the legal profession and the greater community.
For more information or to apply for this position, contact:
Sameera Sereda, Managing Partner
OR
Meaghan Loughry, Recruitment Associate 
647.417.4720
Visit our job board to view all of our current opportunities.