New Year, New Job: Resumes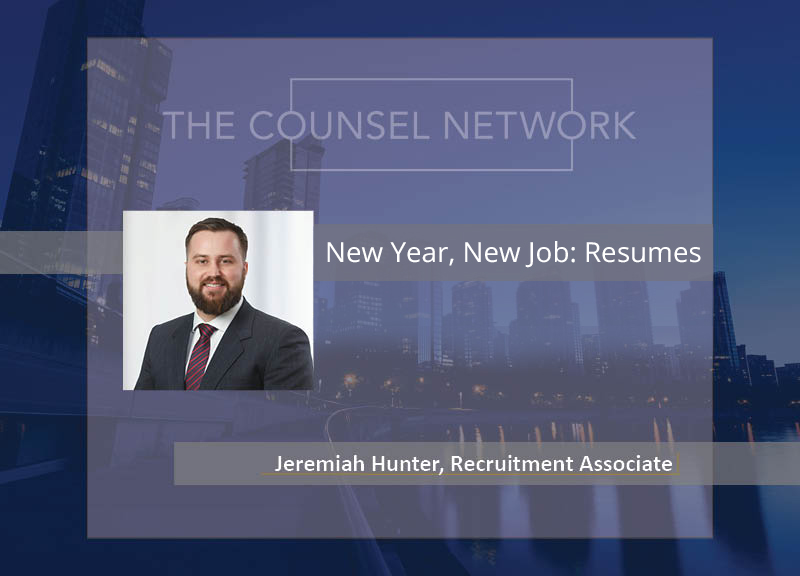 You've recognized that it's time to change jobs. You've clearly identified what it is that you're looking for and have spoken to a legal recruiter who has helped in guiding you in the right direction. Now, you'll be asked for a copy of your resume, but perhaps it's been a while since you've written one. 
Resume writing can be a daunting process – What should be included? What should be left out? How do I stand out? As a legal recruiter, I know that hiring managers typically only spend a few seconds analyzing a resume. I have always found that building a good resume is an art and can take multiple iterations to perfect.
Overall, a resume should show career progression as a connected story. It also should be formatted in a way that makes key information easily digestible upon a short glance. Below are some tips on how to write a great resume.
Keep it simple
Keep your resume simple with one consistent font (very important!), bullet points generally no longer than two lines, and plenty of industry and/or practice area keywords. There is an increasing trend for artificial intelligence (AI) to be used at the start of the recruitment process. Without going into much detail, AI is generally a sensationalized term for automatic keyword search. It is important to avoid vague terms like 'achieving set goals' and list the specific activities you perform.
Keep it short
Two pages is the general standard in the legal industry. Perhaps, however, your role is so nuanced and unique that it's hard to express it in two pages. Or maybe you've worked on so many interesting and complex deals that you'd be underselling yourself if you stuck to two pages. 
In that case, supplement your resume with a transaction sheet or a litigation synopsis. I still encourage you to include one or two of your most significant files on your resume, and then direct the reader to your transaction sheet or litigation synopsis for further information.
Customize it
Tailor your resume to each position you're applying for. Highlight the parts of your practice that are most relevant to the role. Use the job description to identify what's important and customize your resume accordingly.
Writing a resume is a great exercise in articulating your experience and legal and business skillsets to date. If you have questions about how your resume might be interpreted by a hiring manager, don't hesitate to reach out. We'd be happy to have a confidential discussion around how best to express the exciting roles you've held and the work you've done.  
If you're interested in exploring your legal career options, contact us for a confidential discussion.
Jeremiah Hunter, Recruitment Associate
403.444.1765