Why use empathy in legal recruiting?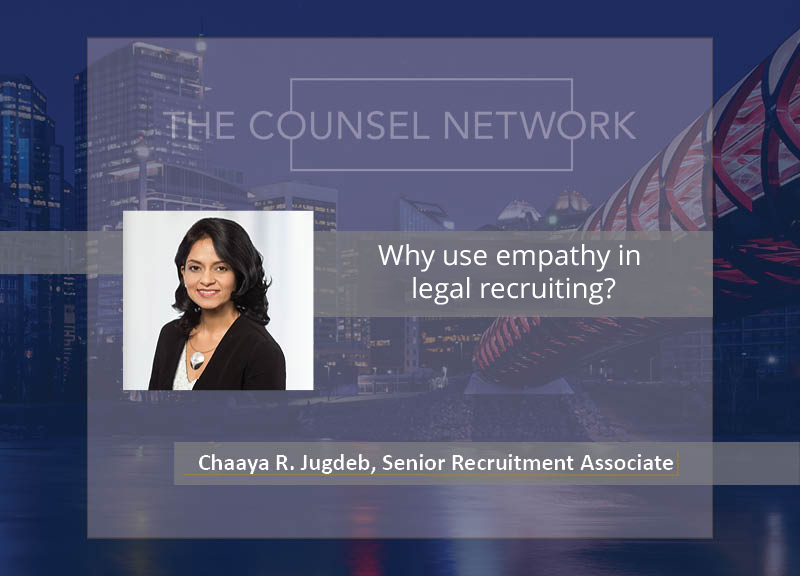 Have you ever wondered why are some law firms and companies are better at attracting, developing and retaining the best legal talent?
Over the course of my career, I have sat in a myriad of HR/talent acquisition roles and have seen the recruitment cycle from the perspective of a hiring manager, a recruiter, a career coach, and a job seeker; as a result, I have a deep understanding and appreciation for the unique challenges faced in each hiring assignment. 
I believe successful hiring involves using the art of empathy in the recruitment process. 
Why empathy?
Empathy has always been my secret ingredient to ensuring a hire makes a positive difference in the organization I work with. Empathy helps foster strong relationships and is important to an organization's brand, especially since its culture depends on the way employees relate to each other. Genuine empathy neutralises negativity, deepens relationships, enhances collaboration, and creates a cooperative work environment.
Showing a little empathy goes a long way in the hiring process, for both clients and candidates. I advocate all lawyers, from junior associates to senior partners, should be understood beyond their resume – they must also be engaged in a meaningful conversation about their challenges, goals, motivation and priorities.
Empathy also recognizes candidates come from a plethora of different backgrounds and cultures and ensures much talked about topics such as diversity and inclusion play an active role in your organization.
What are the considerations of an empathetic legal recruiter?
A legal recruiter that values empathy in the hiring process will always be interested in 'feeling the beat' of your organization. They will take a holistic view of not just the role, but how it fits with the team and overall organization. In addition to the required background and skillsets, the recruiter will also consider:
Any challenges the role may face;

The reasons for recruiting;

Personality of the hiring manager and team dynamics;

The potential for career progression within the role; and

Compensation, benefits, and career development prospects. 
Empathetic legal recruiters have very refined assessment skills and are able to thoroughly explore 'gray areas' during the screening process. They can see any good, bad, and questionable signs early on, as well as provide better insight on the candidates' thoughts on both the role and the organization. Additionally, these recruiters can save you time by thoroughly vetting the talent pool and only presenting high-quality candidates whose skills, values, and career aspirations closely align with your organizational needs.
What is the value-add of empathy in the legal recruitment process?
Employing empathy in the recruitment process provides several advantages, including:
Refining your assessment, interviewing, and marketing skills;

Creating a more authentic connection with candidates;

Identifying top candidates early in the recruitment process to better develop strategies to 'reel them in';

Providing a positive interview experience for all candidates;

Preventing potentially costly wrong hires and avoiding a 'revolving door' reputation; and 

Strengthening your organization's reputation as an employer of choice and attracting star talent on a regular basis.
Empathy also helps leaders to adopt a growth mindset that will not only attract the best talent but also develop, retain and engage star lawyers. 
At the end of the day, an organization is only as good as the people it recruits. Including empathy in your recruitment and selection process will bring you closer to building the organizational culture you envision.
The Counsel Network is a national lawyer recruitment firm working with law firms and in-house legal departments to place lawyers of all levels. Reach out to a member of our legal recruitment team for a confidential discussion today.
Chaaya R. Jugdeb, Recruitment Associate
403.444.1767 / 647.484.8313