Optimizing Your Online Presence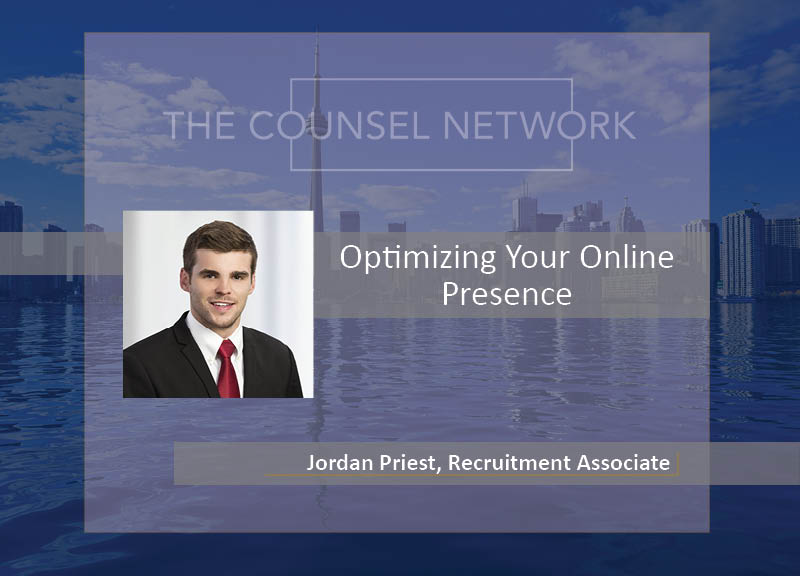 Even when we're content in our jobs, many professionals are thinking about what comes next and how we want our careers to unfold. I was recently headhunting on LinkedIn and came across a profile belonging to a corporate lawyer that instantly stood out to me. After reading through it, I thought "I bet if I reach out, this person will respond." I sent an introductory message and within 30 minutes, I received a very positive response.
No matter where you are in your career, it's important to optimize your online presence. Here are some of my top tips so you don't miss out on the next great career opportunity.
Keep Your LinkedIn Up to Date
Like your resume, make it a habit to keep your LinkedIn profile up to date. Highlight the important aspects of your current job and include a good mix of day-to-day tasks and significant accomplishments. Most legal recruiters have a basic understanding of your role, so highlight any unique responsibilities or personal projects you have worked on.
Have you reached any milestones? Have you done notable work? Have you been published or recognized within your law firm or organization? Listing personalized aspects of your job will help distinguish yourself from other lawyers in similar roles. Additionally, if you're in private practice and have a web profile on your firm's website, ensure it reflects your current practice areas. For example, if your practice now encompasses more insurance coverage work, make sure your web profile properly reflects this.
Personalize Your LinkedIn
Including personal interests in your LinkedIn profile may help find you a career that caters to both your personal and professional interests. Are you a member of the Board for FIRST Robotics Canada? List that. Do you play an instrument with the Canadian Symphony Orchestra? List that. Do you have an interest in the blockchain/cryptocurrency space? List that.
This is all valuable information a recruiter could use when contacting you about a new job. From a recruiter's perspective, we would like to fill a position with someone who is passionate about the industry.
Be Responsive
My best advice is to be responsive when someone reaches out to you. Take the call and accept the InMail! Take the opportunity to expand your network and open yourself up to future roles. Even if it's not the right job, you may know someone else that could be a good fit. Doing these things allows you to be in control of your own narrative.
I also know recruiters would appreciate a response and will be more likely to contact you again in the future. For further information about working with a recruiter, please read our article on What Your Legal Recruiter Needs to Know About You.
In the end, keeping your LinkedIn profile (or general online presence) current and fresh can lead to many possibilities. Showcasing both your professional accomplishments and personal interests can help broaden your network and can bring you closer to your dream career.
If you're interested in exploring your legal career options, contact us for a confidential discussion today.
Jordan Priest, Recruitment Associate
647.484.8314 / 403.444.1760