Senior Legal Counsel, Customer Contracts in Greater Toronto Area, Canada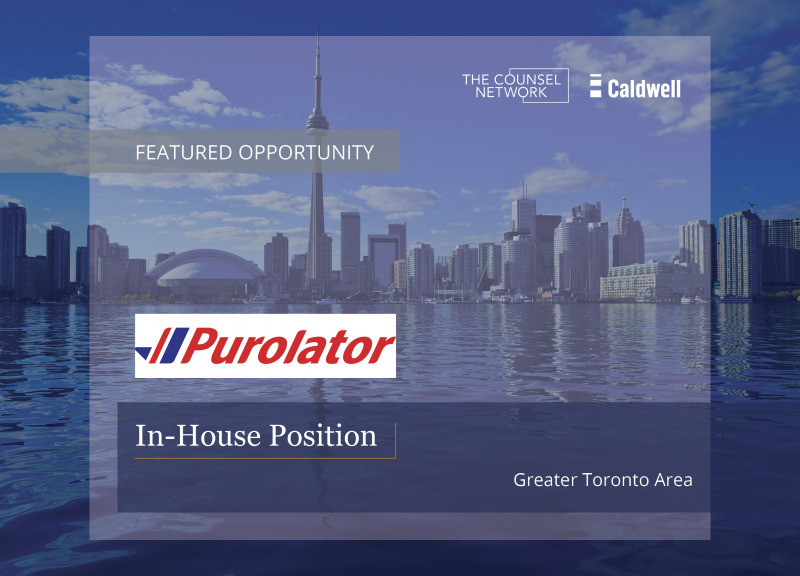 **This opportunity has been filled and is now closed. Please visit our job board to view our current opportunities.**
Purolator Inc. is a leading Canadian integrated freight, package, and logistics solutions provider in Canada. Celebrating 60 years of delivering its customers' promises, Purolator continues to expand its reach and renowned service levels and reliability to more people, more businesses, and more places across the country and around the world. Purolator is proud of its Canadian heritage and is focused on sustainably positioning itself for future growth and success. Purolator is also committed to contributing to the well-being of the communities it serves and where more than 13,000 of its employees live, work and play.
Offering work-life balance and a dynamic work environment, this is a tremendous opportunity for a talented lawyer to join a trade leader in an energizing and evolving industry.
Job Description – Senior Legal Counsel, Customer Contracts
Purolator is seeking a highly competent, energetic, and business-minded lawyer to join its Legal team as Senior Legal Counsel, Customer Contracts. This role will primarily provide legal support as a business partner to enable key Sales initiatives across the organization in a timely and strategic manner.
The Senior Counsel will manage and solution complex customer contracting matters, including draft, review and negotiate a broad range of commercial agreements, support colleagues on the Contracts team, and manage workload to ensure that legal matters are complete within the committed SLAs, enable key Sales initiatives and manage risk. In addition, this role will support the improvement of legal processes to scale legal services across the organization.
The ideal candidate will have a minimum of 5 years of corporate/commercial legal experience (with a minimum of 3 years within a sales focus), a pragmatic approach, sound business acumen with the ability to triage a heavy workload, set and achieve priorities and manage legal and cross-functional projects. In addition, Candidates with experience managing legal professionals and/or legal function(s) are encouraged.
Key Accountabilities and Responsibilities
Support the Director, Customer Contracts to achieve objectives and initiatives of the function.
Manage a workload focusing on sell-side commercial contract negotiation and drafting for strategic and targeted customer matters, including RFPs, renewals, and new opportunities, and ensure legal matters are addressed within the SLA with sound commercial judgement.
Lead contracting negotiations with customer representatives to enable achievement of key Sales and organizational initiatives while balancing risk to Purolator.
Work closely with cross-functional colleagues, primarily in Sales, Revenue Management and Operations, to optimize solutions for customer contracting matters.
Provide primary support and coaching for other lawyers, professionals and colleagues within the customer contracting function.
Lead cross-functional projects and act as the point of contact for the Legal Contracts team.
Partner with colleagues to improve legal processes and scale legal services across the organization.
Provide strategic and pragmatic cross-functional expert advice, including primarily via partnering with the Sales organization.
Identify, assess, and manage legal, reputational and regulatory risk while enabling key Sales and organizational initiatives.
Education and Professional Skills/Knowledge
B. or J.D. degree (or equivalent).
Good standing with a Canadian Law Society.
5+ years of corporate/commercial legal experience with at least 3 years of demonstrated sell-side contract negotiation experience gained in a similar or analogous industry.
Excellent interpersonal and client service skills.
Sound business acumen with strategic and pragmatic approach.
Work with confidence in a fast-paced environment and great at getting things done.
Creative, solution-focused team player.
Diplomatic and persuasive with a demonstrated track record with a sales organization.
Leadership and management skills.
This is an exclusive search.
The Counsel Network is committed to building a diverse legal community through our inclusive business and recruitment practices. We value diversity of experience, expertise, and background, and strive to eliminate barriers historically encountered by marginalized groups. We recognize that an equitable, diverse, and inclusive workforce benefits and enriches both the legal profession and the greater community.
For more information or to apply for this position, contact:
416.364.6654 / 604.643.1708
OR
Meaghan Loughry, Recruitment Associate 
mloughry@thecounselnetwork.com
647.417.4720
Visit our job board to view all of our current opportunities.