Steps to Ace Your Interview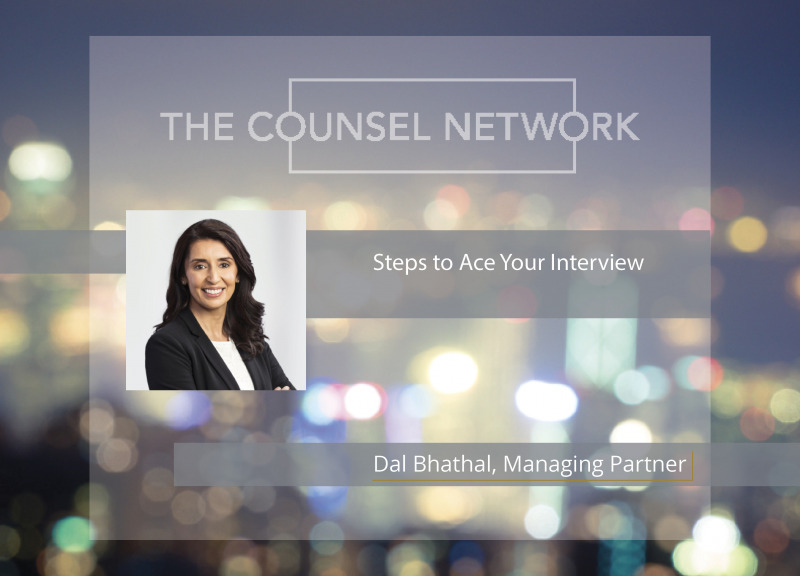 As you end the telephone call with the legal recruiter, you silently launch into celebration that you've landed a job interview with the organization of your dreams.  Gathering your thoughts, and capturing the logistics into your calendar, your mind turns to how you can ace the interview.  Let's get started to make sure you get that offer.
Research
Learn as much as possible about the firm or the company.  Review the website to learn about the people, the services and the general perspective of the organization so you can identify how to contribute or fit within the organizational culture.  Make note of anything from your research that you want more information about so you can ask relevant questions.
Practice
Compile a short list of typical questions that you think will be asked of you during the interview.  It might seem somewhat strange, but stage for yourself a mini-rehearsal.  Practicing your responses out loud will help you polish your answers and decrease any nerves.  Many lawyers haven't prepared for a job interview since articles so take a moment to brush up.  Rehearsing with someone else might prove helpful to get feedback on body language and eye contact.
Appearance
Dressing smart and professional will ensure a good first impression.  Knowing the dress culture for the firm or the company you are interviewing with is important.   However, most experts agree it is better to over-dress for an interview than to arrive too casual.  Avoid excessive jewelry or other flamboyant accessories and strong scents.
Review
Identify your strengths and unique selling points.  Think about how your experience fits with the available position.  Come prepared to share specific examples or short stories of success during your interview.  Communicate with enthusiasm, engagement and sincerity about contributions you can make to the team.  Your interest and preparation will be evident to the interviewer as well as your passion for the position.
Advice
Professionals in legal headhunting or career management can be a valuable resource.  Turn to them for advice regarding the hiring organization, resume writing, interviewing and market knowledge.  They are even good sounding boards when reassessing your career path.  As with any trusted adviser you choose, understand any related fees to consult if applicable.  Some recruitment firms offer such service free of charge, but choose your adviser wisely.  If possible, source a career counsellor who specializes in the legal sector.  Select a capable ethical and reputable firm with a proven track record.
Be Yourself
Flash forward to your arrival for the interview.  Take a deep breath.  Be mindful that this discussion is a two-way street.  While the organization is interviewing you, it's equally important that you interview the company to determine if this is the right organization and position for you.
You've prepared to ace the interview so you can relax, be yourself and ask the pertinent questions necessary for you to decide if this is the right opportunity for you, or not.  It's better to determine at the outset whether there is a career match rather than finding out after you've taken the position.
Dal Bhathal is a Managing Partner at The Counsel Network, a Canadian legal recruitment firm specializing in legal talent management strategies covering all levels of lawyers and practices for both corporate legal departments and law firms. To discuss your legal career, contact Dal at dal@thecounselnetwork.com or 416.364.6654/604.643.1708. 
Join our network to receive helpful  news for the legal sector and insight to available legal jobs as they are posted.
Follow us @Counsel_Network