How Associates Can Best Leverage Legal Headhunters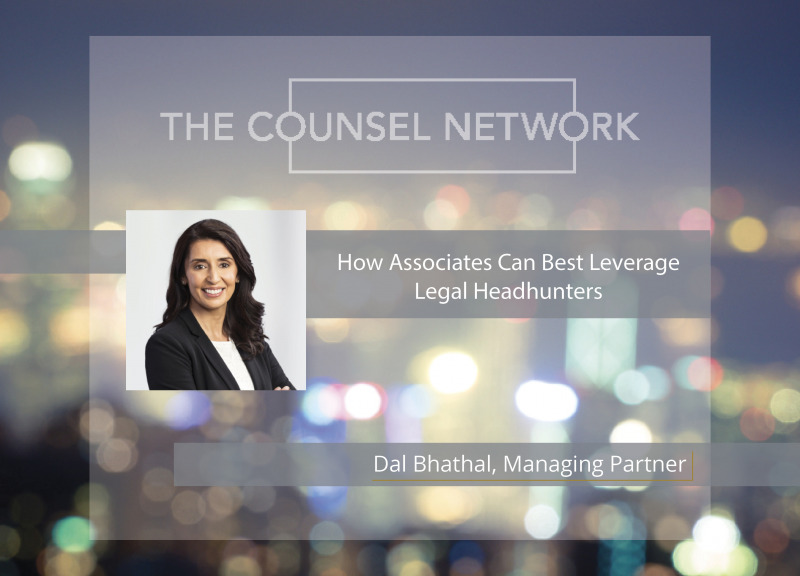 In today's competitive environment for the best legal talent, active career management on the part of any Associate may not only enhance their current career, it might also ensure that when the "perfect opportunity" arises, they are well prepared and standing in the right place at the right time.
How can Associates best position themselves for such prospects and future opportunities?  As legal headhunters, we have a few tips to consider:
Be Visible
As a legal professional, consistently display the attributes of competence, leadership, hard work, interpersonal skills in all that you do.
Increase and Maintain Your Professional Profile
Focus your efforts on both the legal profession amongst peers and Partners and within the broader business community through networking, writing, speaking, joining community organizations or professional associations and getting involved in significant client files.
Connect With a Legal Headhunter
Seek out a legal headhunter who is capable, professional and ethical. Conduct due diligence to understand their reputation.  Check if the legal headhunting firm is a member of the National Association of Legal Search Consultants and abides by a code of ethics and practice standards.
Leveraging a legal headhunter has several benefits given how tapped into the legal market they really are.  From their extensive work with individual lawyers, law firms and corporate legal departments, they have practical and current information about the job market.  As legal headhunters have established longstanding relationships with prospective employers they can offer insight and guidance about the unique nuances of each culture and working environment that might prove critical in your decision making process.
As far reaching as the legal profession is within the country – it is also a small world.  And one where the word can travel fast – especially about senior level moves.  Legal headhunters help to manage the necessary confidentiality during the job search and in the process look out for your best interests.
The best legal headhunters are objective and frank.  They can provide valuable and unbiased feedback regarding your current situation, marketability and future prospects.  To gain a competitive advantage in building a successful and prosperous legal career, lawyers should leverage knowledgeable professional recruiters who specialize in the legal sector and who offer lawyers a no-risk, no-cost career development service.
Dal Bhathal is a Managing Partner at The Counsel Network, a Canadian legal recruitment firm specializing in legal talent management strategies covering all levels of lawyers and practices for both corporate legal departments and law firms. To discuss your career in confidence, contact Dal at dal@thecounselnetwork.com or 416.364.6654/604.643.1708.   
Join our network to receive helpful news and information to support your legal career.
Follow us @Counsel_Network