Tackling the Gender Wage Gap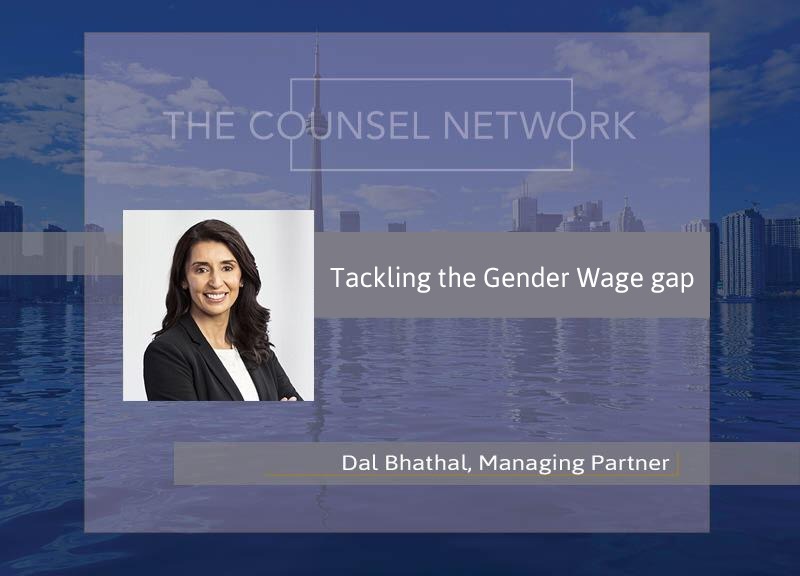 Women leadership has increased across many fields; however, the gender pay gap remains a key barrier to achieving gender equality. A 2018 study from Stats Canada found that women employees, aged 24 to 54, earned 13.3% less per hour on average than their men counterparts. Furthermore, the World Economic Forum's 2017 Global Gender Gap Report reported that gender parity is over 200 years away.
Numerous studies across Canada and the US have reported similar statistics for in-house counsel. The 2020 In-House Counsel Compensation & Career Survey Report showed the gender wage gap for Canadian lawyers remains at 11% for the same positions, with the gap higher for more senior positions.
So, what strategies can you use to correctly value yourself as a lawyer and negotiate your salary? It's a complicated topic with many inextricably linked factors; however, underpinning all compensation structures should be the principle of fairness. Today, I will address what we, as women lawyers, need to do to correctly value and position ourselves for compensation discussions.
Market Information and Data
This will be your best tool. There's a lot of information out there – you just need to find and tailor it. There are three key pieces of information you need:
Information on the Market
Gather information on market compensation and how it compares. There are three broad categories:
Associates: Larger firms have a lockstep compensation model. Conversely, smaller firms often work on the 'one-third' principle and as lawyers at those firms become more senior and develop their own practice, these percentages shift in their favour.
Partners: Many firms have open compensation models, so information is readily available whereas some firms have closed models (which can make it difficult to obtain robust information).
In-House Counsel: For public sector employees, the Sunshine List provides compensation information. Various surveys, such as our [The Counsel Network] In-House Compensation and Career Survey, can provide more detailed breakdowns.
In-house counsel compensation is not easy to determine, it's never 'apples to apples'. What makes it difficult is that roles for the same title can vary tremendously, so make sure you speak to experts. Friends will often lend a sympathetic ear, but talent professionals and knowledgeable recruiters will have real time market information. In addition to collecting info, identify the differentiating factors for your role and how it impacts your compensation. Tailor the data as it relates to you. For further information, please see our blog on How to Compensate an In-house Lawyer: A Guide to Calculating Compensation.
A key consideration is maternity leave and the impact on your compensation, especially in the early part of your career, especially if you're in private practice. To measure your worth showcase the work you have done (it's important to keep a record) and position yourself so you'll still have access to quality work, or the work you want to do, when you return.
Information on You
Consider your skillset, experience, areas of expertise (and demand), and value. What projects have your worked on? What is unique about your role? What are your accomplishments? Each time you close a deal, negotiate, or go to court, make a note of it. It's important to have this information on hand during reviews and compensation discussions.
When interviewing for a new position, don't always reveal your current compensation. It's well-known that in the absence of clearly defined compensation structures, prospective employers will base their offer on what you're currently making. If it's public knowledge (i.e. on the Sunshine List or lockstep at a large firm), there is no issue. Otherwise, when you're asked about compensation expectations, provide a current range or your expectations. If you've done your homework, you'll know what those are. There may be instances where you are prepared to take less, eg you are transitioning into a practice area you have not been practicing in so there will be a steep learning curve for you, then your response is  'I'm making 'X' but as a transition, I am prepared to be compensated within the range you are offering'.
Information on Your Firm/Legal Department
This is where unconscious biases kick in. Studies have shown that gender differences may not lie in how women are behaving, but how their behavior is perceived.  How many times have you heard that 'women need to negotiate better – aim higher, have more self-confidence, speak up, and ask for what they want'. On the flip side those women that do speak up, aim higher and ask for what they want, are described as being 'loud, aggressive, demanding' and often as a 'real [B-word]'.
So, is it true women are not asking for raises? A 2018 study, published in Harvard Business Review found that, perhaps as a result of being told women are not negotiating, women are asking for raises as often as men, they are just less likely to get them. For further information, please see our blog on Striving for Gender Balance in the Legal Profession.
Look at specific problems by collecting information on things that are occurring in your organization where biases might be operating. Here are examples of some questions to consider:
How is work being allocated and to whom?
Are themes emerging from performance reviews?
What factors are being considered for compensation?
When are women leaving your firm/legal department?
Do women behave differently or is their behaviour perceived differently?
Does your organization's culture limit the growth of women?
To advance women in the legal industry, law firms and legal departments need to address the problem of bias head-on: with hard data. Given the advances in technology, we can easily collect data; however, data needs to go beyond demographics.
In order to negotiate your compensation and be ready for discussions on career growth, you need to build a business case for why. Start by collecting data and quantifying your merits and achievements. Conduct compensation research. Focus on your value and what you bring to the table.
416.364.6654