Thinking of an international legal career?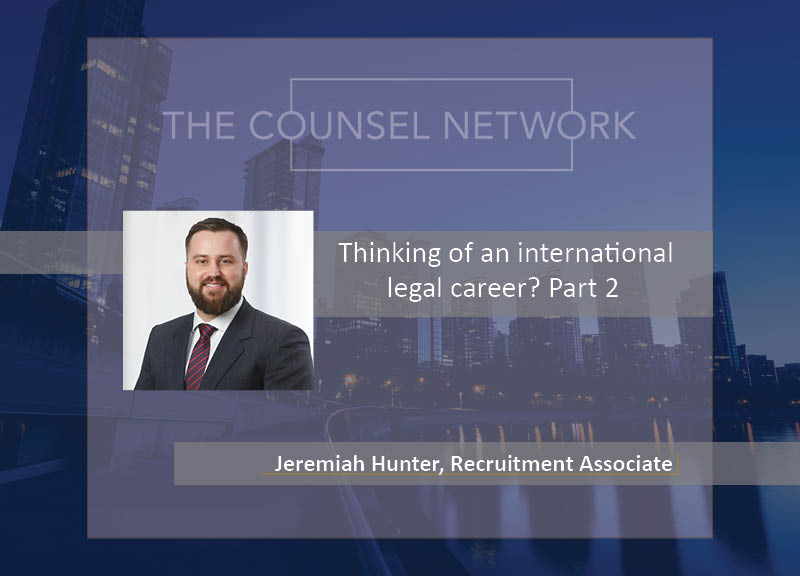 Part 2: Timing and Visas
In my last article, we discussed the professional benefits of an international legal career. There are many personal benefits as well, but before exploring those we will cover some of the immediate practical considerations. Timing and visas are some of the main determinants when it comes to thinking about moving abroad.
Timing
Bill T. Gross, entrepreneur and founder of the first pay-per-click search company, conducted a recent study and found that the most important factor of a business's success is timing. A similar thing can be said for individuals, especially lawyers. There are two things to consider: (1) when best to move abroad and (2) when best to return, if that is a consideration.
While some law firms are moving away from the lockstep model, a lawyer's career generally still has an expected progression. So, if you're considering an international move, it is advised to do it sooner rather than later. As a lawyer reaches six to eight years of practice, it is expected that they have a portable book of business. It is almost unheard of for clients to follow a lawyer across borders, so it is advised that the latest an international move be considered is at the eight-year mark. Now if the lawyer intends on repatriating to Canada, they should leave earlier and then generally aim to return before that eight-year mark.
How early in a lawyer's career they should move overseas is dependent on several factors. Marketability abroad is a key consideration. Law firms tend to prefer hiring local candidates, so to prove one's worth against the competition, it is generally advised that a lawyer have a minimum of two years of Canadian legal practice experience before considering a move abroad. However, it isn't unheard of for firms in international centers like London and New York to hire Canadian first year calls or even newly called lawyers, which was the case in recent years. Success in securing a position abroad can be highly dependant upon demand.
Visas
Visas are a very important consideration. Sponsorship from a law firm is an option, but it is not advised that you rely on this. There will likely be additional hurdles for the firm to hire a foreign lawyer and having their sponsorship approved can be a lengthy and costly process. For this reason, it is common for law firms to strongly prefer local candidates; they may immediately dismiss foreign lawyers until they have secured their own visa.
Law firms open to foreign lawyers may require expatriates to practise with them exclusively for an extended period (generally around two years). And so, the process can be much easier if the individual can secure a visa independently.
Given the complexities involved, top-tier larger firms tend to be well equipped to hire foreign lawyers. However, there are comparatively few of these and a lawyer would drastically increase their options if they did not require sponsorship.
Canada has strong diplomatic relationships across the world and there are many countries that offer visas that are relatively easy to acquire without guaranteed employment. One of the best visa options for individuals is a working holiday visa. Here it is important to consider timing as these are generally offered to individuals below 30 or 35 years of age. Global Goose explores 32 countries that offer this option to Canadians.
However, if this is not available to you, sponsorship is still a very common method of immigration and thankfully many countries have visas for highly skilled workers, but due to the complexity involved, this should be explored on a case-by-case basis. The Caribbean and surrounding region, London, New York and Singapore tend to be locations where firms are best equipped to hire foreign workers.
Both timing and visas are important considerations when it comes to making a move abroad. These two factors have been a major influence on my own move to Canada and I'd be happy to discuss these with you and the many other factors involved should you be considering practicing overseas.
In the next article, we will explore some of the personal considerations involved when expatriating.
If you're interested in exploring your legal career options, contact us for a confidential discussion.
Jeremiah Hunter, Recruitment Associate
403.444.1765