Three Tips for Hiring in a Hot Market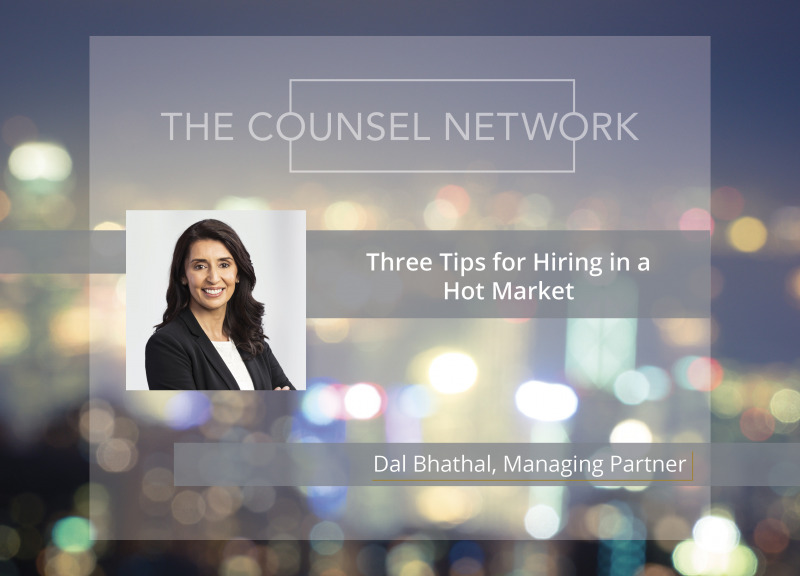 Lateral movement is a way of life for both lawyers and law firms. As we progress, Canada's recovery is being described as 'K-shaped'. The continued strength of private equity and a flourishing technology sector has driven strong M&A activity and the biggest ever Q1 crop of IPOs by Canadian companies in the past 15 years.  
Law firms in the top part of the K have quickly shifted into expansion mode, resulting in a hypercompetitive market for legal talent, characterized by diminishing talent pools and high turnover rates. At The Counsel Network, we haven't seen this level of hiring since pre-2008.  
We are finding law firms scrambling to recruit associates and partners to fill its needs. Internal pressure and increasing workloads can drive impulsive and reactionary hiring decisions, which can be a costly mistake. No matter the market, employers must always have a clear grasp on their recruitment strategy to ensure long-term success. 
Below are three tips for lateral hiring in a hot market:
1. Develop a plan 
Preparation is the key to success. Before heading into the market, law firms should have a recruitment plan aligned with its business objectives, including short, medium, and long-term goals. Tying recruitment strategies to the firm's 'big picture', its culture and its differentiating factors will facilitate a more meaningful recruitment process, mitigating the effects of reactionary hiring and ensuring both the candidate and the employer have a clear understanding of their role, expectations, resources, and the outlook of their group. 
We also suggest ensuring recruitment policies and processes further equity, diversity, and inclusion (EDI) initiatives. EDI offers tremendous value to law firms, including better client reach, improved firm reputation, and increased innovation, collaboration, commitment, and productivity. 
2. Hire quickly (but not too quickly) 
In a tight market, law firms must act quickly when assessing talent. Slow, bureaucratic hiring practices run the risk of candidates accepting offers from more nimble employers. If speed cannot be changed, law firms should work to minimize candidate attrition by actively communicating with candidates throughout the recruitment process. 
On the opposite end, talent shortages can push law firms to explore more junior or downmarket candidates; employers should then prepare to conduct more due diligence and invest in robust onboarding, training, and integration processes to increase their candidate's chances for success.
3. Determine fair compensation 
Compensation is rarely the defining aspect of an opportunity; however, market conditions will influence how prospective hires assess their options. Right now, paying standard market rate may not be sufficient to attract top legal talent. On the other hand, active market conditions typically correspond to highly profitable years, so law firms may find themselves tempted to veer off the salary chart or offer significant signing bonuses.  
Balance is key – ensure the offered compensation is both sustainable in more moderate market conditions and palatable for internal political purposes. The existing team will notice when a firm makes extraordinary deals to lure laterals; offering non-replicable deals will send the message they may need to go elsewhere to obtain the same result. 
Generous compensation structures should still allow room for adequate and proportional incentives as the candidate progresses. A clear understanding of the current market is key to determining the appropriate compensation. 
As the market continues to surge, these three considerations will be crucial to your long-term recruitment efforts. Building a firm that houses great talent cannot be haphazardly assembled by chance. Ultimately, successful legal recruitment will require employers to be adaptive and proactive towards changing market trends. Set your law firm apart by adopting clear recruitment standards and goals, and then adjusting and refining them strategically. 
To attract the best legal talent, we suggest professionalizing your recruitment methods. The top of the talent pool is usually employed elsewhere, so consider methods where you canvas the market in an organized, target fashion. If you're thinking about making your next great hire, please reach out for a confidential discussion today. 
Dal Bhathal is a Managing Partner at The Counsel Network, a Canadian legal recruitment firm specializing in legal talent management strategies covering all levels of lawyers and practices for both corporate legal departments and law firms. To discuss your retention strategies, contact Dal at dal@thecounselnetwork.com or 416.364.6654/604.643.1708. 
Join our network to receive helpful news and information regarding the legal profession.
Follow us @Counsel_Network