3 Golden Rules to Retaining Associates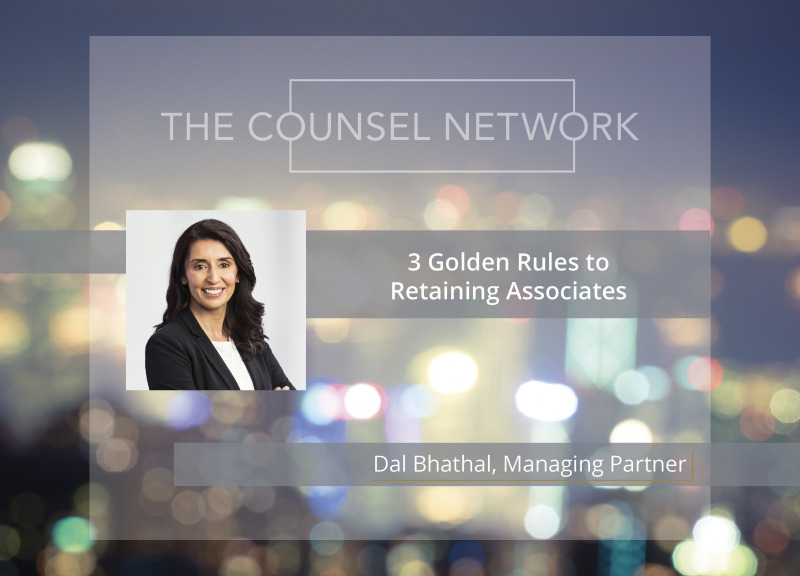 High-fives all round…..  You've recently hired that highly skilled star quality Associate to your legal team.  The lead Partner and recruiting team take a huge sigh in relief.  And everyone's focus returns to their day-to-day or moves on to recruit the next lawyer.
Following the successful experience attracting and onboarding top legal talent, retention can prove daunting.  Especially those legal employers who are unaware of or unwilling to respond to their Associates' motivators.
What exactly are today's most skilled Associates looking for in a successful employment relationship? Feedback from candidate exit interviews reveal that the best legal employers tend to exhibit three key characteristics to fostering long-term loyalty.
RULE 1:
Show Appreciation
First and foremost, Associates desire respect from their colleagues, recognition for the quality of their contributions, and rewards for a job well done.
Respect flows when associates are given a voice in the inner workings of their employer, such that their individual wants, needs, and desires are heard and taken into consideration. Solicit input from Associates wherever possible and engage in active listening.
Recognition of valued contributions can range from simple congratulatory emails saluting an Associate's success to formal programs publicly acknowledging exemplary service.
Reward behaviours which the employer wants to encourage.  Performance bonuses and other forms of monetary compensation are perfectly adequate if the employer prioritizes financial performance. However, if the legal employer values the efforts of its Associates when contributing above and beyond strictly dollar amounts, it is wise to design a reward program that cultivates these positive behaviours.
Lastly, whatever the methods of compensation (salary, draw, bonus, profit share, dividend, or otherwise), be certain that your compensation model is competitive in the market. Although top-dollar salaries are not necessarily the best incentives, be cognizant that many of your Associates are likely chipping away at their student loans.
RULE 2:
Communicate
In our experience as legal recruiters, poor communication is the issue most frequently cited by exiting Associates as the reason behind their departure.  Communication is a two-way street. Legal employers must ensure that not only are they consistently informing Associates in a clear and straightforward manner, but also they actively listen to their concerns.
Highly successful firms make it a priority to learn their Associates' concerns so they can provide targeted information and advice in response, while also cultivating a working environment in which Associates feels appreciated.
Creating an effective formal mentorship program, hosting informal Associate lunches (in groups or on an individual basis), and assigning junior practice managers are all excellent means of staying in tune with the needs of your Associates.  Moreover, these mechanisms are an invaluable framework for providing Associates with clear and consistent feedback in real time.
An alarming number of exiting Associates unhappily recount their struggles to understand the work expectations, billing structure, compensation structure, reward program, mentorship program, governance model, culture, values, and goals of their former employer. Taking the opportunity to clearly outline and reinforce these fundamental concepts on an ongoing basis will alleviate potential frustrations and effectively teach Associates how to best develop their future careers.
RULE 3:
Stay Connected
Top Associates focus on much more than the almighty dollar. They crave opportunities for personal growth and professional development, access to information, collaboration with knowledgeable professionals, participation in the employer's decision making process, and a high degree of control over their personal and professional lives.
Such Associates are constantly evolving to suit their professional and personal circumstances. Their personal work ethic and core values in addition to personal changes such as marriage, divorce, pregnancy, children, parental concerns, addiction, and health issues can dramatically shift an Associate's priorities and significantly impact their practice. While any legal employer has limited influence over such factors, it is imperative to make an effort to remain aware of, and adaptable to, your Associates' changing station in life if you wish to keep them aboard for the long term.
Given the variety of employment opportunities available to the most dynamic and highly skilled lawyers, it is easy for Associates to consider and justify moving to a role that is better suited to their disposition or offer greater opportunity for their career.  Talented Associates are among your firm's greatest assets — invest in them accordingly, and your firm will stave unnecessary departures, improve retention and turn a potentially rocky relationships into a match made in heaven.
Dal Bhathal is a Managing Partner at The Counsel Network, a Canadian legal recruitment firm specializing in legal talent management strategies covering all levels of lawyers and practices for both corporate legal departments and law firms. To discuss your retention strategies, contact Dal at dal@thecounselnetwork.com or 416.364.6654/604.643.1708. 
Join our network to receive helpful news and information regarding the legal profession.
Follow us @Counsel_Network