Virtual Onboarding – the new normal for your new hires!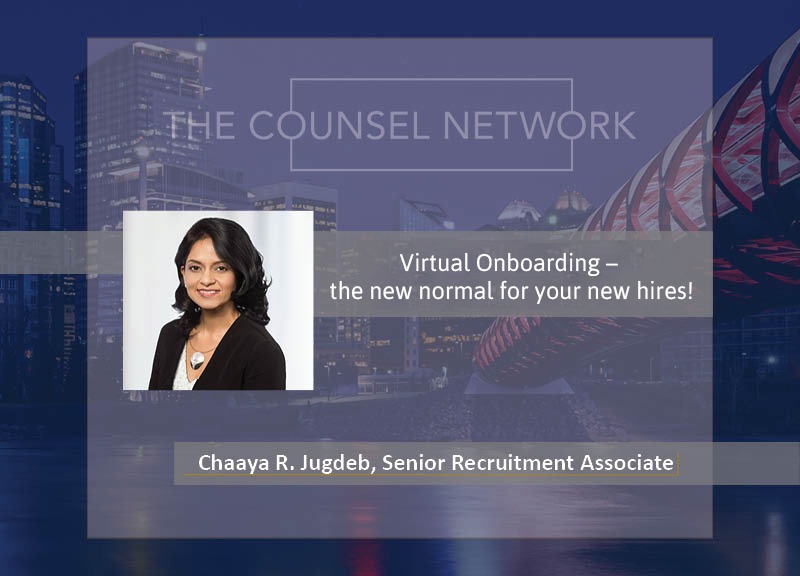 In response to Covid-19, many organizations have transitioned to telecommuting. While hiring has slowed, some law firms and companies have less flexible start dates or still need to hire lawyers during this period, and virtual onboarding has become a common practice. A new hire's first day at work is a bit like their first day at school – it's a fresh start and the beginning of a new relationship. An effective onboarding process, virtual or in-person, is key for setting up new hires for success with your organization. The first impression of a new hire could be the lasting impression!
Some ways you can facilitate successful virtual onboarding include:
HR and IT Collaboration
It's important for HR and IT Departments to setup a standardize onboarding plan that includes both training sessions and team integration activities. Share a list of tools and apps the new hire will require, and use video conferencing platforms (Skype, Teams, Zoom, etc.) to create a more personal onboarding experience. Also, ensure login credentials and passwords are shared in a secure manner.
Establish Clear Expectations
Provide itinerary on the virtual onboarding process, so new hires have a sense of what's to come and what's expected. This may be included in a virtual welcome package, which may also include organizational structure, key contacts, and any other important resources available to employees. Clearly establish and communicate your expectations to your new hires, including team and individual objectives.
Create an Interactive Culture
Make onboarding as interactive as possible. On the first day, schedule a video conference call to introduce the team. Also, consider setting up a buddy/mentor system to help ease the new hire into the company's culture, policies, and processes. Schedule 'get-to-know' calls between the new hire and their team to create a more human connection.
We also suggest leaders/management provide regular, transparent updates on the impact of the pandemic on the organization and any changes that could impact work and employees. Clear and authentic communication will help assure new employees that they are being taken care of as they transition into their roles.
Onboarding can span several weeks/months, so we encourage you to connect one-on-one with your new hire regularly. As you roll out the program, seek feedback from your new hire and be open to making changes to the process accordingly. Whether virtual or in-person, onboarding is crucial for employee productivity, engagement, and retention. So, make sure you invest in a robust virtual onboarding program to ensure your new hire's success in the organization.
In these uncertain times, we must remember we're all feeling overwhelmed and we're all trying to support each other the best we can. Adding a good dose of patience, flexibility, authenticity, and compassion to your virtual onboarding process can go a long way in building a great culture for new hires, thus enhancing your brand and making you stand out from your competitors.
Stay safe and good luck onboarding virtually, while keeping the ongoing human connection!
Please reach out for a confidential discussion if you have any questions.
Chaaya R. Jugdeb, Senior Recruitment Associate
403.444.1767 / 647.484.8313