What? No Annual Performance Review?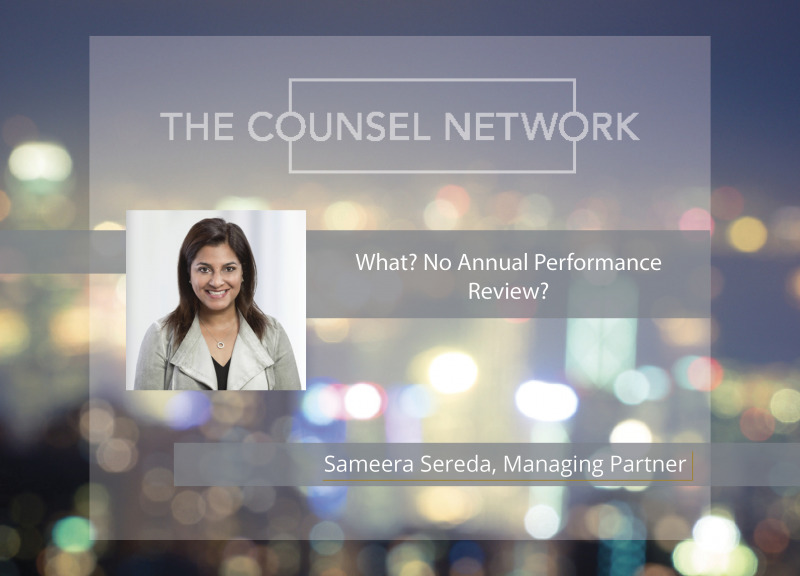 For those in-house lawyers and their managers who dread the annual performance review, that sound you hear is people jumping for joy.  However everyone can benefit from constructive feedback to either improve skill sets or legal service delivery.  And more importantly,  a professional discussion about career development is vital to ensuring your legal career progresses in a way that aligns with your professional goals and objectives.
If there is no policy or rules regarding employee evaluation or annual performance reviews, take initiative and ask to sit down with your supervisor to chat about how you are doing in your role.  The golden rule to arrive prepared for such a discussion still stands – arrive knowing what you hope to cover and accomplish so your discussion has purpose that benefits you and your manager.
Ask for constructive feedback regarding your technical performance and working relationships with your peers or internal clients.  Take time to share your accomplishments and raise any questions or concerns for which you seek answers.
Given the evidential lack of formal process at your organization, you might wish to document the meeting with a short note of appreciation to your manager for taking to the time to discuss your performance and capture any action items requiring follow up or decisions taken during the meeting.
Should your manager decline the opportunity to meet and discuss your career – find a strong mentor or colleague as an alternative.  Someone who will be able to comment on your performance and offer meaningful guidance and support of your career.  As recruiters who specialize in the legal sector, we often field questions from in-house lawyers about their careers.  The Counsel Network is happy to help through sharing of market information, facilitating connections or serving as a sounding board.
While companies and legal departments have a responsibility to the in-house lawyer in providing clear guidance on how they can advance in their careers, ultimately it is up to the lawyer to be proactive about developing in their careers and to take advantage of any resources available to them.  Those resources could be ones available within their employer organization or those available from external sources like the Canadian Bar, Legal  Societies and Associations.
Sameera Sereda is the Managing Partner and Chair, In-House Counsel Division at The Counsel Network, a Canadian legal recruitment firm specializing in legal talent management strategies covering all levels of lawyers and practices for both corporate legal departments and law firms. To discuss performance reviews, contact Sameera at ssereda@thecounselnetwork.com or 403.444.1763. 
Join our network to receive helpful news for the legal sector and insight to available legal jobs as they are posted.
Follow us @Counsel_Network