Five Factors That Impact Compensation of in-House Lawyers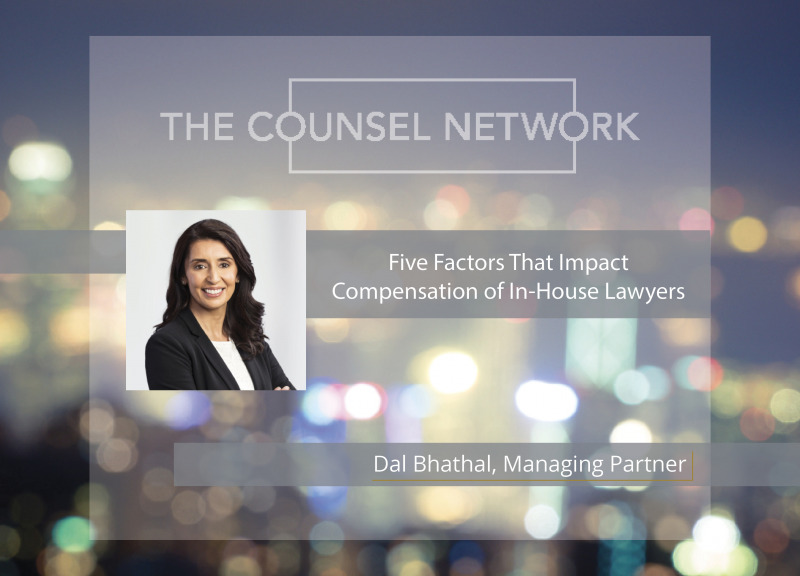 In today's competitive business world, the duties of and pressures on in-house lawyers continues to rise. Increasingly, accountability becomes a common watchword in both bottom-line and liability terms. The day-to-day has corporate counsel thinking about the value they bring to their organization which is sometimes bet-the-company evident, but other times might not be so apparent. Lawyers know the position they hold and the contribution they make must be worth a lot. The difficulty is determining how much.
Much to everyone's chagrin, there is no one-size fits all formula for determining fair compensation for in-house lawyers.  As in-house legal recruiters working with C-suite executives and General Counsel, as they seek to retain top legal talent to their teams, we recognize that every situation is different. Nonetheless, from our decades of experience, we identified five factors that affect compensation for in-house lawyers.
Persistent Myths
No doubt, you've heard these myths…
"Going in-house is a lifestyle choice for the 9-to-5 hours".
"In-house lawyers are those who couldn't cut it in private practice".
"Corporate counsel don't have the same demands as private practice lawyers."
As in-house legal recruiters, we stand behind lawyers who search for the opportunity that best fits their professional goals and objectives. Any discussion regarding fair compensation will have to account for and most importantly demolish these inappropriate stereotypes.
Nationwide Standards
Depending on the size and sophistication of the company, often all roles in all functions are set on a national basis. For in-house counsel this approach can distort the figures and produces ranges or standard compensation grids that are of little localized value. We encourage when national standards are established to examine compensation on a regional basis.  To aid in your assessment of regional compensation for in-house lawyers, consult our In-House Counsel Compensation Survey and Report.
The Economic Rollercoaster
Corporate counsel compensation is often tied to economic conditions and company performance. The glitzy compensation packages of lore containing stock options and exotic perks — disappeared in 2001 amidst the burst of the dot-com bubble. However, from our experience as in-house legal recruiters, we noticed this buzz returned though more muted. Pre-Covid-19, we witnessed increases in base salaries, incentive payouts and options for senior lawyers since approximately 2005.
The absence of metrics
Legal departments are not designed to be profit centers, so measuring the value of in-house counsel is not easy. General Counsel constantly seek opportunities to demonstrate the department's value and contribution to the executive management team and Board. Lowering annual cost attributed to retain external counsel can help, but it can be hard to quantify a value on providing immediate practical advice when an executive walks into the department with a pressing question.
The private bar's impact
Canada is home to a high percentage of lawyers per capita.  Soft economies produce a glut of lawyers seeking to move in-house.  A hot economy reduces supply and produces a sellers' market, which in turn results in a corresponding push on compensation – especially within the Associate levels. In-house lawyers have to share the good times and ride out the bad times with the company.
Dal Bhathal is a Managing Partner at The Counsel Network, a Canadian legal recruitment firm specializing in legal talent management strategies covering all levels of lawyers and practices for both corporate legal departments and law firms. For questions regarding your current compensation package or to discuss legal compensation strategies, contact Dal at dal@thecounselnetwork.com or 416.364.6654/604.643.1708. 
Download your complimentary edition of the annual In-House Counsel Compensation Survey and Report.
Join our network to receive job openings as they are posted as well as thought provoking information helpful to recruiting and retaining top talent.