2022 In-House Compensation – A Forecast in Advance of the Survey Results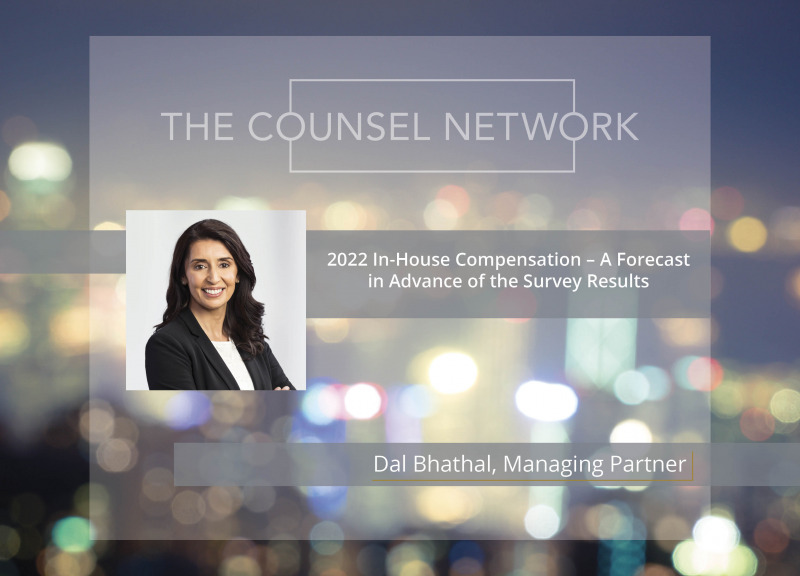 The 2022 In-House Counsel Compensation and Career Survey is ongoing and results will be released in May 2022. In this blog, we look back at 2021 and the changes the pandemic ushered in, as well as our forecast for the upcoming 2022 survey.
Canadian M&A surged throughout 2021. The strength of equity markets and a flourishing technology sector, as well as catch-up dealmaking from 2020, supercharged M&A activity, reaching record levels in 2021.
Nearly two years into the pandemic, much has changed. The legal market has remained resilient and demand for lawyers has skyrocketed, leading firms and in-house departments to hire aggressively. At The Counsel Network, we hadn't seen 2021 levels of hiring since pre-2008.
In-house lawyers are very busy, and their workloads are increasing. As demand for legal talent ramps up and accountability becomes a common watchword in terms of bottom-line, corporate counsel know they must be worth a lot, but the difficulty is finding out how much.
2021 Legal Market in Review
2021 was very busy for the legal profession, both in private practice and in-house. The war for legal talent continued, especially amongst law firms, in most major markets across Canada. The US law firms came into the Canadian to cherry-pick top junior to mid-level talent, which created a bit of frenzy and heightened expectations from lawyers across all practice areas. We even seen some in-house lawyers return to private practice.
Due to internal pressure and increasing workloads, law firms scrambled to recruit associates and partners to fill its needs. Frenzied M&A activity fueled a hypercompetitive market for legal talent, characterized by diminishing talent pools and high turnover rates. This led to incentivize lawyers through increased bonuses and salaries, as well as offers of partnership at an earlier stage.
While in-house to private practice salaries cannot be compared – like comparing apples to oranges – it impacts a company's ability to attract and retain top talent, as well as forms the backdrop to compensation negotiations.
2022 Forecast for In-House Counsel Compensation
Economic optimism remains high and current forecasts for 2022 show dealmaking will remain robust. M&A drivers include availability of cheap capital and a strong private equity market, as well as a strategic need for innovation and growth during this period of change. Resilient business spanning a wide variety of sectors (technology, financial services, real estate, amongst others) will likely seek to continue growing.
Our 2020 In-House Counsel Compensation & Career Report showed in-house counsel were generally making more money compared to the 2018 survey. In addition, the majority of in-house counsel reported increases in the size of their legal departments. Similarly in 2022, we expect companies will continue building high-performing and resilient workforces, and that legal departments will continue to increase in size. To receive a copy of the 2020 report, please send an email to compsurvey@thecounselnetwork.com.
Compensation wise, we anticipate in-house counsel will encounter increases across the board. The drivers feeding the M&A market in 2021 will drive strong activity in 2022. Intense competition for legal talent will likely drive-up compensation and increase expectations for higher compensation amongst in-house lawyers. This can be a challenge for legal departments in trying to maintain internal equity. In addition, more importance has been placed on legal as a business partner, especially as organizations grow and legal departments are expanded, which further increases demand.
The 2022 In-House Counsel Compensation & Career Report
As legal recruitment specialists, we at The Counsel Network constantly receive inquiries from both in-house counsel and HR professionals seeking 'real time' advice over corporate counsel compensation. As a result, we have launched our 2022 In-House Counsel Compensation & Career Survey, which will measure and benchmark compensation trends, as well as report on career-related topics and trends during an unprecedented year of growth.
The In-House Counsel Compensation & Career Survey Report is the most comprehensive of its kind for Canadian in-house counsel and is widely used by human resource professionals and in-house counsel alike as a valuable tool to understand current compensation trends. For lawyers considering a move in-house, we offer a Guide to Going In-House, which answers commonly asked questions, provides in-depth information, and dispels myths about in-house practice.

Ultimately, our results are only as good as our data, and your input would be greatly valued. If you currently work in-house, we want to hear from you for our 2022 edition. To participate in the 2022 survey and to receive a free copy of the report, please register at https://inhousecounsel.com/ or send an email to  compsurvey@thecounselnetwork.com.
416.364.6654