Best of 2021: Our Most Popular Blogs in an Unprecedented Year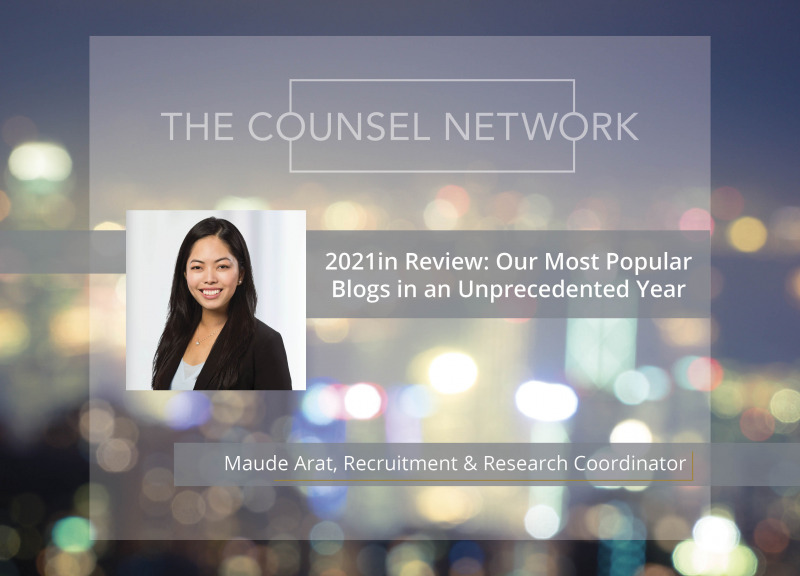 This was a year like no other. Law firms in Canada and the US shifted into expansion mode, resulting in a hypercompetitive market for legal talent, characterized by diminishing talent pools and high turnover rates. Throughout 2021, we saw unprecedented levels of work and demand at all levels of private practice and in-house. At The Counsel Network, we hadn't seen this level of hiring since pre-2008.
Below are our most popular blogs of 2021 to help you navigate the upcoming year.
The Legal Industry's Disruptor: Lawyers
For many years, both legal and business communities opined over the legal profession's next 'great disruptor'. The Great Resignation of 2021 has shown the biggest are lawyers themselves. Learn more about why lawyers are leaving and how legal employers can start addressing the root cause to retain talent.
Today's competition for top talent is stronger than ever. Becoming a first-choice law firm requires both a clear understanding what associates want and a strategy/platform where they can achieve their professional goals. Learn more about how law firms can set themselves up for success and become a law firm of choice.
There an many aspects of in-house counsel compensation, including base salary, bonuses, STIPs, LTIPs, amongst others. Learn more about the basic components of in-house compensation and how to best evaluate in-house compensation packages.
As demand for in-house counsel at all levels continues to rise, junior lawyers considering a move in-house must take the time to identify their skills and long-term objectives, as well as figure out where they want to go. We discuss important considerations for junior lawyers thinking about moving in-house.
We participate in countless candidate interviews every year and seen first-hand many factors that determine whether a candidate is successful during the job selection process. Learn how to differentiate and improve your chances of landing that dream in-house counsel job.
Last year, private practice and in-house recruitment levels continued to rise, importance for recruitment strategy and purpose increased, and law firms leaned into large signing bonuses. Learn more about key legal recruitment trends in 2021.
Recruitment levels rose throughout 2021 and we found law firms scrambling to recruit associates and partners to fill its needs. Internal pressure and increasing workloads can drive impulsive and reactionary hiring decisions, which can be a costly mistake. We outline three tips for successful legal recruitment in a hot market.
Following the successful experience attracting and onboarding top legal talent, retention can prove daunting. What are top associates seeking in a successful employment relationship? Feedback from candidate exit interviews reveal the best legal employers exhibit three key characteristics to foster long-term loyalty.
Check out our website for more thoughtful, career-related blogs. If you are considering new opportunities (in-house or private practice) or looking for compensation information, please visit www.thecounselnetwork.com. If you have any questions, contact us for a confidential discussion today.