3 Ways Firms Can Improve Associate Retention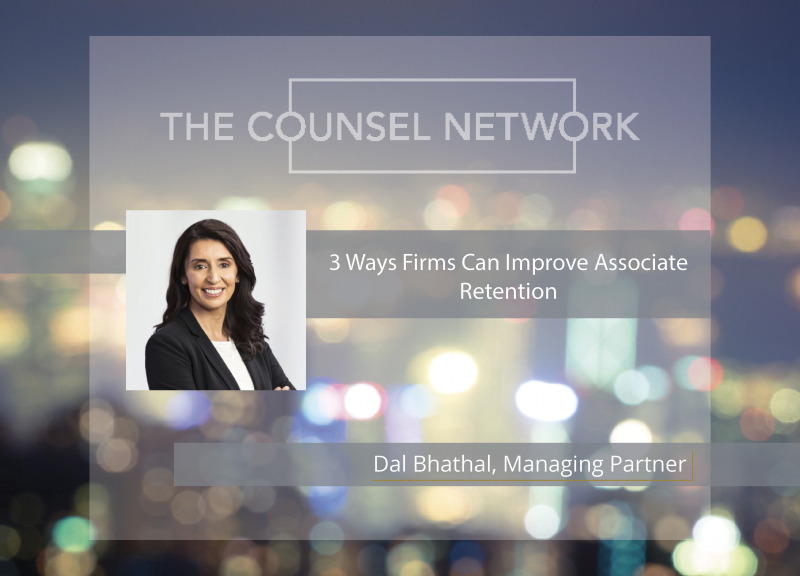 For decades, The Counsel Network has been engaged as the legal recruiter of choice for law firms, boards and corporate legal departments.  From our experience interviewing and positioning thousands of lawyers across the country we have heard in great detail about their career aspirations and their preferred working environments.  We've also listened intently to understand their individual motivators, decision making process, deal breakers and ultimately their rationale to conclude their working relationship with the current legal employer.
While this preamble might strike as somewhat self-serving, its intention is to share that from our in-depth background and experience recruiting in the legal sector, we've listened.  And we've heard a lot.  But our investment of time and professional commitment is not without its gain.  It arms us to bring valuable insight to our clients when they are looking for top legal talent to join their team and importantly, when they are working hard to keep them.  We understand the drivers behind successful retention of top legal talent.
First and foremost, lawyers seek appreciation.  And it boils down to three simple aspects.  Associates desire respect from their colleagues, recognition for the quality of their contributions, and rewards for a job well done.
Respect flows when Associates are given a voice in the inner workings of their employer, such that their individual wants, needs, and desires are heard and taken into consideration. Solicit input from Associates wherever possible and engage in active listening.
Recognition of valued contributions can range from simple congratulatory emails saluting an Associate's success to formal programs publicly acknowledging exemplary service.
Reward behaviours that the employer wants to encourage.  Performance bonuses and other forms of monetary compensation are perfectly adequate if the legal employer wants to prioritize strong financial performance from the Associate. However, if the legal employer values the efforts of its Associates when contributing above and beyond strictly dollar amounts, it is wise to design a reward program that cultivates these positive behaviours.
Lastly, whatever the methods of compensation (salary, draw, bonus, profit share, dividend, or otherwise), be certain that your compensation model is competitive in the market. Although top-dollar salaries are not necessarily the best incentives, be cognizant that many of your Associates are likely chipping away at their student loans.
Dal Bhathal is a Managing Partner at The Counsel Network, a Canadian legal recruitment firm specializing in legal talent management strategies covering all levels of lawyers and practices for both corporate legal departments and law firms. To discuss your retention strategies, contact Dal at dal@thecounselnetwork.com or 416.364.6654/604.643.1708. 
Join our network to receive helpful news and information regarding the legal profession.
Follow us @Counsel_Network