Best of 2022 – Our Most Popular Blogs in an Uncertain Year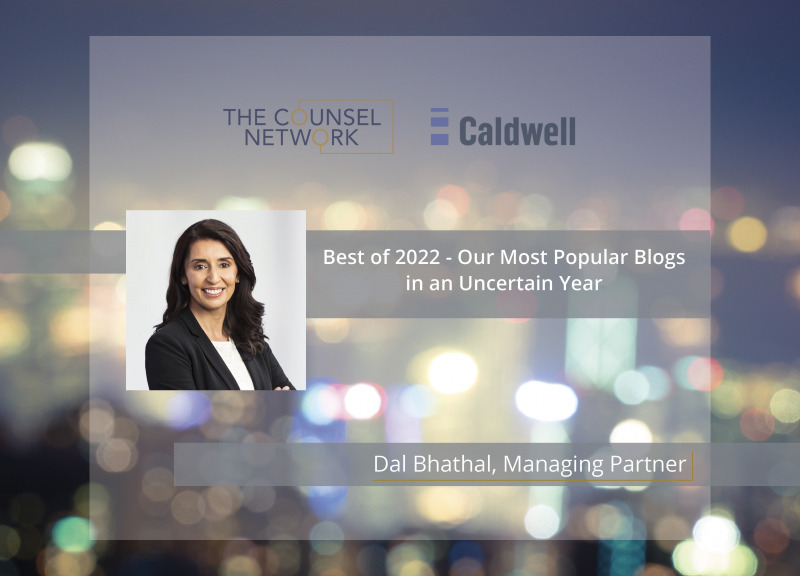 As 2022 came to a close, economic uncertainty caused much unrest in the corporate world. In 2023, we anticipate the legal industry will continue to transform, shaped by strong demand of legal talent, continued reassessment, remote working developments, and EDI issues.
Below are our most popular blogs of 2022 to help you navigate the upcoming year.
The results of our 2022 In-House Counsel Compensation & Career Survey were published in June 2022. Now in its seventh wave, the report, conducted in partnership with the Canadian Corporate Counsel Association (CCCA), provides the most up-to-date and robust analysis of in-house counsel in Canada. Learn more about the key findings from our 2022 In-House Counsel & Compensation Survey.
The pandemic forced lawyers at all levels to take a broader look at their values and goals and legal employers to tighten their vision and strategy. We discuss the three 'R's that have stood out to us for their profound impact on the legal profession: Resignation, Retirement, and Re-evaluation.
The Great Resignation left law firms and legal departments scrambling to offer raises and incentives to retain lawyers. Hybrid working became a mainstay, legal technology continued to transform the legal profession, and law firm compensation was increasing ahead of in-house compensation. Learn more about key legal recruitment trends in 2022.
The war for legal talent drove US firms to reach into the Canadian market and cherry-pick top talent at top firms. Most Canadian lawyers that go abroad will return and for those looking to return, timing is important. We discuss the importance of taking a long-term perspective, timing, and considerations for re-entering the Canadian market.
Active management of one's career is not just for dissatisfied lawyers, it is for everyone. We encourage associates to regularly take stock of their career, in both good and bad economic times. Take advantage of our three simple steps to career planning to ensure long-term career success.
Check out our website for more thoughtful, career-related blogs. If you are considering new opportunities (in-house or private practice) or looking for compensation information, please visit https://www.thecounselnetwork.com/. If you have any questions, contact us for a confidential discussion today.