Canadian Legal Market Update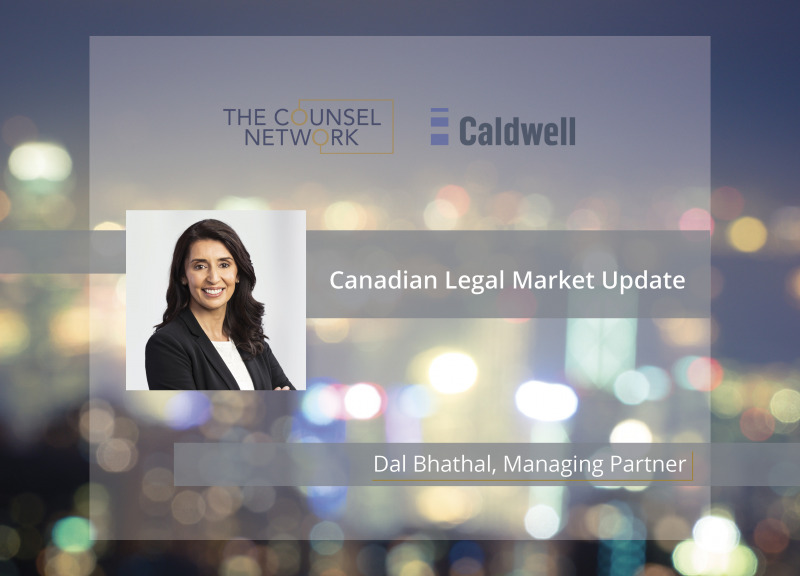 "History doesn't repeat itself, but it rhymes" – Mark Twain
M&A activity remained strong throughout 2022, albeit not at the historic levels of 2021. Profit growth remained positive but decelerated, and law firms and companies faced legal talent shortages, rising inflation, and changing expectations of the workplace.
Since we opened our doors in 1988, we've seen many economic cycles caused by market crashes, real estate booms and busts, ups and downs in oil prices, global technology growth and downturn, and much more. Similar to prior cycles, we're seeing a slowdown following tremendous expansion over the past two years. The future will not unfold exactly like the past but there will likely be similarities.
Strong demand for legal talent
High M&A activity and rapid expansion of 2021 led to a hypercompetitive market for legal talent characterized by diminishing talent pools and high turnover rates. The Great Resignation left legal employers scrambling to hire and retain legal talent.
The market cooled in 2022 and with uncertainty and rising interest rates, financing for large-scale transactions has been harder to secure, resulting in less deal-flow overall. Some practice areas, including capital markets and commercial real estate, started to experience a slow down.
Nonetheless, strong demand for legal talent continues. Looking at the legal market as a whole, different practice areas are busy at different times. While large deals have slowed, mid-market M&A lawyers remain sought after. Insolvency and restructuring work may increase, and niche practice areas such as environmental law continue be in demand.
Continued reassessment
After two very busy years, the slowdown gives corporate lawyers a chance to spend more time on their career and overall goals. At the height of the pandemic, we saw international firms reach into the Canadian market and poach adventurous junior and mid-level lawyers. Most lawyers that go abroad return to Canada within three years. As people head home for the holidays, we expect an increase in demand for options in the market.
The market is still quite busy but there may be a dip in the holiday season, making it a good time for lawyers to make themselves known to law firms and companies. It's never too early to start exploring options.
Early in the pandemic, legal employers put a pause on hiring efforts. By the time law firms were ready to hire more lawyers, there was a shortage in the legal sector. Instead of pulling back, now is the time for legal teams to hire strong legal talent that may not have been accessible otherwise.
Compensation still (slowly) increasing
Over the past year, we saw law firms leaning into increased bonuses and salaries, as well as offers of partnership at an earlier stage. Between 2020 and 2022, we found large firm compensation increased by an average of $15,000. For in-house counsel, our 2022 In-House Counsel Compensation & Career Survey found the national average base salary was $180,000, noticeably higher compared to the $167,500 reported in 2020.
In the past few months, the trend has started to reverse as we see a slowdown in bonus offerings. No doubt salary is important, but employers must also give lawyers compelling reasons to join and stay. Through our conversations, we find top candidate considerations include overall career trajectory, coaching/mentoring, collaboration, innovativeness, and autonomy.
As always, we strongly advise both candidates and organizations to take a holistic view of incentives outside salary, such as benefits and intangible items (e.g., flexible work arrangements, learning and advancement, etc.)
Remote working vs return to office a sore point
Workplace expectations have clearly changed. Lawyers want organizations to support their preferred way of working, whether hybrid or fully remote. Candidates highlighted the importance of flexibility with some in-office time for socializing and relationship building.
Still, legal employers strongly prefer employees to come into the office and most have implemented a hybrid structure. Law firms are pushing for in-person interactions with junior lawyers to fully develop their legal and teamwork skills, as well as build firm loyalty. For young lawyers who've barely spent time in the office, the change can feel jarring. In addition, lengthy commute times and personal circumstances may deter some lawyers from coming into the office regularly.
Adaptive leadership must balance organization cohesiveness and collaboration with remote-work arrangements. Legal employers must acknowledge changing expectations or risk losing talent to organizations offering more flexibility.
EDI efforts taking centre stage
During the pandemic, high levels of work needed be balanced with talent retention and diversity issues. We find young lawyers are placing more emphasis on meaningful work and overall impact of the organization they work in. Employers must now prioritize equity, diversity, and inclusion (EDI) to retain star legal talent.
In early 2023, The Counsel Network, in partnership with the Canadian Association of Black Lawyers (CABL) and with the support of the TD Ready Commitment, will be launching a longitudinal survey among CABL's members and all Black Lawyers. The survey will gather empirical data to capture and analyze the Black experience in the legal profession. To participate, please contact us at cablsurvey@thecounselnetwork.com.
As 2022 comes to a close, economic uncertainty has caused much unrest in the corporate world.
In the months ahead, the legal industry will continue to transform, shaped by strong demand of legal talent, continued reassessment, remote working developments, and EDI issues.
While circumstances can never be exact, patterns of behavior can be very similar. No matter the situation, building successful careers and teams requires lawyers and employers be adaptive and proactive towards changing market trends. Set yourself apart by adopting clear standards and goals, and then adjusting and refining them strategically.
The Counsel Network, a Caldwell Company, is a leading Canadian lawyer recruitment firm and has successfully placed candidates in associate, partner, and in-house counsel positions for over 30 years. If you are thinking about exploring your options or making your next great hire, contact us for a confidential discussion today.