Corporate Counsel Lawyer Job in Vancouver, Canada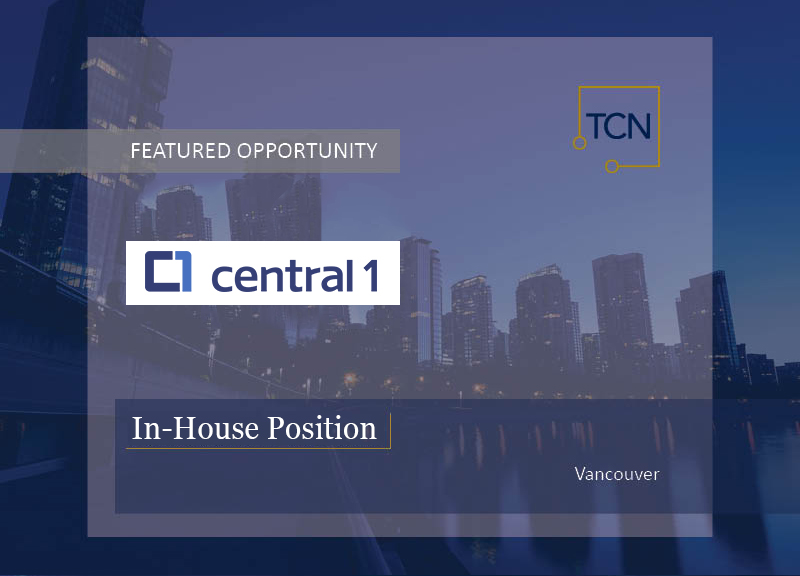 **This opportunity is now closed. Please visit our job board to view our current opportunities.** 
Central 1 is the partner of choice for financial, digital banking and payment products and services – fueling the success of businesses across Canada. With $16.9B in assets, Central 1 leverages its scale, strength and expertise to power progress for more than 225 credit unions and other financial institutions, enhancing the financial well-being of more than five million customers from coast to coast.
Job Description – Corporate Counsel Lawyer
Central 1 Credit Union has an immediate opening for a Corporate Counsel Lawyer to join its team in Vancouver. Reporting to the Chief Transformation & Legal Officer, the Corporate Counsel will provide legal advice to internal clients, work on strategic projects, and liaise with external counsel as necessary.
Offering a competitive compensation package, this is a unique opportunity for a business-minded lawyer to join a group of leading practitioners working on cutting-edge financial technologies in an institutional environment.
Key Accountabilities and Responsibilities
Provide legal services to specific business units within Central 1, including digital banking, and act as their legal point of contact.
Draft, review and negotiate various types of contracts, including services agreements, agreements with strategic partners, and technology licensing agreements.
Provide primary legal support for the development of new digital banking products and services.
Assist business units in identifying legal issues and risks and complying with regulations.
Support the client development team with respect to legal matters and negotiations that arise in the course of their sales efforts.
Advise on existing contractual arrangements and questions of contract interpretation.
Manage legal projects, including those related to strategic initiatives and compliance.
Manage external legal counsel.
Develop and maintain a thorough knowledge of Central 1's digital banking products and services.
Support the executive management team's preparation of reports and resolutions for board of director committees.
Education and Professional Skills/Knowledge
LL.B. or J.D. degree (or equivalent).
Good standing with a Canadian Law Society.
5+ years of broad corporate/commercial experience, including several years of private practice experience in a leading business law firm environment.
Practical, results-oriented approach combined with strong interpersonal and communication skills.
Strong organizational and client service skills.
Demonstrable ability to work independently and reliably under tight timeframes in a dynamic and varied environment.
Experience with technology/software agreements or advising financial institutions would be considered assets.
This is an exclusive search.
For more information or to apply for this position, contact:
Chaaya R. Jugdeb, Recruitment Associate
403.444.1767
Visit our job board to view all of our current opportunities.