Director of Professional Development Job in Toronto, Canada (5+ years)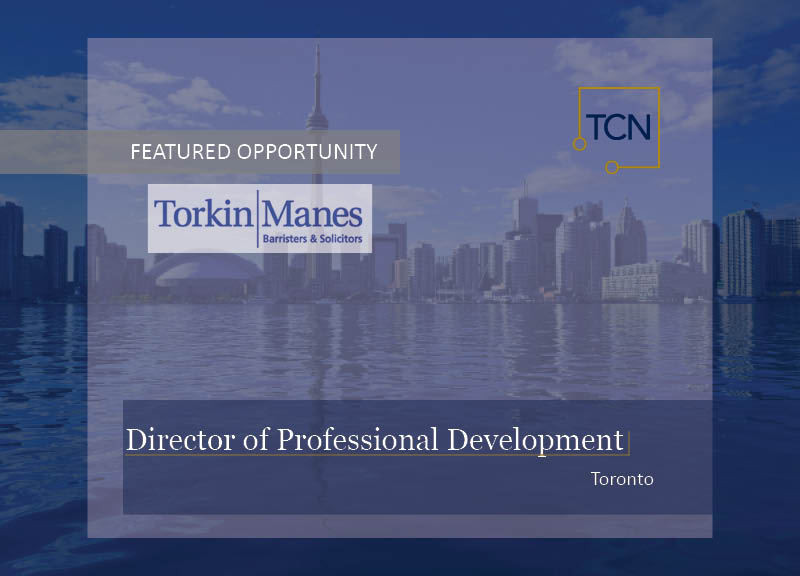 **This opportunity is now closed. Please visit our job board to view our current opportunities.**
Our client, Torkin Manes LLP, is a full service, a mid-sized law firm based in downtown Toronto. Its clients include some of Canada's largest financial institutions, insurance companies, major corporations, private businesses, entrepreneurs, and land development companies. Torkin Manes LLP was recently recognized as the #1 ranked Ontario regional firm by Canadian Lawyer.
Job Description – Director of Professional Development
As a result of its strategic plan and successful growth, Torkin Manes LLP is seeking a Director of Professional Development to join its team in Toronto. The successful candidate will oversee the firm's talent management strategy, including the acquisition of top legal talent at the associate and student level, development and compensation processes for associate and student groups, and continuous professional development for all the firm's lawyers and students.
This is an excellent opportunity for a talented lawyer seeking to join a leading law firm dedicated to fostering a collegial and inclusive environment where creativity and strategic thinking are valued.
Key Accountabilities and Responsibilities
Source and acquire legal professionals at the associate and student level, including in-firm interview coordination and on-campus interview participation, and manage the student hire-back decision-making process.
Develop and implement a robust onboarding program for new recruits.
Oversee the firm's mentorship program, including mentor assignment and training.
Create and manage a best-in-class and comprehensive annual CPD compliance program for all lawyers and students; develop project plans, including budgets and metrics and monitor, evaluate and report on the progress of plans to the firm's Management Committee.
Collect, review, and compile performance review feedback and ensure effective communication.
Monitor associate and student workload to balance utilization with performance and overall job satisfaction.
Work with senior management to ensure an effective compensation program for associates and students. Maintain awareness of the external legal marketplace and use this insight to report and adjust plans accordingly and in-line with the firm's pay philosophy.
Serve as the primary contact for the law schools and the Law Society of Ontario with respect to students.
Monitor and respond to changes in the licensing requirements for students being called to the Bar, including addressing any qualification changes.
Education and Professional Skills/Knowledge
LL.B. or J.D. degree (or equivalent).
Good standing with a Canadian Law Society.
Prior practice experience at a mid-sized or larger firm.
5+ years of talent management experience, with a focus on recruitment, mentoring, and developing lawyers and students.
Familiarity with diversity and inclusion best practices.
Strong project management skills.
Demonstrated ability to measure professional and workplace performance against firm standards and report results to management.
Expertise in cultivating relationships and improving effectiveness across talent functions through collaboration and professional excellence.
This is an exclusive search.
For more information or to apply for this position, contact:
Alison Bennett, Director
647.484.8312
403.444.1769
abennett@thecounselnetwork.com
Visit our job board to view all of our current opportunities.