Five Tips for Choosing the Right Law Firm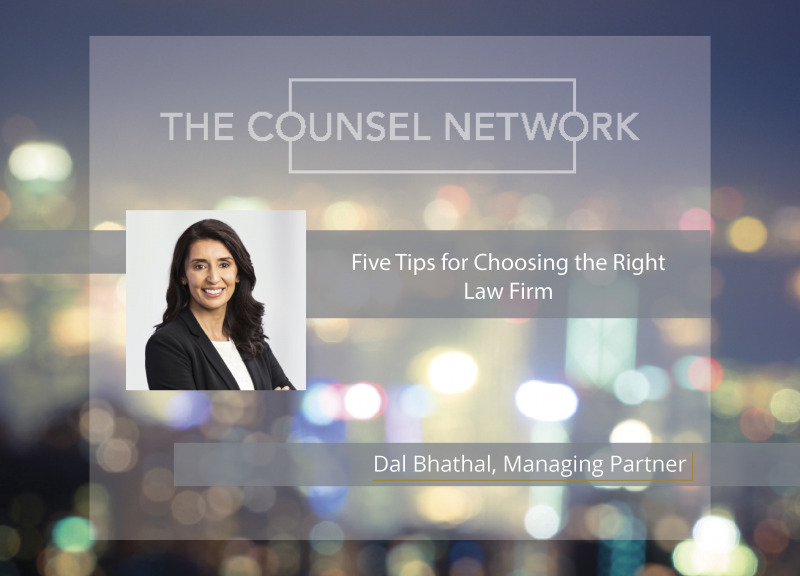 Regardless of the economic climes or the current supply and demand of top legal talent, what factors are most important for students to consider when selecting their roster of preferred firms with which to article?
Hireback Numbers Are Deceiving
Firms are privy to the optics that low hireback rates  can have to recruiting in subsequent years.  Things can be very fluid in a law firm environment making it more challenging for the firm to estimate the right number of Associates.  Consequently, some firms may hedge keeping more associates than necessary knowing that some may drop along the way.  This leads to increased competition for work and greater attrition down the road.  Other firms may not hire enough back overworking their Associates, leading to burnout after only a few years.
As legal headhunters, we recommend students take a closer look at the total Associate complement at the firm and the balance of their workloads.  How many are still practicing after three years?  Better yet, talk to some current Associates in confidence about their personal experience and journey.
Bigger Isn't Always Better
As legal headhunters, we see first-hand how lawyer satisfaction can vary across firms of different size.  While the work at a mid-sized firm can be similar to that available at the larger firm, the hours can be less demanding.  Lawyers might find small-to-mid sized firms bring a more 'family' or 'team' approach.  This advantage might foster greater attention to mentorship and guidance from other lawyers at the firm.  Finally, the difference in pay is often not that significant, particularly taxes and other factors of recognition or support are considered.
Path to Partnership
Often overlooked when evaluating a firm is the prospect for partnership.  If partnership is of interest to you in the future, assess how difficult it may or may not be to make partner at the firm.  A very young partnership might mean a smaller portion of the pie will become available for new entrants and partnership prospects might be dim.
Fit Really Is That Important
As the firm is assessing how you will fit in their culture — reverse the lens.  If you are not connecting with the people you are interviewing with, stop and think.  These are the best people the firm has selected to act as their representatives.  If you find you are not clicking with them, chances are the rest of the firm will be even less of a fit for you – and that is okay.
Define Your Career Goals and Stick to Them
Be the CEO of your career.  Clearly define what you hope to accomplish in your legal career.  Follow the path that gives you the best chance to achieve those personal and professional goals.  Stick with your interests and preferences so you are best positioned to enjoy your chosen profession that much more.
In addition to selecting the right firm for you, at this stage of your career remember to stay focussed on the fundamentals:
continue working hard
develop your analytical and technical legal skills
build on your strong academic credentials with complementary training and development
It's an exciting time as you embark on your legal career.  Your reputation as a dependable 'go-to' reliable lawyer will emerge from there.
Dal Bhathal is a Managing Partner at The Counsel Network, a Canadian legal recruitment firm specializing in legal talent management strategies covering all levels of lawyers and practices for both corporate legal departments and law firms. To discuss your legal career, Dal can be reached at dal@thecounselnetwork.com or 416.364.6654/604.643.1708. 
Join our network to receive helpful news and information from the legal profession and gain insight to legal jobs as they are posted.
Follow us @Counsel_Network