Four Associate Skills Necessary for Today's Changing Profession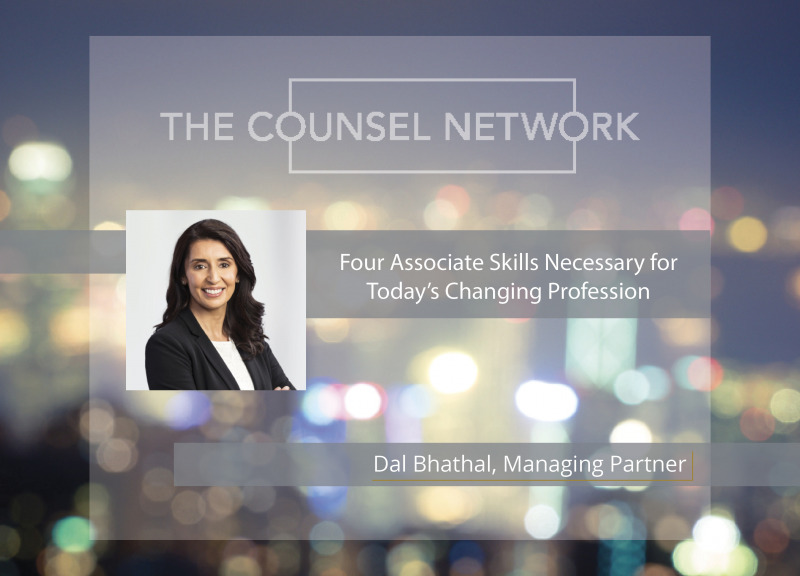 Navigating your path to Partnership
Change in the business of legal services over the past decade is unprecedented.  Driven by disruption from new market entrants, advancing technologies and increased client demands we've witnessed the impact on Associates and the evolving skillsets required to best position them for partnership.
With change of the legal profession the continuing norm, Associates who are quicker to adapt and develop new skills will not only thrive in evolving law firm environments, they will also be more marketable to new and interesting opportunities.  Eventually, they will find themselves in a stronger position to attain the nod for Partnership or in the eye of legal recruiters should they wish to make a career move.
Traditional lawyering skills groomed within Canada's finest law schools, such as analytical ability, attention to detail, logical reasoning, persuasiveness and sound judgment are regarded essential entry level benchmarks for articling students. However, consistent with our experience as legal recruiters if Associates are to continue their success, they will need to develop four key skills in their tool kits.
Collaboration Skills
The most successful lawyers intuitively understand that collaboration means more than just working well within your team at the firm. Lawyers aspiring for partnership require the ability to analyze tasks and determine the most efficient manner to get them done. This might include involving other service providers and professionals on a regular basis on some aspect of most files. Lawyers able to appropriately engage others, and bring out the best in their performance will realize greater achievements with their clients and in the firm than those lawyers who operate as a lone wolf in narrow vertical silos.
Project Management
Closely tied with collaboration, lawyers with sightlines toward Partnership have to skillfully manage large complex projects cost effectively.  This means paying close attention to the scope, quality, time and budget restrictions. As clients increasingly demand more fixed price alternatives, lawyers have to respond by taking risks with regards to estimating price and time — and then managing files to such expectations.
Financial Literacy
Clients of big firms unquestioningly expect a level of financial literacy from their counsel. As a partner, lawyers need to be well prepared to talk their clients' language. There will be no excuse for lawyers to remain clueless about financial matters or methods available to save money on legal services.  Associates should develop a basic understanding about financial statements, corporate tax principles, and calculating profit early in their career.
Technological Affinity
Staying ahead of ever advancing technology is essential. Leading lawyers and law firms not only use new and innovative technology to become increasingly efficient in delivering legal services but also in marketing and virtually every other aspect of law firm practice and management. Lawyers at the forefront of adopting technology in their day-to-day practice will be able to offer their clients an advantage (in time to produce work and/or cost).  Ultimately, this value proposition attracts more clients.  If you still don't know much about how technologies such as automation, RSS, cloud computing, Twitter, Facebook, LinkedIn, instant messaging, online collaboration etc. are changing the profession, it's past time to get moving before others leave you behind.
As Canada's most respected legal recruiter, The Counsel Network has monitored the legal profession for decades. Successful people always see opportunities in change and to prepare for partnership, Associates will have to adapt their methods and skills beyond the traditional norm to make the most of a changing profession.
Dal Bhathal is a Managing Partner at The Counsel Network, a Canadian legal recruitment firm specializing in legal talent management strategies covering all levels of lawyers and practices for both corporate legal departments and law firms. To discuss your career and path to partnership, contact Dal at dal@thecounselnetwork.com or 416.364.6654/604.643.1708. 
Join our network to receive news and information helpful to developing your career as well as legal job openings.
Follow us @Counsel_Network