How did it go?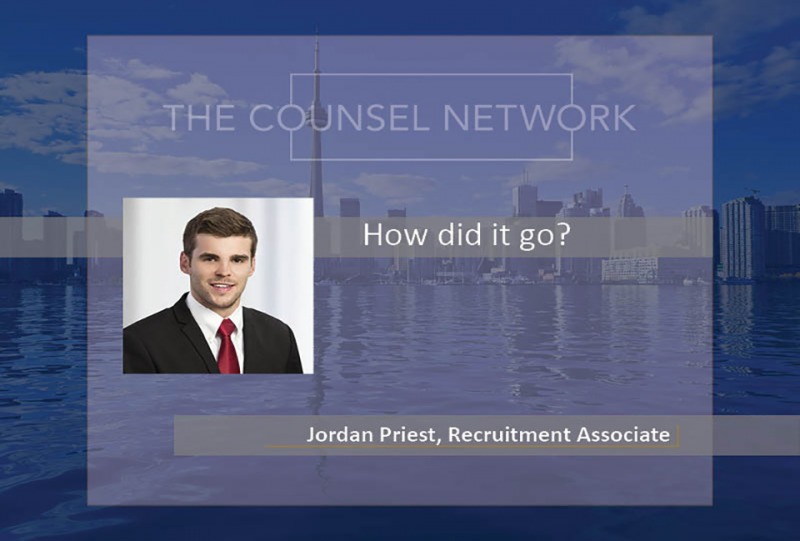 After an interview, the first question I usually ask candidates is: 'How did it go?'
Ultimately, I want to hear that it went well, that you enjoyed it, and that you were treated well from start to finish. Be it your first or last, you will have a different mindset after each interview. So, consider taking some time to reflect on the following:
1. Do you still want the job?
Always revisit why you pursued the role in the first place. There are many factors to consider like work culture, scope of work, career progression/partnership track, work-life balance, and total compensation. How did you feel during the interview? What initially drew you to the role? Did the interview leave you feeling more (or less) excited about the role? Does the scope of work meet your expectations?
Sometimes not all key points are covered in an interview, so speak to your legal recruiter about what you would like to discuss in the next one.
Always consider whether a new role fits with your overarching career goals. For further information, please see our blog on A Three-Stage Process for Law Career Success.
2. Is the firm/company right for you?
If you're actively searching for a new role, chances are you and your legal recruiter have discussed what type of law firm or legal department you would like to join. The size of the firm/company can have a drastic affect on the style interview and the overall interview process.
Larger firms/companies usually have a formal interview process that involve key leaders (such a practice group leaders or management) and HR. Smaller, more entrepreneurial type firms/companies might have more informal interview style. Regardless of the setting, it is important for you to really connect with your interviewers to figure out whether the firm/company is right for you.
You will probably want to use your current (or most recent) job as point of reference to help you address what you want (or don't want) in your next role. It can also help you refine your expectations for your next role. For further information, please see our blog on Finding the Right Fit.
3. What did you think of the interviewers?
Getting to meet multiple employees can be a good indicator of culture. Did the interviewer(s) properly introduce themselves? Did they talk about their roles and responsibilities and how they may interact with you in the new role? Did the people in the interview seem to work well together?
Ideally, after an interview, the interviewer will walk you around and introduce you to the team you'll be working with. This is generally a good indicator of a healthy work environment and shows that the organization values their team members by giving them the chance to meet their potentially new colleague. It also gives you a better sense of how the firm/company works and give you insight into how you might be working with your team.
Occasionally, a law firm may offer you to connect with one of their associate lawyers. If this happens, I highly recommend you take advantage of it. Prepare a list of questions to really hone in on whether this role, team and firm are really the right for you and your overall career aspirations.
4. What's your "gut" telling you?
Your gut feeling, also known as intuition, is shaped by your past experiences and the knowledge you gained from them. Your instincts are your 'first line of defense' and indicates how you initially feel about a situation, but you have to learn to listen to what it's saying. Taking time to reflect and simply relaxing can also help your intuition rise to the surface. Often, your instincts know you better than you do.
After considering all the above, I think you should be a little more prepared to answer the question we all know is coming: 'If offered, would you take the job?'
If you're interested in exploring your legal career options, contact us for a confidential discussion today.
Jordan Priest, Recruitment Associate
647.484.8314 / 403.444.1760