In-House Assessment Legal Counsel Job in Surrey, Canada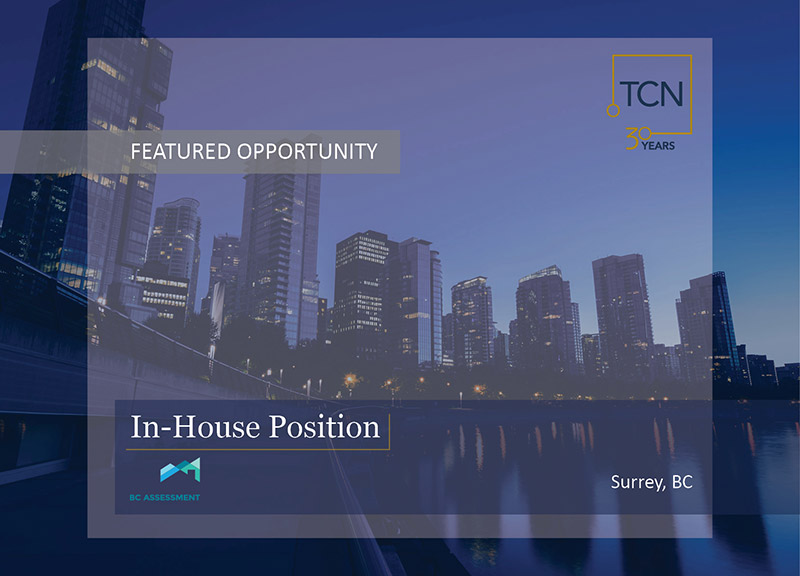 **This opportunity is now closed. Please visit our job board to view our current opportunities.**
BC Assessment (BCA) is a provincial Crown Corporation created in 1974 with a mandate to establish and maintain real property assessments that are uniform in the whole of British Columbia. BCA produces an annual Assessment Roll that contains fair, equitable, independent and trusted property assessments for over two million properties in the Province. These assessments play a vital role in the property tax system that generates more than $7.5 billion annually to support services that people count on in BC communities, such as schools, libraries, emergency services, infrastructure, parks and recreation, and roads.
Job Description – In-House Assessment Legal Counsel, Surrey 
BCA has an immediate opening for an In-House Assessment Legal Counsel to join its Surrey office. Reporting to the Director, Assessment Legal and Appeals, the Assessment Legal Counsel will provide a range of legal services and advice to staff throughout BCA.
Key Accountabilities and Responsibilities
Provide appeal advice to staff on Property Assessment Review Panel proceedings, draft written submissions, and prepare and/or review agreed statements of facts, statements of issues, evidence, and analysis for Property Assessment Board hearings and administrative tribunals.
Provide legal interpretation of assessment and tax-related statutes and regulations to executive, managers, and staff.
Analyze and advise on assessment-related case law, including recommending appeals or legislative changes.
Review draft legislation for assessment, property taxation, and related statutes and regulations, including the preparation of supporting documentation for Cabinet regulations and statutory amendments.
Prepare sensitive or confidential briefing and information notes, opinions, letters, reports, and analysis for the Director, assessors, executive, ministry, and other government officials.
Make recommendations to the Director or executive on legislative and regulatory amendments, as well as other legal or legislative options, to address assessment and other general corporate legal issues.
Recommend, develop, and revise BCA policy to ensure compliance with the law.
Education and Professional Skills/Knowledge
LL.B. or J.D. degree (or equivalent).
Good standing with a Canadian Law Society.
3-6 years of administrative law, litigation, and/or real property law experience.
Experience working in a customer-focused environment in the delivery of information services and support.
Demonstrated track record of fostering relationships with diverse groups.
Ability to handle politically sensitive information with discretion and confidentiality.
Excellent time management, organizational, and analytical skills.
Property assessment or related taxation experience would be considered an asset.
For more information or to apply for this position, contact:
Chaaya R. Jugdeb, Recruitment Associate
403.444.1767
Visit our job board to view all of our current opportunities.