In-House Corporate Counsel Lawyer Job in Vancouver, Canada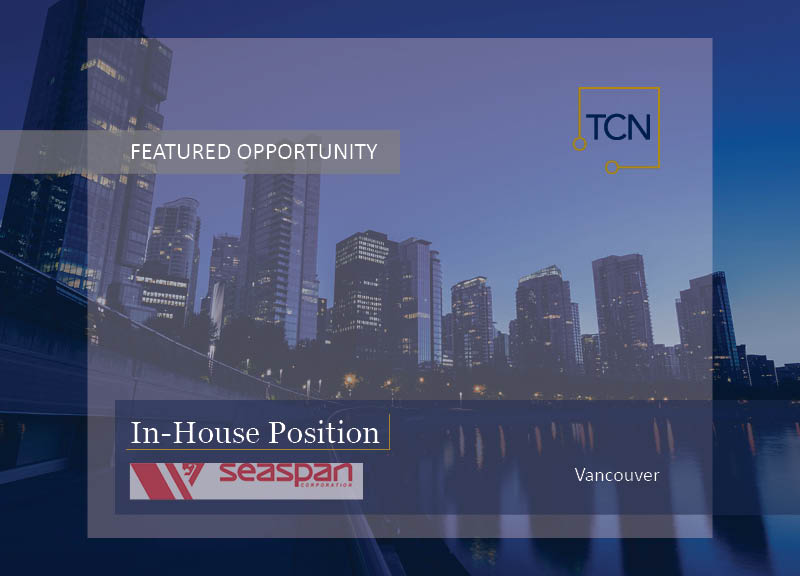 **This opportunity is now closed. Please visit our job board to view our current opportunities.**
Our client, Seaspan Corporation (NYSE:SSW), is the world's largest financial lessor in the containership leasing space with a ~$9B balance sheet. Seaspan provides many of the world's major shipping lines with alternatives to vessel ownership by offering long-term leases on large, modern containerships combined with industry leading ship management services. Seaspan is a truly global operation, employing over 4,500 people at its offices in Hong Kong, Canada, India, the United States, China and Korea, as well as on board its fleet of vessels.
Job Description – In-House Corporate Counsel Lawyer Job
Seaspan has an immediate opening for a Corporate Counsel to join its team in Vancouver. Reporting to the Executive Vice President, General Counsel, the Corporate Counsel will provide advice and accountability on general corporate matters, regulatory compliance, governance, M&A, securities (including SEC compliance), vessel acquisitions and dispositions, structured finance, and contractual documentation across different jurisdictions.
This is an exceptional opportunity for a talented lawyer seeking to join one of Canada's preeminent, multinational companies.
Key Accountabilities and Responsibilities
Works with the Executive Vice-President, General Counsel to support the publicly listed company and its subsidiaries. Prepares for and may attend Board of Directors meetings.
Liaises with outside counsel, manages external legal project budget, and works with the management team to obtain legal advice as necessary in other jurisdictions or areas of expertise.
Participates (as part of a team) in deal and financing negotiations.
Monitors (as part of a team) that the company's legal obligations are fulfilled, particularly around debt covenants, new build agreements, and credit facilities.
Works with internal colleagues and external counsel with the negotiation and drafting of credit facility agreements, leasing financing agreements and other financing structures.
Supports Corporate Counsel-Maritime Law in working with the Operations department on insurance, vessel registration, regulatory, environmental compliance, and procurement contracts as required. Assists in or leads the management and conclusion of litigation and claims.
Prepares (as part of a team) filings with the US Securities Commission and New York Stock Exchange, including annual reports, proxy materials for shareholder meetings and quarterly financial filings.
Drafts and reviews (in co-operation with Finance) press releases and other documents distributed to the public.
Education and Professional Skills/Knowledge
LL.B. or J.D. degree (or equivalent).
Good standing with a Canadian Law Society.
4+ years of broad related commercial and legal experience.
Demonstrated track record of sound judgement and professionalism.
Ability to work with senior-level executives across multiple business lines and global regions.
Capacity to work independently with little supervision.
Strong organizational skills, excellent attention to detail, and adaptability and flexibility.
Working knowledge of the shipping sector and/or maritime law is preferred.
Fluency in Mandarin or Cantonese, or prior in-house experience would be considered an asset.
For more information or to apply for this position, contact:
Warren Smith, Managing Partner
604.643.1711
wsmith@thecounselnetwork.com
Visit our job board to view all of our current opportunities.