In-House Counsel Lawyer Job in Toronto, Canada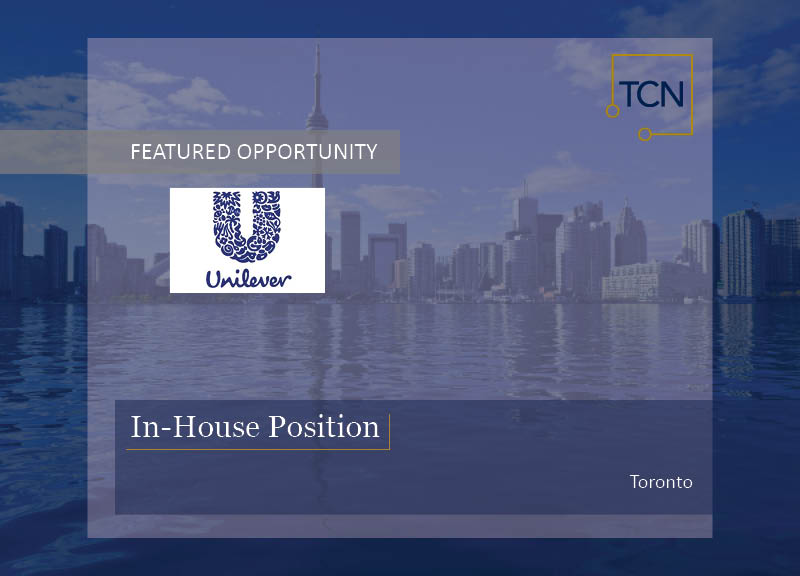 **This opportunity has been filled and is now closed. Please visit our job board to view our current opportunities.**
Unilever is one of the world's leading suppliers of Beauty & Personal Care, Home Care, and Foods & Refreshment products with sales in over 190 countries and reaching 2.5 billion consumers a day. It has 161,000 employees and generated sales of €53.7 billion in 2017. Over half (57%) of the company's footprint is in developing and emerging markets. Unilever has more than 400 brands found in homes all over the world, including Persil, Dove, Knorr, Domestos, Hellmann's, Lipton, Wall's, PG Tips, Ben & Jerry's, Magnum and Lynx.
Job Description – In-House Counsel Lawyer
Our client has an immediate opening for an In-House Counsel to join its team in Toronto. Reporting to the Assistant General Counsel, the In-House Counsel will provide legal support and advise on a broad range of commercial matters, including contract drafting and negotiation, employment, intellectual property, supply chain, marketing and advertising, risk management, and compliance strategies.
This is an exceptional opportunity for a confident, commercially minded lawyer seeking a dynamic role with a leading company.
Key Accountabilities and Responsibilities
Review and clear marketing materials such as labels, digital, social, print, web copy, TV commercials, etc. to ensure they contain legally defensible claims under all applicable laws, guidelines and regulations. 

Ensure claims/marketing materials are aligned with Unilever's contractual arrangements; counsel on whether materials have any privacy issues; and address issues concerning rights of publicity, trademark, copyright, and celebrity endorsements.

Provide local perspective on claims/marketing strategies and help brands find creative claims that satisfy local and regional/global requirements.

Draft and negotiate marketing-related contracts, use and develop new templates, and streamline the contract practice; ensure contracts contain the necessary protections for the business including representations, warranties, liability, indemnity, data security, privacy, as well as the key commercial aspects.

Provide advice on IP matters, including licensing, marketing, and software agreements, as well as ensure trademarks are used appropriately, and risks associated with rights of privacy/publicity, copyrights, and trademark are properly identified, assessed and mitigated.

Handle claims disputes, interface with government agencies and other third parties on non-claims, and develop and defend strategies for all product-related regulatory enforcement actions.

Advise brands and research and development on the proper support needed to substantiate our marketing claims and product's compliance with applicable laws, for instance proper legal/regulatory positioning as cosmetic, approved drug/over the counter/or natural health product.

Handle claims disputes with governmental agencies, competitors, consumers and third parties; develop and defend strategies for all product related regulatory enforcement actions; handle issues relating to allowable variations in manufacturing processes.

Identify and investigate issues and risks identified within the area of responsibility, including new laws that will impact the business.

Liaising with Global Counterparts. Contribute to the North American and Global law departments by working with colleagues on global and regional initiatives.
Education and Professional Skills/Knowledge
LL.B. or J.D. degree (or equivalent).

Good standing with a Canadian Law Society.
3-5 years of corporate commercial and marketing law experience, including claims development, advertising issues, privacy, and contract drafting. 
Excellent analytical and communication skills, strong business acumen and resourcefulness, and a client-focused outlook. 

Ability to work under pressure, as well as work with interdisciplinary teams, stakeholders, and outside counsel to achieve goals in a timely manner.

In-house experience would be considered an asset. 
This is an exclusive search.
For more information or to apply for this position, contact:
Visit our job board to view all of our current opportunities.