In-House Counsel Lawyer Job in Toronto, Canada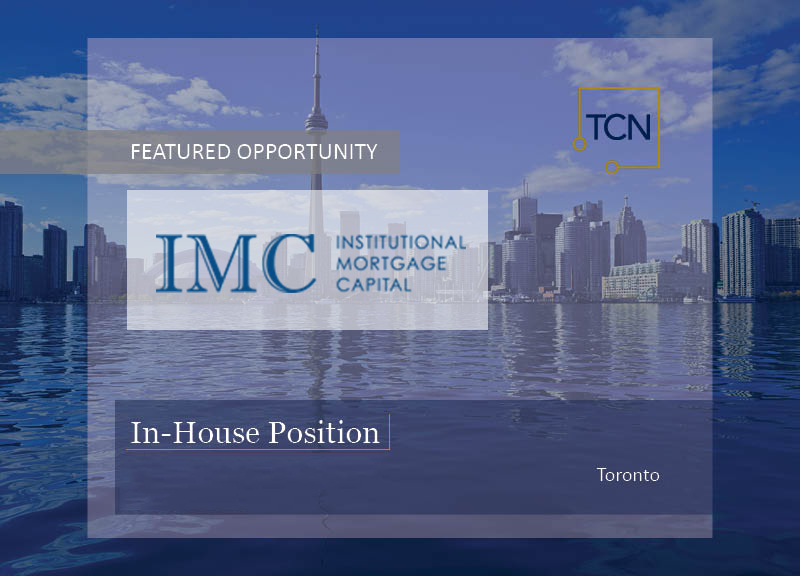 **This opportunity is now closed. Please visit our job board to view our current opportunities.**
Institutional Mortgage Capital (IMC) has quickly become one of the largest commercial mortgage lenders in Canada, with over $3.6B of new commercial mortgage loans closed across all asset classes since 2011. As a commercial mortgage lender, loan servicer, and investment fund manager, IMC has, since its inception, pioneered the rebirth of the Canadian CMBS industry and remains a leading player in the marketplace.
Job Description – In-House Counsel Lawyer
IMC has an immediate opening for an In-House Counsel Lawyer to join its team in Toronto. The successful candidate will advise and provide assistance in connection with funding loans on commercial properties located nationally and across all asset classes. This is a rare opportunity for a talented lawyer to join a pioneering, team-oriented company offering a competitive compensation package and work-life balance.
Key Accountabilities and Responsibilities
Prepare and negotiate letters of intent/commitment letters in compliance with credit requirements.
Engage service providers to complete property and legal due diligence.
Prepare introductory letters to borrowers with checklists and due diligence documents.
Review tenant estoppel and related documents.
Provide support to borrowers and originators/underwriters by initiating requests for information and documentation concerning the closing of each loan file.
Work closely with borrowers on closing their mortgage loan.
Work with all third-party service providers to facilitate each loan closing file.
Review loan documents and legal due diligence and documentation.
Ensure all escrow and reserve requirements are documented by working closely with the originators/underwriters.
Review and/or prepare closing documents and provide instructions to legal counsel in negotiation of loan documents.
Review documentation to ensure conditions are cleared to close.
Prepare and balance closing numbers, requisition funds, and arrange funding wires.
Check that disclosure tolerances are within guidelines and assure that all procedures meet internal and investor requirements, as well as compliance to all regulatory and governmental agencies.
Take on increased responsibility over time.
Education and Professional Skills/Knowledge
LL.B. or J.D. degree (or equivalent).
Good standing with a Canadian Law Society.
4+ years of experience in banking & finance law and/or real estate financing, with a focus on commercial mortgage funding.
A self-starter with a client-focused outlook and sound business acumen.
Excellent communication, interpersonal, and organizational skills.
This is an exclusive search.
For more information or to apply for this position, contact:
Jordan Priest, Recruitment Associate
647.484.8314
Visit our job board to view all of our current opportunities.